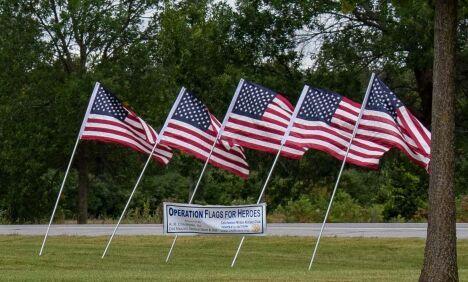 For the past three years, most of you have seen our displays of "Operation Flags for Heroes" at three locations. Currently, most of the flags are located at Dick Mazza's Store on Mallets Bay, at the Charlebois Truck facility on Rte 7 in Milton, and at the Re/Max Real Estate Office on Rte 7 in Colchester. The Colchester Milton Rotary Club is very proud to sponsor the flags again this year.  
We will be holding a Veterans Day celebration at the Charlebois site at 10 a.m in Milton and at Dick Mazza's Store at 12 noon in Mallets Bay. A military tribute and guest speakers will be on hand to honor our veterans and our community heroes.  Please join us.  
Who are our heroes?  They are the men and women who served in the military and they are our local heroes including teachers, firefighters, retail and grocery store workers, truckers, police, nurses, doctors, etc.
You all have heroes too and you can honor your hero by participating in this project.  Purchase a flag and accompanying plaque from this Rotary Club. Or be a sponsor. Celebrate your hero by visiting www.cmrotary.org and tap "Flags for Heroes". 
All funds raised from the flag displays go to support the needs of families and veterans in Milton, Colchester and nearby areas through projects and organizations such as the Food Shelf, Josh's House, Holiday Baskets, Toys for Tots, school scholarships, COTS day Station, and other veterans organizations. 
For more information visit CMRotary.org or call or email at Chuck Ginsburg at Chuck34@comcast.net. or 802-578-3546.