MILTON — "You know what, honey?" Karen McFeeters Leary said to her husband on a recent Vermont road trip. "It's my birthday. Let's listen to all of my CDs, my three old ones and my new one."
She popped all four into the car's CD player, and as they drove toward their first vacation in over a year, she found herself engulfed in the folk music she's written and sung over the last two decades.
"I heard an evolution in myself that I am grateful for," she said.
Music has been part of McFeeters Leary's life for as long as she can remember. A family video, she said, captures her singing "Yellow Submarine" at age 2. She spent her childhood in St. Albans, where she sang in school groups and tagged along with her mother to a local women's choir. She's now lived in Milton for the last eight years.
At age 30, McFeeters Leary began songwriting and has since released four folk albums. The most recent, "Bonfire," was recorded during the pandemic and released in April.
"I found that even after 12 years out of a recording studio, I was able to just fall right back into it. I felt very comfortable," she said.
McFeeters Leary is the founder and director of the Aphasia Choir of Vermont, a group of stroke and traumatic brain injury survivors who can sing despite having significant difficulty speaking or being nonverbal.
She was disappointed when she had to cancel the choir program in 2020 and 2021 due to the pandemic, but used her new-found free time to direct creative energy into her own work.
Any money she makes from CD sales and digital platforms of "Bonfire" will go to the Aphasia Choir.
"I'm really, really blessed that I can do this when I want to," she said. "For me, songwriting is an emotional support...It's definitely a way that I work through tough feelings and tough experiences."
Here's what she had to say about the creation of "Bonfire."
Q: How did masks and social distancing affect the recording of the album?
A: In the past, I've been able to invite all kinds of musician friends to participate in the recording process, whether it's playing an instrument or singing harmony. It was collaborative, but because of the pandemic, it wasn't safe for us to get together.
In fact, my producer Colin McCaffrey and I had to work in a whole different recording studio that had two separate booths. We rented a studio in Charlotte, and he'd be in the engineering room and I'd be in the recording area unmasked.
We only had Patti Casey, a local legend, come in and sing harmony vocals on one song and a professional drummer, but other than that, Colin and I did all the instruments.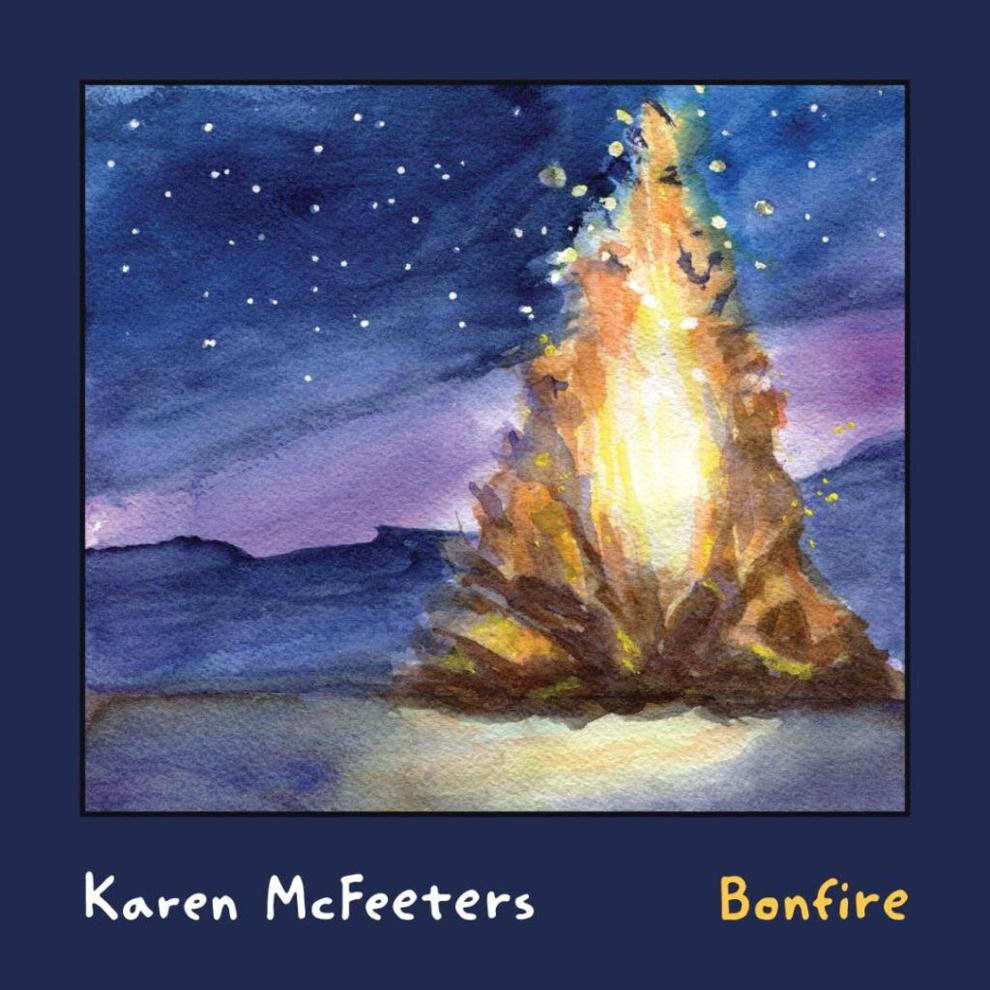 Q: Is there a difference in the sound or themes of "Bonfire" compared to your other albums?
A: The most interesting thing to me is how much stronger my voice is. My younger voice is certainly pretty, but not nearly as strong and clear as it is now. I credit the Aphasia Choir for that, because when you're directing, you are singing out, demonstrating projecting more confidence.
In terms of the themes, I think on this album, I was a little braver in terms of content, a little more vulnerable.
"The Elephant" for example is about people not wanting to talk about something that we really need to talk about. In "Wonder Woman," I'm singing about courage and sharing that fear is not the boss of me.
When you put yourself out there, you are effectively putting yourself out there for critique, so there's that vulnerability, but I decided I have something to say, and yeah it's been a long time and yeah I'm 53, and maybe I'm not cool anymore, but you know what, I have something of value to share, and I'm going to put it out there.
Q: Did the pandemic or the culture of the last year work its way into any of your songs?
A: Most of them were kind of written over the years, inspired by life or family or love, but the title track, "Bonfire," was inspired by the pandemic.
I was often getting together with friends and family in the backyard at a safe distance. In the fall, in particular, we'd have our fire pit going, and so that song was born from that.
I don't consider myself a political performer — I certainly believe in social justice and all those good causes, but "Last Word" was the first song I wrote about peace. We have to stop the violence and hateful language.
It felt kind of risky for me to put out there. I had lines and verses for "Last Word" for probably eight or nine years at least, but with everything that was happening in the country, with all the tumult, it felt like the time to finish it.
Q: Can you describe your songwriting process?
A: More often than not, the way I write is I drive and let my left brain be quiet, and then my right brain kicks in and as I'm driving, I start to come up with lyrics or themes or melodies.
It used to be I'd carry around a little tape recorder, and so I'd be in my car, and I'd get an idea, and I'd grab my little tape recorder and sing into it. Of course, now I've got a little voice memo on my smartphone.
Most of the songs that I've written have come in pieces and parts and have been like this really fun puzzle project. Later, I'll get to that point where I'm really close and I just need two words in two different places, and I go through my thesaurus, and I try to come up with a good rhyme.
Sometimes though, like with "Bonfire" the song, I just sit down. I let go. I surrender, and I think, 'I want to write a song," and then I feel like I'm being spoon-fed by the universe.