Milton Rising documents this pivotal moment in history as the community reopens following the COVID-19 pandemic. Tell us how it feels by writing news@miltonindependent.com.
---
MILTON — During both the best and worst of times, art has an overarching power to connect and to heal.
Caitlyn Kenney, Milton Artists' Guild's executive director, knows this to be true. That's why she and her staff are working hard to keep the lights on and the Guild's programming alive as masks begin to come off.
As a non-profit organization, MAG supports over 200 artists from all over Vermont through its exhibition space and educational opportunities. Just last month, it celebrated its fourth anniversary in Milton with a birthday bash.
Though the Guild was established in 1988, it only opened its retail shop on Route 7 South in 2017. ​The celebration included art sales, demos, music and more.
"It was a lot of fun," Kenney said. "That was our first really large-scale gathering in over a year, and folks were really respectful about social distancing."
Kenney became executive director in March 2020, so her entire first year has been an adventure beyond her wildest imagination. During the first three months of her tenure, the Guild was closed due to the governor's Stay Home Stay Safe mandate. A state-granted Paycheck Protection Program loan allowed staff to stay on.
Once able to reopen, MAG was still faced with event and workshop restrictions, less foot traffic in the shop and a decrease in donors. A $3,000 grant from the Vermont Community Foundation's Spark Connecting Community program was essential, Kenney said, because it helped MAG to continue its Social Sundays take-away craft program, which was wildly popular during the winter months. 
Now, as case numbers continue to decrease and vaccination rates increase, Kenney is looking to the future and to the fundraising and programming that will help MAG get back on its feet. 
Fundraising to ramp up
For the first time, Milton Artists' Guild is seeking donations through GoFundMe, an online fundraising platform for individuals and organizations.
Since the campaign started on May 1, the Guild has raised about $4,000 of its $30,000 goal.
"We've been really blessed with a supportive community," Kenney said. "We've had lots of folks make the donations that they can, or we do monthly raffles that folks donate artwork to if they can't contribute monetarily."
In addition to the GoFundMe, MAG is partnering with Artists in Residence St. Albans, Vermont Dance Alliance and Swanton Arts Council to host "The Big Deal," a raffle that will benefit all of the organizations.
Tickets are on sale June 1 to July 10. The grand prize of $5,000 will be drawn July 17.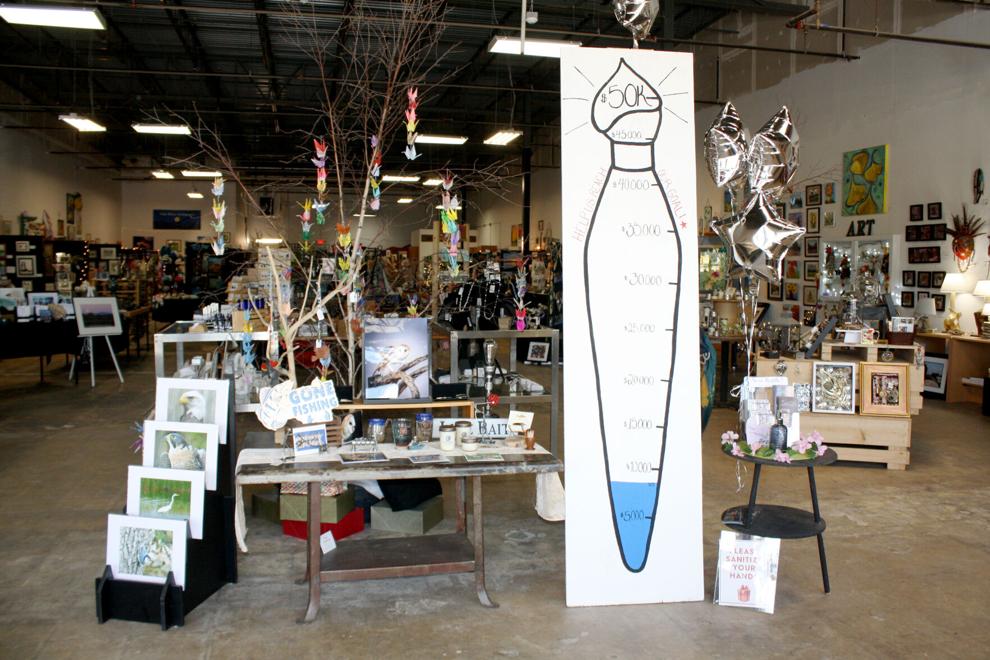 New programming for summer 
After more than a year of hosting virtual workshops, MAG will restart in-person classes with limited capacity in mid-to-late June.
Kenney said utilizing technology to conduct workshops virtually during the pandemic had its pros and cons. While Zoom allowed some Guild members to participate from vacation homes in Florida, it created challenges for others who aren't as tech-savvy.
"We are really looking forward to having students back in our space," she said. "And there are a lot of instructors who have been waiting to teach in-person again."
Kenney herself is teaching a few classes for members, putting her two degrees — a bachelor's in fine arts and a master's in sustainable business — to good use.
When the pandemic forced many artists to start selling their work online, she felt compelled to ensure they could do so successfully, by teaching $5 workshops on topics like social media development, video production and website design.
"Those classes are really great, especially during COVID times," she said. "With a lot of our lives being online, artists are looking for accessible, affordable ways to learn new skills."
Kenney is looking forward to the Guild's next in-person event, June 19-20, when it will be one of 71 Vermont studios and galleries welcoming the public to visit as part of Vermont Craft Council's Open Studio Weekend. Guild artists will organize pop-up sales and demonstrations from 10 a.m. to 5 p.m. Saturday and Sunday.
In another first, MAG will host an inaugural outdoor craft festival full of art, food trucks and more on Sept. 18.
"Art & Stroll" will be held on the green between MAG and Hannafords, and sign ups will not be limited to only Guild artists, Kenney said. Anyone in the community who is a maker can register to pitch a tent and sell their work.
"A craft festival is something our members have really wanted to do for a long time, but you know, it's a lot of work to put that together," Kenney said. "We felt like this really was the right time."