SOUTH HERO — For the entire month of September, a Milton resident will have her artwork on display across the bridge.
Laura Hazen Sibley's drawings are available for public viewing at the Island Arts Gallery, located in the conference room at the Community Bank, N.A. in South Hero.
The daughter of Richard W. and Janet A. Hazen, Sibley is proud to be a sixth-generation Islander whose family arrived in North Hero around 1780.
"Growing up, I have many fond memories of visiting friends and relatives with my father and mother," she said. "If only I could remember the stories that were told during those visits."
A long-time resident of Milton, Sibley wanted to draw the places she remembered from her childhood.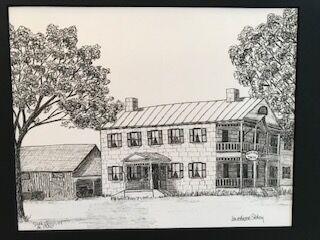 "Using old photos as a reference, I have come to appreciate the architecture and the history of places in the Champlain Islands," she said.
One of the pieces on display is Laura's drawing of the South Hero Inn, now the Community Bank where her art is on display.
"My best memory is the 4-H sewing classes that were held there in the dining room in the late 1960s," she said. "All the tables were pushed together so we could lay out and cut our fabric. Our teachers were Mrs. Gregg and Mrs. Lane. We used to play in the cabins to the side of the Inn."
In addition, there are drawings of Folsom School, The John Knight Inn, The Beacon Store, Minkler's Store, and the Grand Island Garage.
A self-taught artist, Sibley found support and advice from her mother and sister, both of whom are artists.
"Their support has helped me develop my own style; it boosted my confidence," she said.
Sibley's artworks at the Gallery are detailed, black and white, pen and ink drawings. The works on display are prints and are available for sale.
"My roots are deep in the Islands and my heart will always be here," she said. "My hope is that when folks look at my drawings there might be a smile that emerges while remembering simpler times and perhaps spark a memory that has long been forgotten."
The Island Arts Gallery at the Community Bank, N.A. is open to the public during normal banking hours, 9 a.m. to 5 p.m. Monday to Thursday and 9 a.m. to 5:30 p.m. Friday.