NORTHEAST KINGDOM — While scrolling through my Facebook feed, I came upon something remarkable that was happening just outside of Franklin County. John Predom, a local outdoor enthusiast, is a real-life snowshoe artist.
How'd you get started? "Four years ago, I saw the work of Simon Beck, who does snowshoe art. I started thinking I might be able to do it. I went out to my field with a post and a ball of string and started with a circle."
How many designs have you made in the last four years? "I made two the first year, three last year, and three this year. Most of my patterns have been different forms of circles or half circles. I keep trying to get fancier every time I do a design."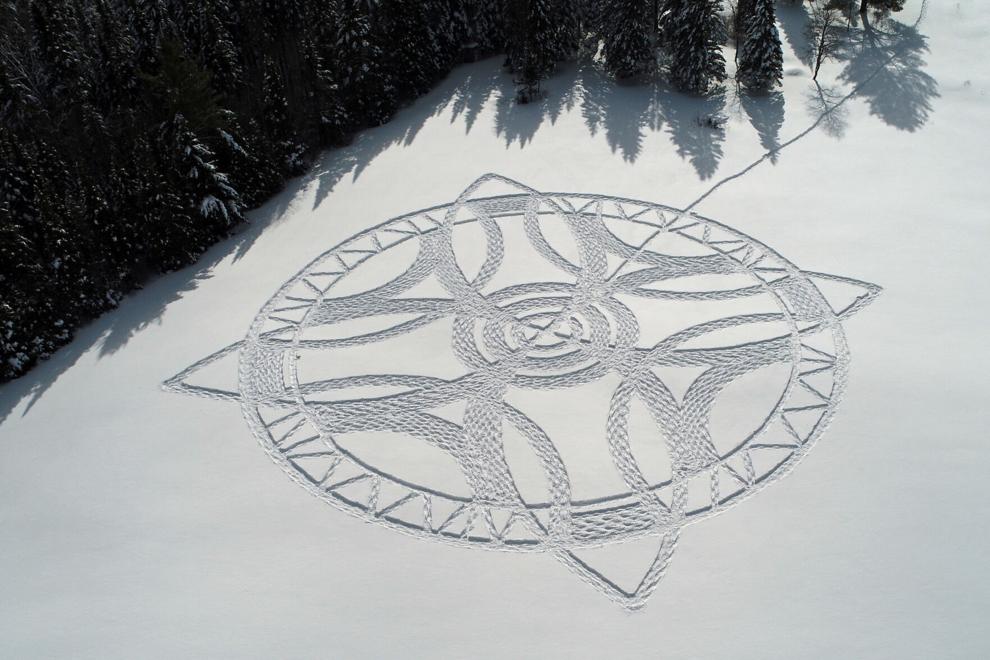 What can you tell us about your most recent design? "The first circumference circle in that pattern was 144 steps. I walk the edge and mark out the spots to begin the designs. use wooden teardrop snowshoes, and I take the same step every time. The step counting is a big part; it's all about the measurement."
How do you handle mistakes? "Originally, I wasn't going to put a circle around the outside of the last design. I went ten feet past the design, and I didn't want that to show up. If you make a mistake, you can sometimes fix it.
"I planned to make a design with snow angels, but after I did the first one, I had a hell of a time getting up! I adjusted the pattern, but my daughter noticed it."
How do you photograph the design? "I use a drone to capture the design from above. I've learned it's best to video and photograph when the sun is out. The designs may not last long; we had five inches of snowfall, and the last one I made is almost gone."
How do you plan a design? "In the past, I'd start with a circle and walk the designs from there. Over the summer, I bought a protractor and compass and laid the designs out on paper.
"I have a video I called 'epic fail.' I went out without a plan, and the more I tried to do, the worse it got! It's good to go out with some kind of a plan. It doesn't take much to get a pattern off. If you're ten or five steps off, it throws off the entire pattern. I counted every step twice this time because I didn't want to make a mistake. It's a whole lot of walking and thinking."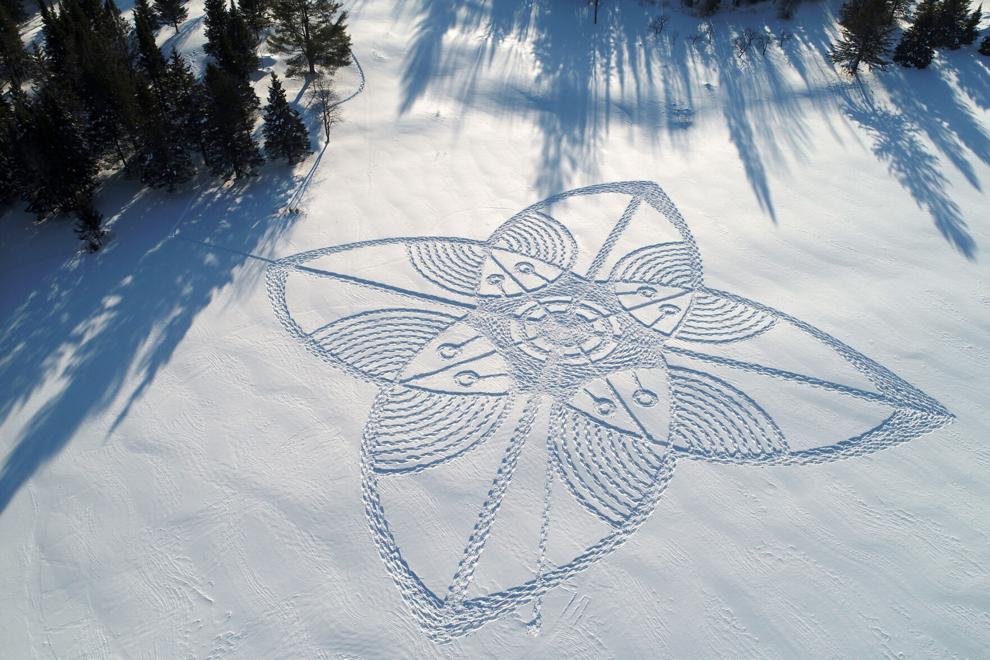 What skills in your background helped you with this art form? "When I was a kid, my favorite toy was a spirograph; I loved to do those kinds of designs. I was also a straight-A math student.
"My sister is an artist, my father does woodworking, my mother is a quilter, and my brother is an architect; the whole family has skills. I didn't think I had any, but I guess I do with my snowshoe art."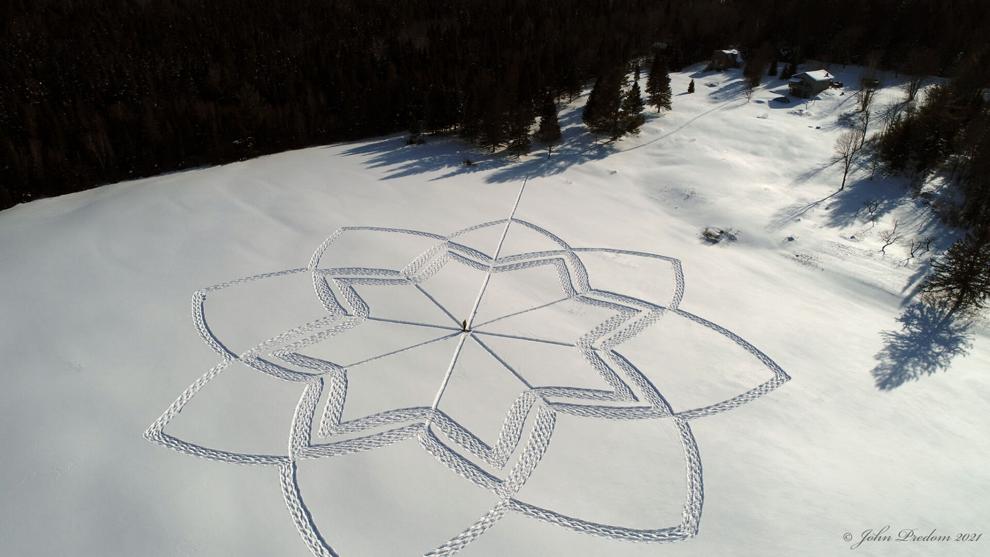 What do you enjoy about snowshoe art? "There's satisfaction in seeing it completed. From the ground level, you can't see how it's turned out. I knew I hadn't made any mistakes on this one, but I haven't known that in the past. When you get the drone up there, you see it."
How accessible is this for the average person? "Last year, the Green Mountain Club asked me to demonstrate the art. We did the 'GMC' logo in a field. The youngest person was five years old; everyone had fun, and now they know how to do it.
"All you need is a ball of string and a post to make the circle. From there, it's whatever the mind can conceive. I'd love to inspire people to get out all four seasons. There's so much to do out there."
Would you like to see more of John's work? You can find him on YouTube: Snowshoe Art by Snowdog.