Adam and I got our second Covid vaccine on Saturday, but we still had time for a short outing near Smuggler's Notch. Bingham Falls probably isn't a new spot for many readers (I've been there more times than I can count), but it's one you may not think about visiting if it's not swimming weather.
Bingham Falls is a great place for a swim. On a warm summer day, you can be sure the parking lot will be filled to capacity. I can remember visiting the falls with a friend who's an RN; we went to swim on an exceptionally hot day. I hit that water, and it took my breath away! I remember asking her how cold water had to be to stop your heart!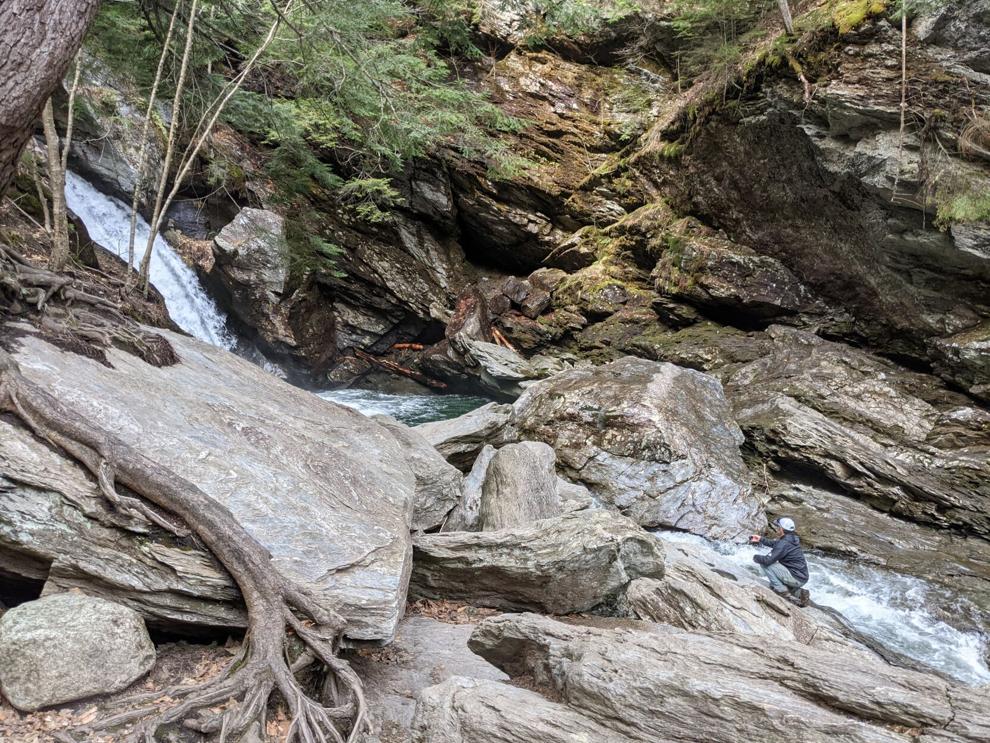 If you want to visit the falls without a towel or a crowd, this is an awesome time to go. The only one who swam on our walk was Yadi, who's much less particular about cold water!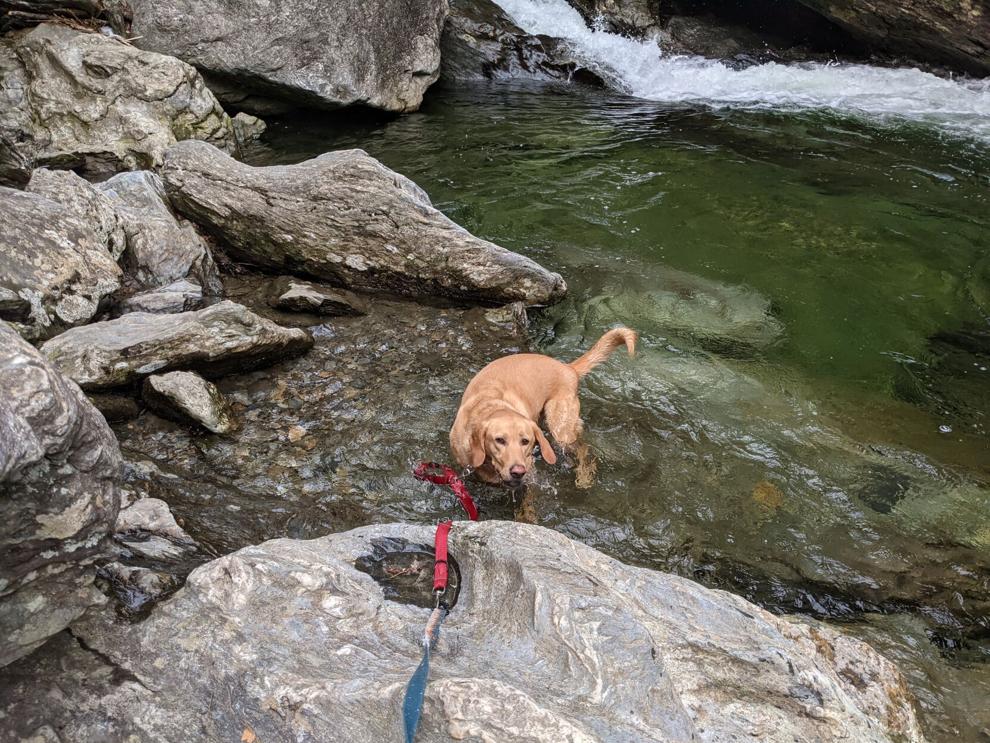 After driving through the twists and turns of the recently opened Notch Road, we arrived at a nearly empty trailhead. We'd brought Yadi and Mia with us, and in classic dog fashion, more dogs meant more energy, so they were both ready to go.
Bingham Falls is also a great place to explore. The trail to the falls passes along the edge of a beautiful gorge, the rocks cupped and hollowed out by eons of rushing water. Recently, metal railings have been installed to keep visitors off fragile areas, but the 'must see' spots are easily accessible.
The final descent to the falls is pretty steep and wet in damp weather; take it easy on your way down, especially if you have a 90-pound lab hooked to your waist! Carefully cut switchbacks ease the grade, which is helpful.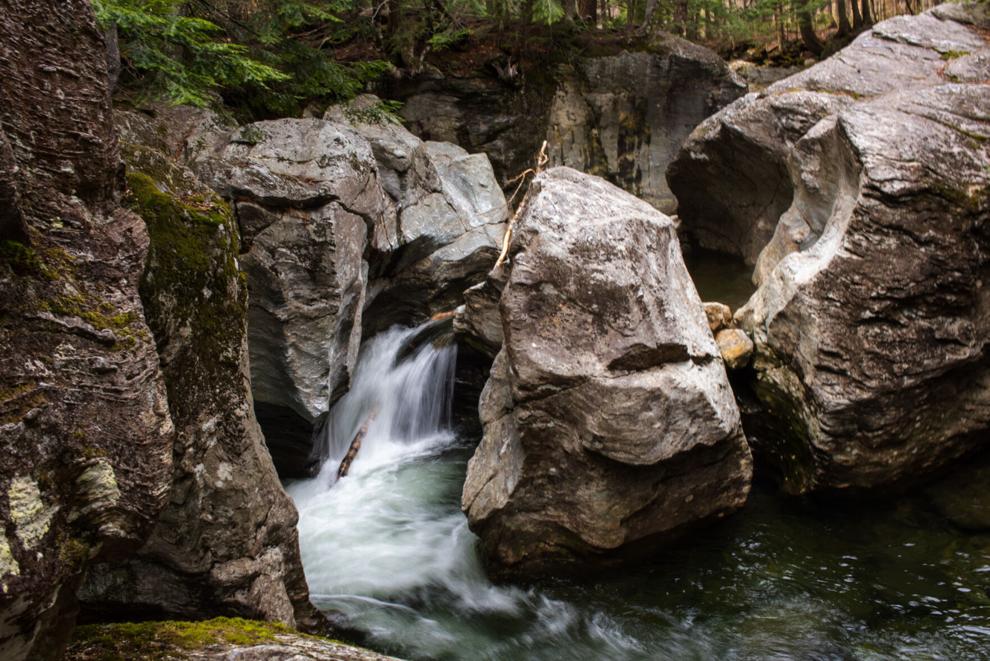 To get the best view, scramble down the rocky outcrop to the large, flat boulder that sits almost directly in front of the falls. From here, you can see the horsetail falls plunge from the gorge above into the deep, turquoise pool. The steep, rocky banks along both sides of the falls create a dramatic backdrop.
The water flows out of the main pool, funnels into another large pool, equally clear and turquoise; from there, it jumps and splashes through rocks and down the river into the woods.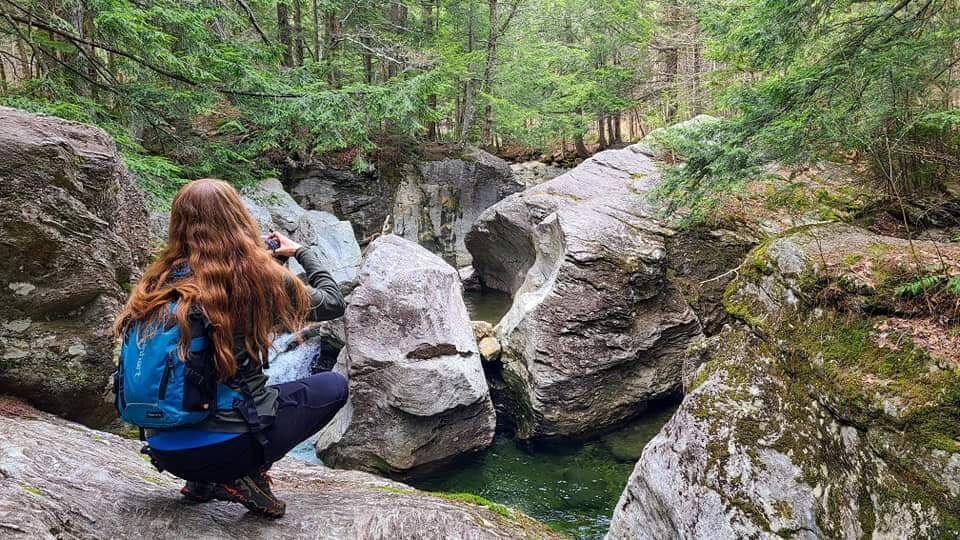 Dog approved: Yadi had to test out several of the swimming spots, and from his look of Labrador satisfaction, I'd say they were all pretty good. I'd recommend waiting for an extra hot July day to give the water a try, but go anytime to enjoy the views!