WEST HAVEN – Milton's Shawn Moquin took fifth place in the 20-lap mini stock feature July 12 at Devil's Bowl Speedway.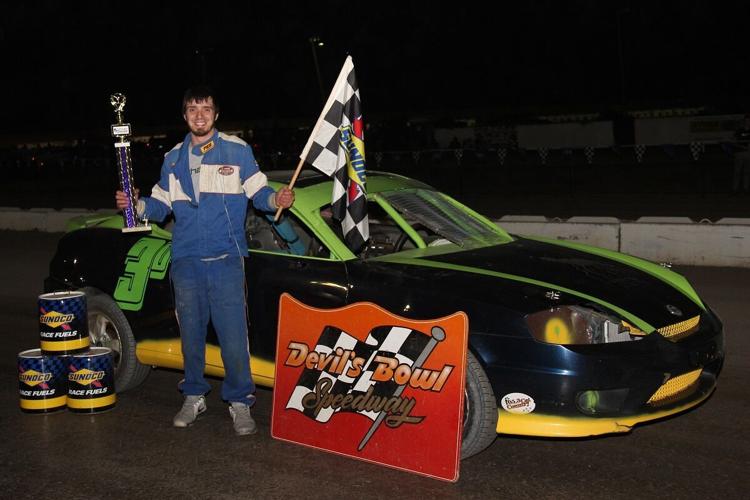 With the super stock division off for the evening, the mini stock was elevated to a 20-lap feature. A few weeks ago, Moquin took first place in the 15-lap mini stock car race June 28.
But on Sunday, Moquin was surpassed by first-time winner Dakota Desabrais from Hampton, N.Y. Desabrais picked up his first checkered flag after coming from behind in the eighth lap. 
A forced restart to the race with only four laps left, caused Desabrais to fend off many challengers, including second-place finisher Griff Mahoney and third-place finisher Chris Conroy.
The podium-takers were followed by Chris Summer from Ripton, VT and Moquin.
Competition at Devil's Bowl Speedway returns July 19, with limited grandstand seating and drive-in spectator parking. Tickets are $16.50 per person for grandstand seating or $21.60 per person for drive-in parking; tickets must be purchased online by 5:15 p.m. on Sunday at https://buytickets.at/devilsbowlspeedway.
The Sportsman Modified, Limited Sportsman, Super Stock, Mini Stock, and 500cc Mini Sprint classes will all be in action; spectator gates open at 5:30 p.m., with racing at 7:00 p.m.  
Mini Stock Feature (20 laps)
Pos.-(Start)-Driver-Hometown
# - denotes rookie
1.       (10) Dakota Desabrais, Hampton, N.Y.
2.       (6) # Griff Mahoney, Brandon, Vt.
3.       (13) Chris Conroy, Newport, N.H.
4.       (14) # Chris Sumner, Ripton, Vt.
5.       (9) Shawn Moquin, Milton, Vt.
6.       (2) Willie Rice, Poultney, Vt.
7.       (15) Brian Blake, Cornwall, Vt.
8.       (16) Kyle Davis Jr., Goshen, N.H.
9.       (5) Katrina Bean, Benson, Vt.
10.   (19) Jake Fountain, Dannemora, N.Y.
11.   (1) # Adam Stewart, Benson, Vt.
12.   (12) Craig Kirby, St. Albans, Vt.
13.   (8) Michael Daniels, Plattsburgh, N.Y.
14.   (21) Joe Malzac, East Middlebury, Vt.
15.   (17) # Cody Groesbeck, Fair Haven, Vt.
16.   (3) # Tom Severance, Fair Haven, Vt.
17.   (20) Mary Gardner, Middle Granville, N.Y.
18.   (18) Tim Simonds, Clarendon, Vt.
19.   (22) David Sartwell-Cornell, Highgate Springs, Vt.
20.   (11) Jarrod Colburn, Rutland, Vt.
21.   (4) Justin Allen, Forest Dale, Vt.
22.   (7) # Freddy Burch, Middle Granville, N.Y.