FAIRFAX/MILTON — Jaxon Schaarschmidt played youth hockey in Montpelier; he didn't know he'd end up playing hockey for Milton in high school.
Schaarschmidt attends BFA Fairfax, one of three Franklin County high schools that don't have a hockey team.
Since joining the Milton Yellow Jackets, Schaardschmidt has become friends with Milton student-athletes, including Dustin Brunelle.
Brunelle and Schaardschmidt are teammates during hockey season but meet as opponents on the football field.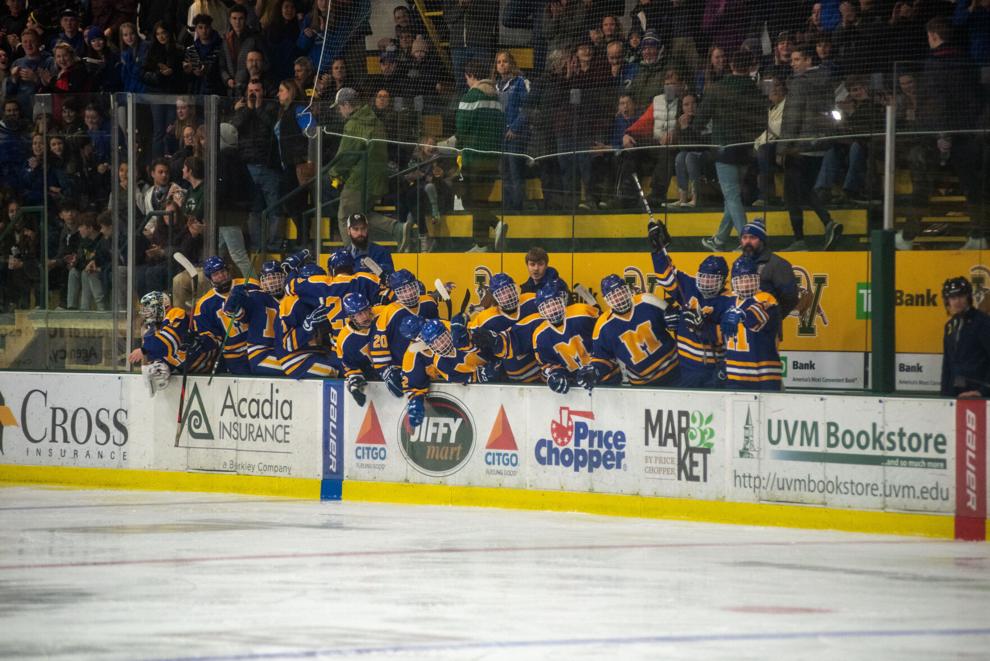 How long have you known each other? "I remember playing youth hockey against Dustin. It's neat that someone lived those moments with me from a different perspective," said Schaardschmidt.
What is it like to play as opponents?
Schaarschmidt: "It's so much fun lining up, about to snap the ball, and looking down the line of scrimmage and seeing Dustin is going to be covering me. I'll congratulate him if he scores on us or makes a big play, but I want to see him work for it!"
Brunelle: "I would warn my teammates about the threat Jaxon posed with his speed and his skill. It's fun to meet on the field; sometimes you're in a play, and you don't realize you interacted. There's always that element of challenging each other, whether we're playing as teammates or opponents.
What do you enjoy about playing as teammates?
Brunelle: "I enjoy having his speed on my team rather than having to outrun or out-skate him! It saves a lot of energy. I know I was sore after our football game this year!"
Schaarschmidt: "We're challenging and pushing each other in practice, and in games; playing side by side, you can really push each other."
Is the transition from opponents to teammates as you expected?
Schaarschmidt: "It comes naturally being able to see someone you know in one sport and play against them in another. You develop a rivalry and mutual respect that increases with the years."
Brunelle: "There's a strength that comes playing as both teammates and opponents. That friendship helps you to succeed and to challenge each other. It's a fun aspect of our friendship."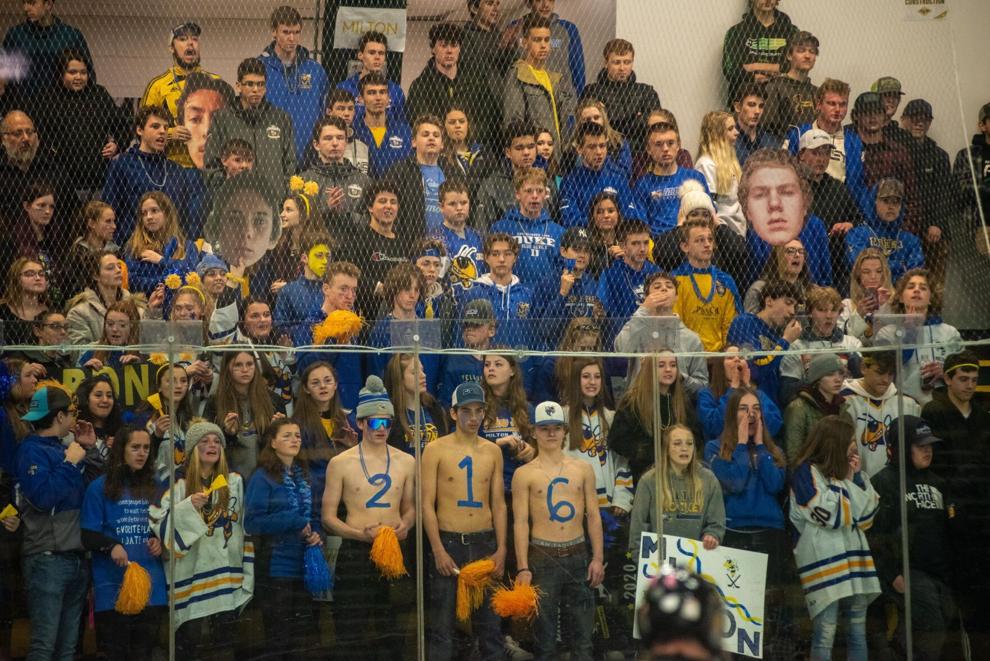 What are your most memorable games as teammates?
Schaarschmidt: "We played MVU in playoffs last year, and the energy in the Highgate Arena was comparable to the Gutt. I've never seen so many people in a high school rink."
Brunelle: "Last year's state championship was my most memorable game. There was so much pressure to do your best; one mistake, and you could lose your chance at a title."
Schaarschmidt: "There's so much energy in the Gutt — it's just coursing through you. We were playing that game for our seniors, all of us working together as a unit."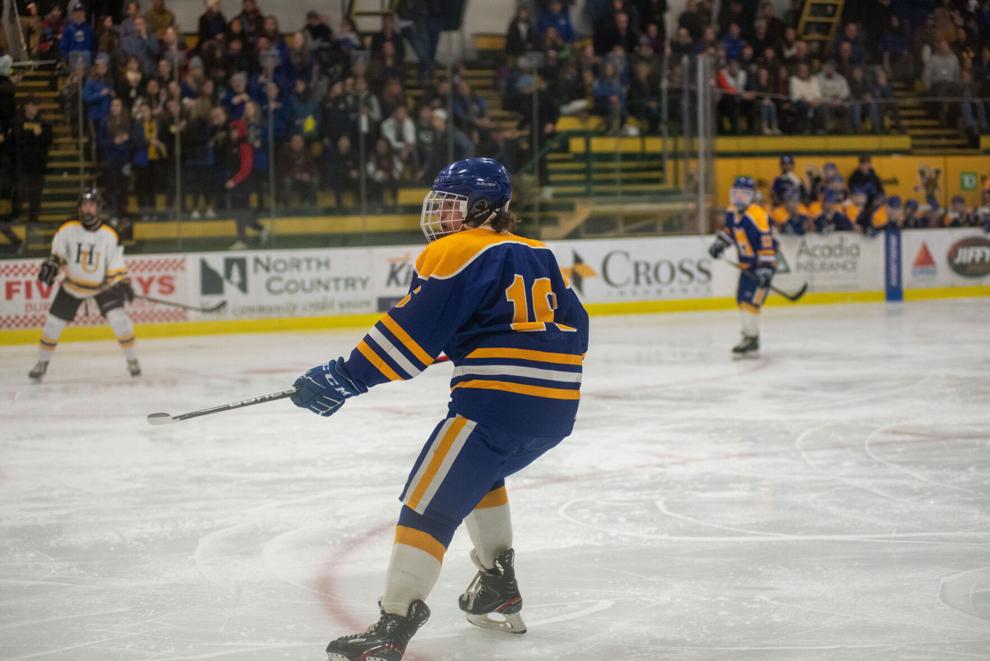 Dustin's scouting report on Jaxon: "You've got to put a lot of points on the speed. Jaxon's always been fast, whether he's skating or running. He's a good back checker and forechecker. He's got strength and size in his arsenal, and he's smart to make the plays."
Jaxon's scouting report on Dustin: "Dustin's a big support guy; he's there when his teammates need him, and his positioning is almost perfect. There's never a time he's not ready; he's looking for that pass, he's there. I'll see him come out of nowhere; you're not expecting Dustin to keep on working--any other person in that position would be gliding two strides ago. He's a big back checker. Physicality is there; he may not be the biggest guy on the ice, but he packs a hit."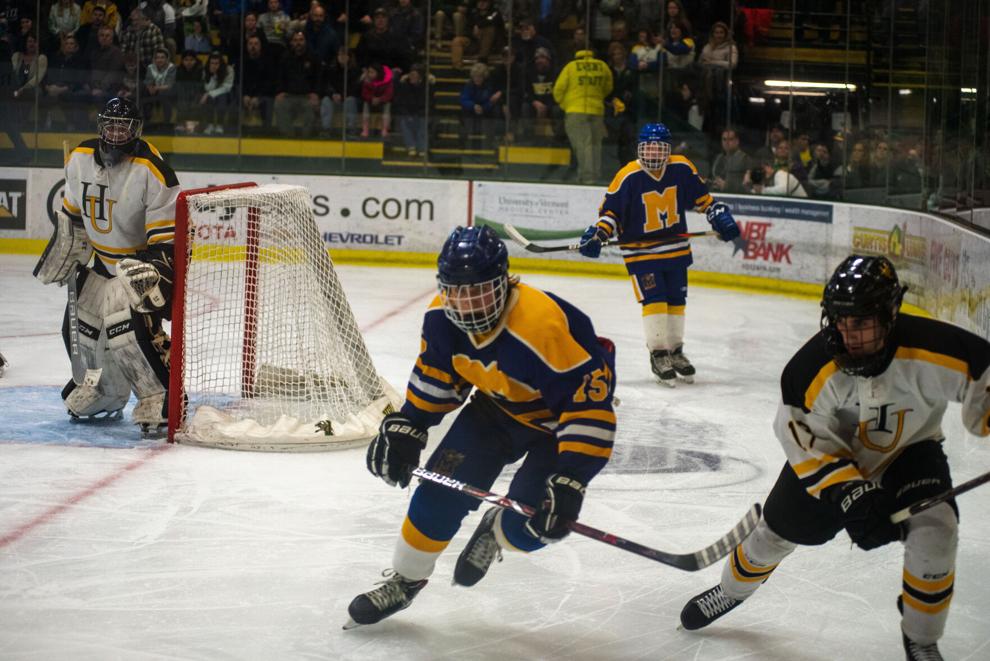 What do you enjoy about hockey?
Brunelle: "I don't have any particular reason--I've always loved it. I enjoy the pace of the game, and I've made a lot of great friends on my hockey teams."
Schaarschmidt: "The pace of the sport is unlike any other sports I've played. You're going to get hit and get knocked down, but you're going to get up and, hopefully, get a goal. I also love the uniqueness of skating. It's the most important thing you do in hockey--and the coolest and most fun."