In the barn's air conditioned tack room, Erin Longworth sat atop an enormous storage crate.  She crossed her ankles, muddy boot heels showing from beneath her jeans, and tugged at her ponytail, which was looped through a baseball cap. 
Sitting atop the crate, Longworth was almost hit by the room's swinging door when a group of kids, including one of her sons, came charging into the room. 
"If you're going to be in here, sit down and listen," she said. 
The kids hurried to sit cross-legged on the floor, among the saddles, stirrups and reins. They looked up eagerly at Longworth, who was tired, she said. It's been a hard few months.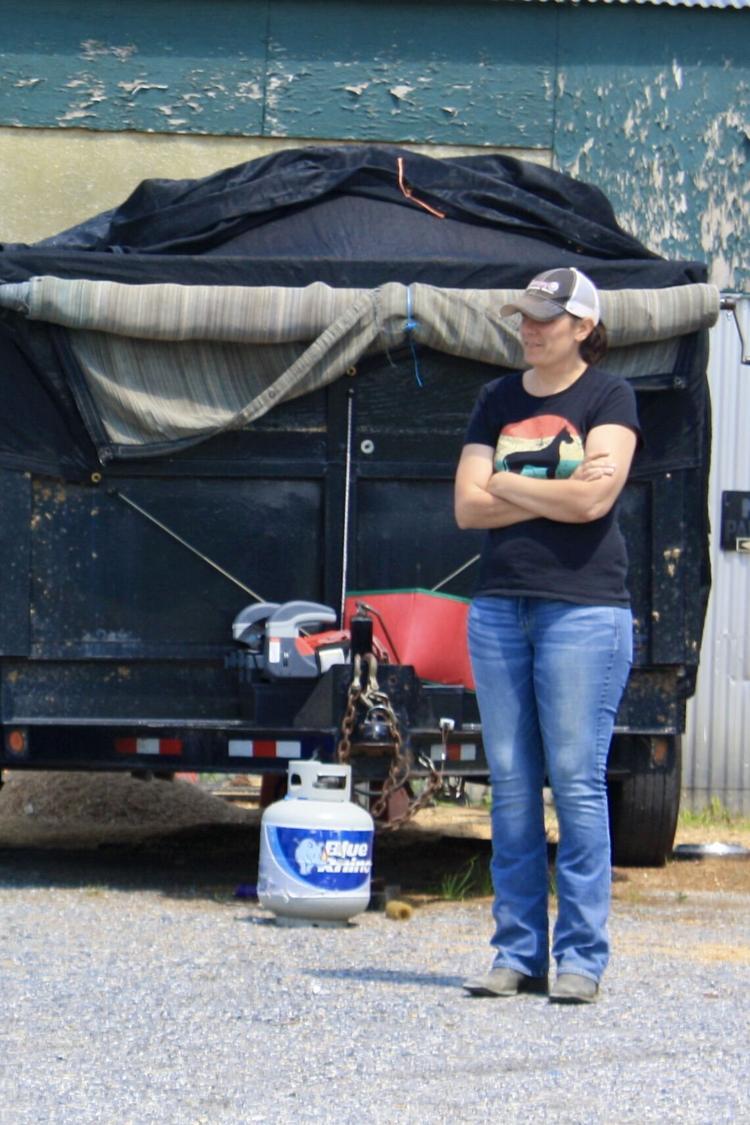 The COVID-19 pandemic and its subsequent economic shutdown hasn't been kind to anyone, but Erin Longworth Performance Horses has especially suffered, she said. 
"We were hit extremely hard," she said, in a voice both firm and honest. "I am never going to make up the income I've lost over the last few months." 
Longworth bought West View Stables, a more than 50-acre property in Milton in 2002. She quickly turned the stables into Erin Longworth Performance Horses, a horse barn offering riding lessons, summer camps and horse boarding. 
This past spring, just when ELPH's busiest season should have been beginning, everything came to a screeching halt. Lessons were postponed, camps closed, and one after another, horse shows across the country were cancelled due to health concerns and orders forbidding large gatherings. 
"Almost all of the shows in the northeast were cancelled," she said. "And by the time I knew that, stalls at shows in the south and midwest were booked full." 
Longworth's students look forward to these shows, where they show off what they've learned to an audience and have an opportunity to be recognized for their hard work. 
Horse show coaching and travel fees are how ELPH makes a lot of its money, so with no shows to take students to, Longworth's income has dropped significantly.
Despite her reduced income, Longworth's expenses have stayed the same, if not increased. She now has recurring payments for a new truck she bought before the pandemic, thinking she would need it to travel to this season's shows. 
Longworth let go of the barn's farmhands and used up her credit cards in order to stay afloat. Her sister, Lindsay, who works at ELPH as a trainer, took up a second job to help make ends meet. 
"We're doing everything we can to stay afloat and make a buck," she said. 
In many ways, Longworth said she feels like an essential worker, because of the dozens of horses she needs to take care of on a daily basis. Purchase of feed and veterinary services are a necessity.
"We have to take care of the animals," she said. "It's not a choice."
This fact still didn't qualify ELPH for any state or federal financial aid, she said. 
"We're not considered part of the agriculture industry, even though we support all of the local farmers by buying their feed, their hay," she said. 
This isn't the first time ELPH has been faced with challenges. In late 2017, ELPH suffered hundreds of thousands of dollars in loss after a fire engulfed the stables' south wing. 
Longworth almost gave up after that, but the support she received from the community, in the form of overwhelming donations and kind words, motivated her to keep ELPH going. 
 But this time, Longworth seems a little more tired, a bit more exasperated by the uncertainty of how long COVID-19 will continue to affect her business. And with fall quickly approaching, she is already thinking about the winter. 
"I know others who had to close down their doors and sell their horses," Longworth said. "I fear the winter. We are not operating at the capacity we need to to survive."
But as she was talking, she stole fond glances at the kids seated on the floor and at the tack hanging from the wood-paneled walls. 
"We're trying to be more open-minded and accommodating," she said. 
ELPH is running two camps this summer, each a week long. One occurred earlier this month, and another is set to run in August. Spots in each filled up almost as quickly as they were opened. 
Longworth said ELPH is sort of a bubble, tucked away at the end of Bernier Road. When you're there, surrounded by the fields and the horses, it doesn't feel like there's a pandemic going on, and people need that kind of escape right now, she said. 
ELPH is booking lessons seven days a week from 7 a.m. to 7 p.m., and is currently offering a post-quarantine special of four lessons for $125. 
"We're teaching ten to fifteen lessons a day," she said. "I almost never say 'no' now. That's how much we need this."