BARRE/MILTON — Scott Dragon secured his third first-place finish of the season on a wild Jet Service Envelope/Accura Printing Night at Thunder Road on Thursday, Aug. 27. Trevor Jaques also claimed a victory. 
Dragon dodged trouble in a multi-car, midrace pileup in the Maplewood/Irving Oil Late Model field and also patiently navigated early traffic in the 50-lap feature.
Early in the race, Dragon worked to advance three spots from his ninth starting position, one spot behind Jason Corliss, who was looking to secure his "King of the Road" position for 2020.
A restart at the 26th circuit gave Dragon and Corliss a big break; Corliss's challengers, Bobby Therrien, Trampas Demars, and Marcel J. Gravel, and others leading the race, ran into trouble on turn one.
Brendan Moodie was back on the point for the restart with Dragon, now in second and Corliss now in fourth. Dragon slipped past Moodie and took a commanding lead, earning his 13th Thunder Road victory and a belated bid for a third Late Model Championship.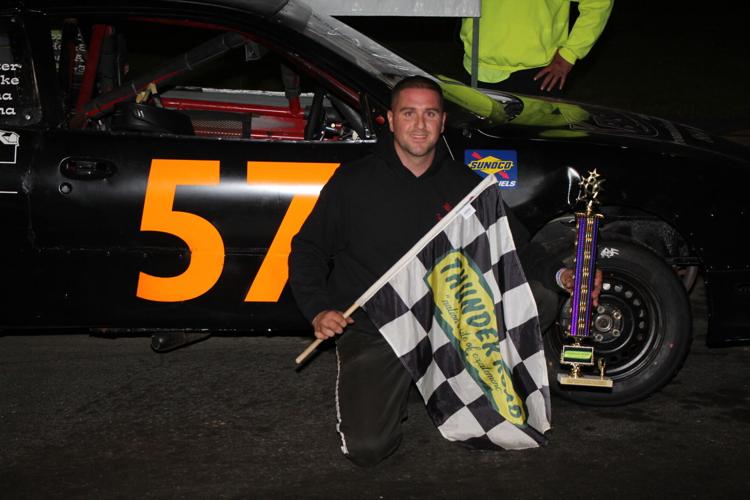 During the Burnett Scrap Metals Road Warrior competition, Milton's Trevor Jaques went flag-to-flag to become only the second repeat winner of the race this year.
Jaques started pole for the 20-lap feature after a rough period since his first win. After a lap-1 caution when Justin Prescott and Kendall Zeno got together, which ended with Prescott hard in the wall, Jaques pulled away from the pack.
Milton's Shawn Moquin also competed in the Burnett Scrap Metals race. He finished in 13th. 
MAPLEWOOD/IRVING OIL LATE MODELS
Pos., Driver, Car #, Hometown
1. Scott Dragon ( 16VT ) Milton, VT
2. Jason Corliss ( 66VT ) Barre, VT
3. Brendan Moodie ( 94VT ) Wolcott, VT
4. Kyle Pembroke ( 27VT ) Montpelier, VT
5. Brooks Clark ( 68VT ) Waitsfield, VT
6. Stephen Donahue ( 2VT ) Graniteville, VT
7. Matt White ( 42VT ) Northfield, VT
8. Tyler Cahoon ( 38VT ) St. Johnsbury, VT
9. #Matthew Smith ( 04VT ) Essex Jct., VT
10. Trampas Demers ( 85VT ) Shelburne, VT
11. Nick Sweet ( 40VT ) Barre, VT
12. Darrell Morin ( 17VT ) Westford, VT
13. Christopher Pelkey ( 64VT ) Graniteville, VT
14. Bobby Therrien ( 5VT ) Hinesburg, VT
15. James Aube ( 41VT ) Charlotte, VT
16. Scott Coburn ( 72VT ) Barre, VT
17. Marcel J. Gravel ( 86VT ) Wolcott, VT
18. #Anthony Hill ( 8VT ) Waterford, VT
19. Chris Roberts ( 3ME ) Washington, VT
20. Craig Bushey ( 15NH ) Fairfax, VT
21. Reilly Lanphear ( 21VT ) Waterbury, VT
22. Boomer Morris ( 13VT ) Barre, VT
DNS Tom Sheehan ( 65NH ) Bow, NH
BURNETT SCRAP METALS ROAD WARRIORS
Pos., Driver, Car #, Hometown
1. Trevor Jaques ( 57 ) Milton, VT
2. Dan Garrett Jr. ( 54 ) Berlin, VT
3. Tyler Whittemore ( 74 ) Barre, VT
4. Josh Vilbrin ( 07 ) Northfield, VT
5. Luke Marcheski ( 65 ) Boston, MA
6. Brian Putney ( 87 ) E. Cornith, VT
7. Fred Fleury ( 99 ) Graniteville, VT
8. Frank Putney ( 78 ) Graniteville, VT
9. Todd Raymo ( 26 ) Swanton, VT
10. Jamie York ( 68 ) Barre, VT
11. Paige Whittemore ( 47 ) Graniteville, VT
12. Eric Chase ( 13 ) Berlin, VT
13. Shawn Moquin ( 76 ) Milton, VT
14. Sean McCarthy ( 86 ) Williamstown, VT
15. Kendall Zeno ( 21 ) Middlesex, VT
16. Rodney Campbell ( 10 ) Worcester, VT
17. Justin Prescott ( 44 ) Williston, VT
DNS Jason Kirby ( 71 ) Milton, VT
DNS Nick Copping ( 50 ) Barre, VT