BARRE — Tomorrow night, the Country Camper Midseason Championships, one of the biggest stock car races of the season, will kick off at Thunder Road. 
If Milton's Scott Dragon wins or lands on the podium during the Maplewood/Irving Oil Late Models race, he'll have a good chance of climbing higher in the season's overall standings. 
After his second place finish at the Vermont Governor's Cup July 16, Dragon currently sits in eleventh place overall with 282 total points. 
The Country Camper Midseason Championship begins at 6:30 p.m July 23 and offers the top three finishers double the points. 
Dragon's Maplewood/Irving Oil Late Models race will be 75 laps long. In his division, just 31 points separates the top-nine in the standings. Shelburne's Trampas Demers has a three-point lead over Wolcott's Marcel J. Gravel and nine points over Hinesburg's Bobby Therrien.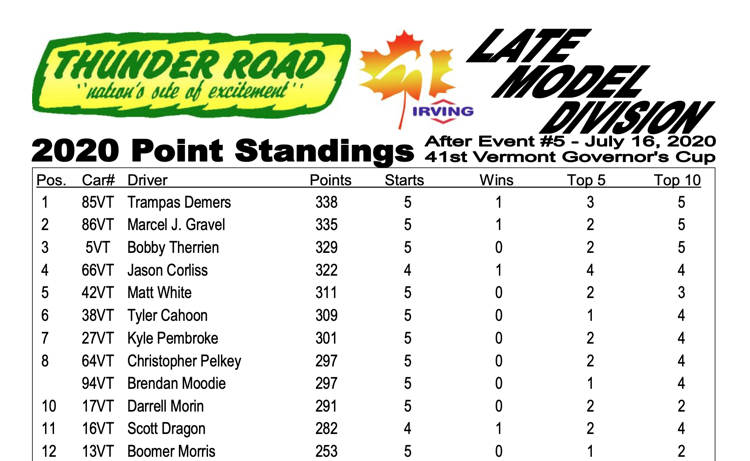 Defending champion Jason Corliss of Barre is up to fourth overall after back-to-back feature wins.
Meanwhile, racers such as Matt White, Tyler Cahoon, Kyle Pembroke, and Christopher Pelkey are one double-point victory away from being players for the overall title.
A blown engine earlier in the season cost Dragon points, but as a previous winner of the Midseason Championships, he stands a chance at making up lost ground.
Limited fan attendance is permitted with advance ticket sales at www.happsnow.com/event/Thunder-Road-Speedbowl. Admission is $15 for adults, $3 for kids ages 6-12, and free for kids ages five and under. 
A $15 pay-per-view broadcast will also be available on the Northeast Sports Network at www.NSNsports.net/sponsors/racing.