MILTON — As vaccine rollout accelerates across the state, educators in Milton are beginning to plan for a post-pandemic world.
During its March 11 meeting, the school board heard a presentation by Superintendent Amy Rex about the district's plan for recovering not only students' academic performance, but their social and emotional wellbeing.
"I'd prefer to call it 'Lifting and leveraging learning for all students in the aftermath of COVID-19,'" Rex said. "I know it's not as easy to say as 'recovery' but I feel like that's really what we're doing."
MTSD is working with state education groups like the Agency of Education, Vermont Superintendents' Association and the Vermont NEA on these recovery plans.
"Recovery is going to be a process," Rex said. "We can't just hold a summer school this summer and think that all students will be ready to come back to school where they left off."
Here are the steps the district is taking to begin the recovery process.
1.  As was mandated by the State, MTSD built a Recovery Team which will develop a written recovery plan and implementation strategy.
Lynne Manley, the district's director of curriculum, instruction and information technology, will serve as the Recovery Coordinator. Other members of the Recovery Team include: Data and Assessment Coordinator Tammy Boone, Director of Student Services Tim Dunn, Superintendent Amy Rex, MHS Co-Principal Anne Blake, MMS Co-Principal Brandy Brown and MES Principal Kurt Vogelpohl.
The Recovery Team will be assigned a liaison at the AOE, who will help the team develop its plan, which ultimately requires AOE approval.
Manley will meet regularly with other Recovery Coordinators in the region to collaborate, learn and share ideas.
The three topics the AOE says need to be included in the district's recovery plan are:
Social, emotional and mental health and wellbeing
Student re-engagement and truancy
Academic achievement and success
"What's nice for MTSD is that we already identified these themes in our visioning process that we went through a couple of years ago, so I think we are positioned really nicely to move into this recovery phase," Rex said.
Specialization Teams, which will be made up of a variety of school staff, like nurses, counselors, teachers and special educators, will be created to tackle each of the three required topics. 
The district's recovery plan must be developed by May 15, and implementation should begin June 1.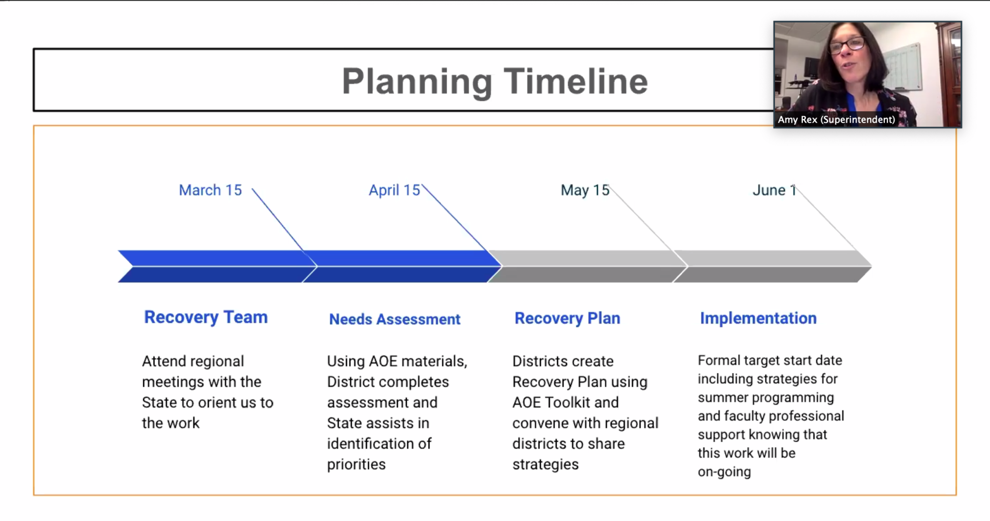 2.  Milton schools are conducting assessments of students' social-emotional wellbeing and learning loss.
Rex explained that Milton is already ahead of other area districts, because it recently purchased a resource for assessing students' social-emotional skills with some of its State-given Coronavirus Relief Funds.
The district is also conducting mid-year assessments in literacy and math and is comparing this year's data with the previous three years' to better understand the effects of the pandemic and remote learning.
3.  Milton educators are working to design unique summer programming, which will slowly introduce students back to in-person learning and engagement.
Though elementary students are currently attending school in-person four days a week and high school students are attending two days in-person, Rex believes it will still be an adjustment to come back full-time.
"It's going to be really important for us to first re-establish the community that exists in the school buildings," she said. "Our connections have been a bit fragmented...and reconnecting is going to be awkward at first."
With that in mind, MTSD has already decided a traditional summer school program, during which students catch-up on classes and recoup credit, is not the way to go this year.
"It's been agreed upon that we don't want to 'drill and kill,'" Rex said. "We need to structure programming that supports social-emotional well-being first, before re-engaging in a rigorous academic program."
MTSD recently sent a survey to teachers to find out who was available to participate in summer school. Rex said many teachers responded with interest, which she said might partly be due to the more laid-back approach planned for this year.
How is all of this going to be paid for?
MTSD is expected to receive $1.27 million dollars from the State through the second round of Elementary and Secondary School Emergency Relief funds (ESSER).
Milton's allotment was determined by a formula that is based on the State's education funding system. Though the $1.27 million is guaranteed, the district has to request each payment through an extensive grant writing process.
Though Milton's allotment from the third round of ESSER funding is still to be determined, School Board Chair Rick Dooley estimated Milton could receive about another $2 million to support its recovery plans.