STANDISH, ME — Ian Jennings, a 2019 graduate of Milton High School, just wrapped up his second basketball season at St. Joseph's College, a NCAA Division III school in Maine. 
A four-year varsity basketball player while at MHS, Jennings was called up from the bench at St. Joe's this year to play in all six of this season's games. He averaged 15 minutes of play time per game and scored double-digit points in three games. 
He also scored a career-high 13 points during the team's last game of the season, a March 28 match-up against Husson University. 
"I was definitely more confident this year getting and shooting the ball," Jennings said in a recent phone call with the Independent. "I had more opportunities, and it felt good to capitalize on them."
At Milton, Jennings grew as a player under the coaching and advisement of Varsity Head Coach Chris Brown. Jennings garnered many accolades his senior year, including First Team All-Lake Division, Lake Division Player of Year and All-USA Vermont First Team.
Over the next few weeks, Jennings will be studying hard and enjoying a short break from basketball as the spring semester and his sophomore year wind down.
Q: How did the pandemic effect the college season?
A: At first, we weren't really too sure whether or not we were going have a season of playing games.
When we got to campus, we practiced several times a week, non-contact at first. We were later cleared to practice with contact, but then we had an outbreak on campus, and we got sent home around Christmas break.
When we returned, we found out we could play a six-game season, and that was cool for us. It was a much shorter season, but it was cool we were able to at least play those with everything going on.
Q: How did playing on the basketball team at Milton prepare you for playing at St. Joe's?
A: College competition is really a totally different game compared to the style of play in Vermont, but playing at Milton and having the trust from Coach Brown gave me confidence.
There are a lot of similarities between the way we practiced at Milton and how I practice now at St. Joe's. The offense we run is similar too.
Knowing that I wanted to play in college, Coach Brown aways had me getting prepared and ready.
Q: You're a business and sports management major. What do you hope to do with those studies in the future?
A: I'm really into the business side of the things, but I'd like to keep sports as part of my degree as a potential career option.
Working in sports would be great, whether that's marketing or management — just any opportunity in the sports industry.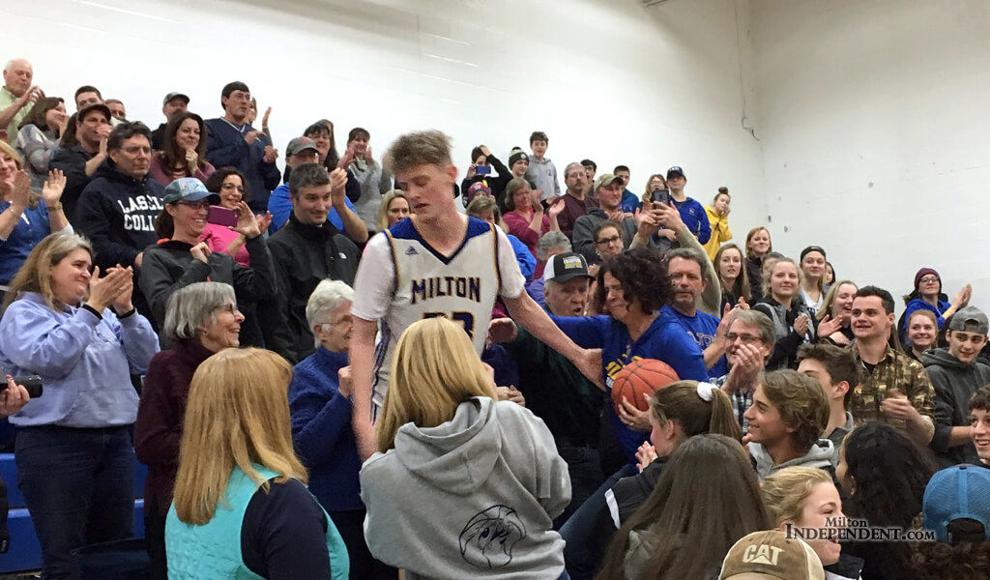 Q: Do you have a teammate on the St. Joe's team who you look up to?
A: Jack Casale. He's one of the better players in the country. I look up to his leadership skills. We always have trust in him.
This year's senior class in general was very welcoming when I joined. Seeing them lead and playing with them was fun.
Q: What are you personally, and the team as a whole, working on to get ready for next season?
A: I'm not where I could be. In terms of personal improvement, I definitely want to be a more impactful player.
As a team, I think we have a pretty high standard for next year. We definitely want to make a run in the tournament. We have high expectations.
Q: What are your plans for the summer? 
A: I'm coming back to Milton. I'm hoping to be able to get into the gym with Coach Brown and some of those kids from the high school level. I know his son [Kyle Brown] is preparing to play in college next year so I'd love to be able to get in there and help him out any way I can. 
Q: Do you have any advice for Milton athletes who are committed to playing a sport in college next year?
A: Just keep working at it. We're told its hard to make it out of Vermont, but just keep working and take every opportunity you can.
And just have fun. College is only four years, and it goes by fast.