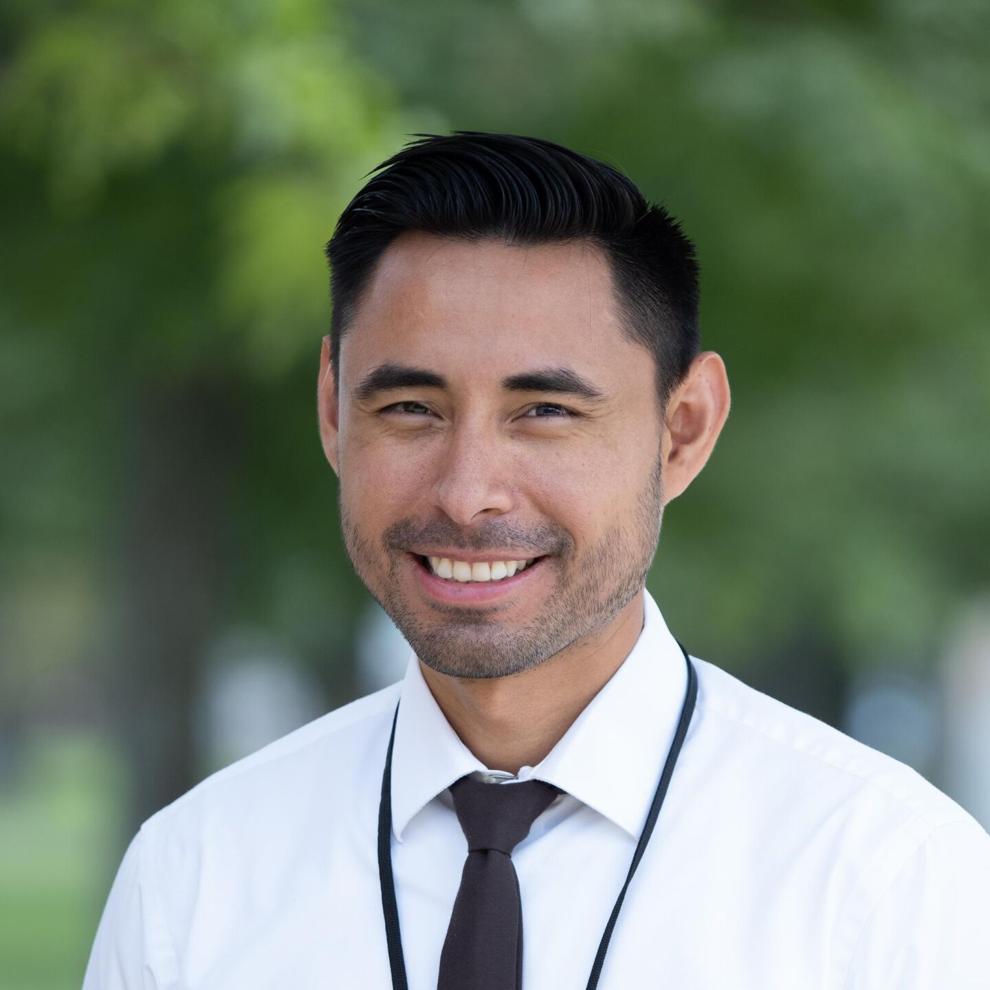 When Wilmer Chavarria first came to Milton last year, just a few days before everything shut down, it was for an interview at the Milton Elementary School.
Chavarria came to Vermont from New Mexico, where he worked as a teacher and then a school principal. In Vermont, he spent the day driving around the state, meeting with different school districts and interviewing for different jobs.
In the end then, the timeline in Milton didn't work out.
Other schools were further in the hiring process when Milton was just beginning and Chavarria felt he couldn't decline job offers to gamble on whether or not he would get one at MES.
But his visit to Milton was one he wouldn't forget and one he would soon tell his family about how memorable it was.
Chavarria said his interactions with the students there were so sweet and genuine that when he decided he no longer wanted to be a principal, Milton was the first place he called to see if there were any openings.
Now Chavarria is the new Director of Equity and Education Support Systems for the Milton Town School District, a job which was exactly what he was looking for, combining advocacy aspects with instructional aspects.
In Chavrarria's job description he has a number of responsibilities and duties: including guiding the implementation of an equity policy and the development of an equity plan, helping develop new policies through the lens of equity and collaborating with MTSD leadership on curriculum, instruction and assessment through the lens of equity, diversity and inclusion.
At the Milton School Board meeting on Sept. 23, Chavarria was introduced to the board by Superintendent Amy Rex.
"Wilmer is focused on supporting the actualization of our vision of learning as an equitable educational system through policy, culture, organizational structures and equity capacity building of all stakeholders," said Rex at the meeting.
The position in the district is an ESSER grant funded position and is not paid through the district's general funds.
Chavarria said that since starting the job, he's admired just how much of these conversations are already happening and not in a performative way, but in a real, grassroots and tangible way.
"I think that the people here might not realize how unique and amazing that is," he said.
Chavarria said that the two aspects of his position with the district, equity and education support systems, are interrelated.
"Equity really is ensuring that the student that's in front of me has everything they need to be successful and so education support systems are sort of like a natural partner to equity," Chavarria said.
Chavarria said that Milton is set up perfectly to be a more equity oriented district in a way that is cohesive, deep and sustainable.
"I see my job as bringing some cohesiveness, some direction, some sustainability with long term impact," he said.
During his free time, Chavarria loves running and writing screenplays, both of which are activities that he discovered while he was still in school.
In a Sept. 23 interview with the Milton Independent, just a few hours before appearing at the school board meeting, Chavarria spoke about his background, his philosophy on teaching and his goals for his new position.
Can you tell me what you were doing when you were the age of your students?
That's hard to say because I was when I was a teacher, it was for mostly juniors in high school. But then when I became a principal the first time, I was a principal for ages pre-K through six. And then last year I was a principal for ages pre K through eighth grade.
I guess then I would ask, what were you doing when you were in pre-K?
Okay pre-K, I was going to school, I would say.
When we say school we imagine the typical U.S. school, right? So I wasn't going to a typical U.S. school and I can expound on that later, but I was going to school.
And so I was going to school in the morning and then in the afternoons and evenings, I was working with my mom, selling bread, house to house in the streets of my town in Nicaragua.
I was actually born a refugee. I was born at a refugee camp during the Sandinista Contra War in Nicaragua. My family was a family of farmers in some indigenous communities, very remote communities in Nicaragua.
They were the ones who paid the highest price of the war and so my mom was displaced and she ended up spending eight years at a refugee camp and that's where I was born.
When the Cold War ended which also effectively ended the war in my country, we were repatriated into Nicaragua but we ended up in a place we didn't really know, it was a small city.
But basically we were at the bottom of the bottom because that was a country that was ravaged by war, everybody was poor, but then if you were a repatriated refugee you were poorer than poor.
You don't even have a place to sleep, you don't have something to eat so you have to be very creative about how you survive day to day.
My mother was very creative.
She sort of had a survival instinct at all times.
So we made it through some very difficult years, but one of the reasons she didn't want to go back to our farm, on top of the fact that it's traumatic to go back to a place you left because of the atrocities that happened, was that there were no schools.
At the refugee camp, she had a little taste of what education was all about. Her children had a taste of education and she didn't want to go back to a place where there were no schools so she stayed in that town, even though we were homeless.
But we had the guaranteed education of the neighborhood school which had no doors, no windows, teachers were basically volunteers who would get bags of rice as a payment, but it was a school nonetheless.
No notebooks, we actually used this recycled paper that at the end of the day we would erase everything we wrote so that we could use it the next day.
It was a pretty precarious education if you would call it that.
There wasn't really time for homework there.
My mom would have to go to work and I would gladly go with her because it was fun but at the same time, I was also working.
I would get my own little basket of bread and go with her and we would sell bread together.
So your interest in education began when you, yourself, experienced the importance of it or does it also have to do with your mother's recognition of the importance of education as well?
It all goes back to my mother.
Eighty percent of the story she's gonna tell you will make it obvious that she wished that she could have made it past fourth grade.
Her stories are so heartbreaking, because she really wanted to study but basically the adults in her life and the society in her life made it impossible for her to survive while studying at the same time.
But the happiest memories that she has as a child are of her being in a classroom.
In fact, she went through so much, displacement, war, all sorts of things, but one piece of paper that she kept to today was this report card from when she was a child, because she held onto it like it was precious.
It was obvious to me when I was a child listening to her stories, how her eyes would light up when she thought about the classroom and how she wished she could have continued. And I think that sending her own children to school made that happen for her.
That didn't mean that I made that connection directly to myself and said that I wanted to go into education.
She was the only one that actually said while I was growing up that I should be a teacher.
I was like, 'Mom, no, I'm not going to be a teacher.'
But eventually, like many things in our lives, some things just happen almost by accident. I happened to marry someone who was a teacher and then it just happened that as soon as I got my green card in the US, there was an opening at the high school where he worked.
I just applied for it because I needed a job. It was the first time that I was allowed to work in the US. So it was nice to have a job available right there and so that's how I started my career.
I didn't plan it, but when I told my mom, she was like, 'I told you you were gonna be a great teacher.'
What did you teach originally?
I taught Spanish for just a year and a half and then I taught English Language Arts. After that I became a principal.
What impacted your decision to start teaching ELA?
Funny story, I applied for a license to be able to teach Spanish at the Department of Education.
So when you apply for a license, you have to submit your transcripts and tests and all sorts of things.
So they denied my application.
They said that I didn't meet the requirements to teach Spanish, but they said that I do meet the requirements to teach English.
And they gave me a license to teach ELA to English speakers when I was like this guy with an accent who is an English learner, you know? It's just hilarious.
But they didn't want me to teach Spanish, they denied that at first. I still pursued it, but by the time I got the Spanish license I already was endorsed in English and Theatre.
Reading from your bio on the Milton Town School District website, it says that, you enjoy stories and just judging from your background and your own education you seem interested in the art of storytelling and listening to stories. Where does that show up in your job as an educator or your job in the education field?
Ever since I was a teacher, I always thought I was creating an environment in which it was all about storytelling.
And I did have a track record of pretty extreme student growth in those sterile, standardized scores.
So people would guess that I was just teaching to a test or that I was doing military style training, because I would get kids into my classroom the first day of school and by the last day of school they would take that test and do up to three, four years worth of growth, according to the state measurements.
And really the way we were doing that was just by taking a storytelling approach, not that we were just sitting around a circle and telling stories, but everything was based on the idea that no matter that text that's in front of you, no matter the media that's in front of you, it's someone's story.
I see everything from that lens, really, especially the work I do.