MILTON — "Cecilia, wake up! It's time for breakfast!" ¡Cecilia levántate! ¡Es hora de desayunar!
This is the opening line of "My Mom Tells Me No, No, and Nooo!" a bilingual children's book written in English and Spanish by Monica Wood, a math coach at Milton Elementary School.
Published on Feb. 26, the book is still hot off the press.
Wood read the book with MES Librarian Stephanie Eddy to students on March 30 over Facebook Live. Wood said it was a memorable experience that hopefully got kids excited about reading diverse books.
"All of the rest of the day students were coming up to me saying they want to learn Spanish or want to write their own book," Wood said. "It was really cool."
Wood, who has been an educator at MES for two years and is a doctoral student in Education Leadership and Policy at UVM, spoke with the Independent about the book.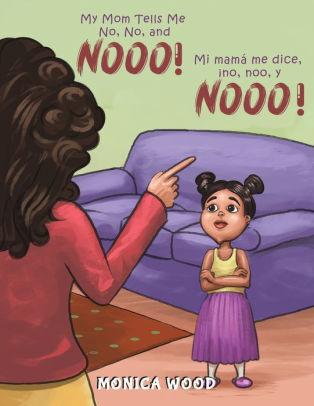 Q: What is "My Mom Tells Me No, No, and Nooo!" about?
A: It's just a fun play on a relationship between a mother and her daughter Cecilia, and how kids explore their relationship with the world.
Anytime Cecilia wants to have fun, her mom says "no!" Until one day, Cecilia's mom takes her on an adventure full of "yes!"
As parents, we often tell kids "no," and that can kind of dampen sometimes their excitement about things.
Q: The book is bilingual. Why was that important to you?
A: I am Latina, and when I was growing up, my mom would read me stories but it would be the same few children's books that were in Spanish at the time.
Now, as an adult and as an educator, I want to expand the library of bilingual books for students.
Q: What was most challenging or unexpected about the book-making process?
A: It was a really fun process in that I hadn't really given so much thought before to the word craft.
Learning about how authors use word craft, and specifically how authors engage really young, new readers to text was an interesting process for me to explore.
COVID definitely slowed things down in general too. 
Q: Are you writing anything else right now? Will you write another book?
A: I'm about to enter the dissertation process for my doctorate at UVM. A lot of the work that I'm going to start putting out within the next year is really going to be for higher education.
It's going to be research-based, and for people who are interested in learning to navigate and deconstruct our world.
A lot of my work is grounded in equity, and so writing "My Mom Tells Me No, No, and Nooo!" was about adding to the bilingual library. I think my work as an instructional coach kind of speaks to equity and that's kind of like my little mission for social justice.
This interview was edited and condensed for clarity and length.