MILTON — Because some survey respondents shared that the uniform of the School Resource Officer makes them feel uncomfortable, the Milton Town School District will hold in-person discussions with students in fall 2021.
The discussions had been planned for this spring, but due to the district's need to turn its attention to pandemic recovery, the SRO uniform will be revisited in a few months.
"We want to hold focus groups where students can really understand what is the makeup of the uniform and why, and what kind of modifications are possible," Superintendent Amy Rex said during the joint school and selectboard meeting on March 29.
In fall 2020, a 19-member committee created surveys that were sent to MTSD students, faculty, staff and community members.
The student, faculty/staff and community surveys were all slightly different, but each asked questions like "How important do you feel it is to have an SRO at school?" and "How safe do you feel with having an SRO present?"
In total, the surveys received 786 reponses. The majority of participants — across all three categories — said they value the presence of an SRO in Milton schools.
The survey also asked participants to weigh in on the SRO's uniform, which is governed by the Milton Police Department and union agreements. The uniform is required to include a firearm and a bulletproof vest.
Among faculty and staff, feelings about the uniform were mixed, with 53% not in favor of modifications and 46% in favor.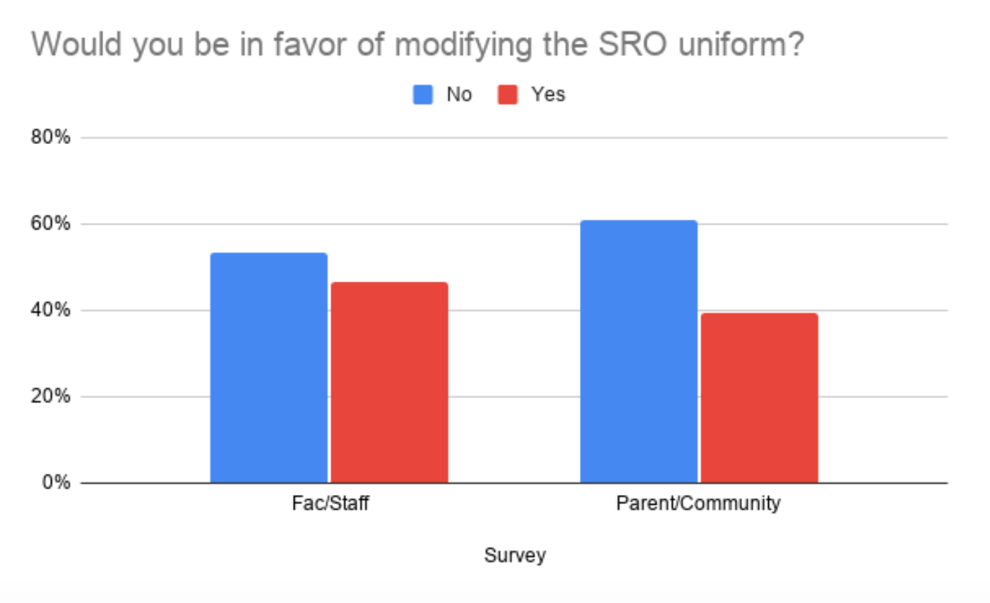 A small number of students shared in the write-in portion of the survey that the SRO's uniform makes them feel uncomfortable.
"I feel unsafe because our resource officer has weapons, including a gun," one student wrote. "I understand that the SRO has been through training about keeping our school safe, but having a gun seems a little excessive in a building with a bunch of students."
"Regardless of how friendly the resource officer is, due to the abundance of equipment and way the equipment is presented, [the SRO] seems less approachable and more frightening," another student wrote.
Rex said it is hard to tell how prevalent this perspective is, given that only 357 of the district's middle and high schoolers responded to the survey.
"Is this a widely-accepted viewpoint? Or is this the view of just a few students?" Rex asked rhetorically. "The intent of the student dialogue is to really understand their perspective."
"I agree with Amy [Rex]," Police Chief Stephen Laroche said. "I'm open to the dialogue and future meetings with students and staff around the uniform."
On the other hand, Selectboard member Brenda Steady and Vice Chair Michael Morgan expressed they didn't see a need for further discussion.
"I'd like to know what the issue is with a police uniform," Steady said. "Why aren't the educators educating the students that this is the police uniform? I don't want Milton to end up a laughing stock like Winooski."
Last year, in response to demands from Winooski Students for Anti-Racism, the Winooski school board altered the uniform of its school resource officer twice.
The first alteration came in early summer 2020, when it was decided the SRO would be unarmed. In early fall, after consulting with Winooski Police Chief Rick Herbert, that decision was reversed, according to reporting by Seven Days.
Currently, the Winooski SRO arrives at school with a firearm and wearing a "soft" uniform of khaki pants and a Winooski police polo shirt.
"Maybe I'm a bit old school but I tend to agree with Brenda, on a number of points," Morgan said. "I'm not saying I'm steadfast in my position...but I was a military guy for 30 years, so a uniform has meaning to me. It's not just symbolic; it's real and I think children need to be educated on that."
Steady said she was a member of the school board in 2004 when the School Resource Officer was first implemented and that one of the reasons was so students could learn to see police officers as not "scary people."
Rex politely reminded Steady that feelings and perspectives on police have changed in the last 20 years.
"The world right now is a little different than it was 20 years ago," she said. "We have a commitment to student voice now that wasn't there then."
School Board Chair Rick Dooley reminded the two boards that the district's intent to hold further discussion with students and faculty about the uniform was not up for a vote. In conjunction with Chief Laroche, the focus groups are going to happen in the fall, and after that, the school board will share its findings.
"The school doesn't want to put police officers in danger," he said. "The school doesn't want to undermine their authority in any way...but a percentage of students identified this as a significant issue, and we're responsible for educating every student in Milton, not just the majority of students in Milton."
MORE COVERAGE