MILTON — For the last few months, Milton's high school theater students transported themselves 1920s New York by returning to the stage to star-in and produce an adaptation of "The Great Gatsby."
"It has been amazing to watch the students step into more leadership roles and create an original work," Theater Director Paul Curtiss said. "I couldn't be more proud of them."
In the fall, students performed outdoors in accordance with guidance from the Vermont Agency of Education. Instead of the usual fall musical, students adapted and performed short scenes from "Footloose," "Beetlejuice," "Dear Evan Hansen" and "Hamilton."
The event was live streamed from Bombardier Park in November.
"Because the arts are based on human interaction and contact, it has been extremely difficult to adapt to the new rules and guidance," Curtiss said.
This spring, students excitedly returned to the high school stage, albeit with masks and social distancing guidelines still in place.
"Through it all we have maintained the philosophy of accept and adjust," Curtiss said.
Students brought "The Great Gatsby" to life by adapting the play from the book, directing, acting and creating the set.
Seniors Zachary Fantini and Jeremy Hardy had a hand in nearly every aspect of production, Curtiss said, and were instrumental to the show's success.
"When it came time to pick a show, I just sort of fell in love with it," Fantini said. "'The Great Gatsby' was one of the few 'classic novels' I've enjoyed reading, so choosing this show was a delight for me."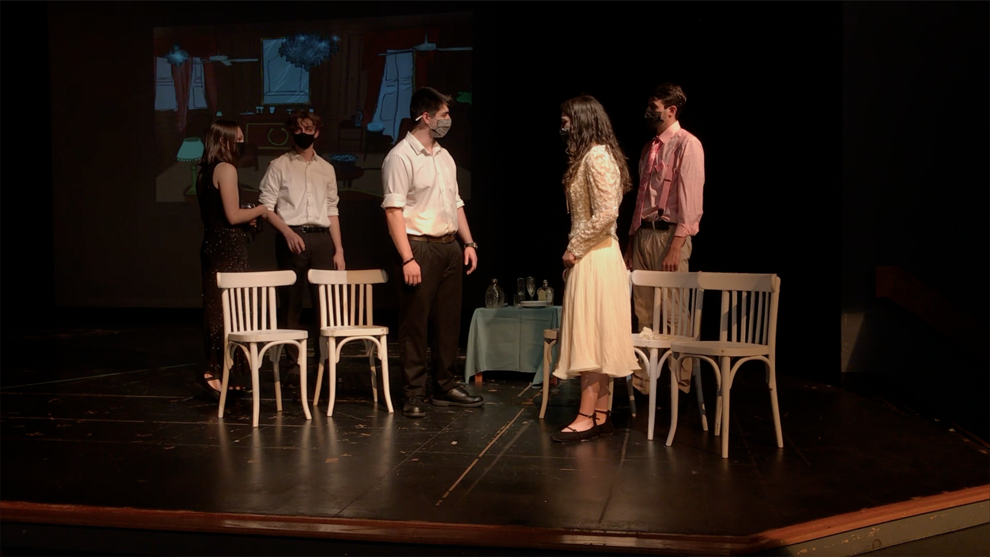 Hardy and Fantini drew inspiration for MHS' version from the 2013 film starring Leonardo DiCaprio. They took notes on what they did and didn't like and then weaved in passages from the novel to create the script.
Amanda DeCarlo, a Milton art teacher and the show's technical director, as well as student Alyssa Solleder, the lighting director, also contributed to the script.
"Ms. DeCarlo was such a sweet person who cared for every single person involved and made sure that everyone was happy with what was going on," Fantini said.
Fantini plays Jay Gatsby in the show, opposite Morgan Jones as Daisy Buchanan. He said its a dream come true to say he's played the same role as DiCaprio.
"Getting to choose what I could wear was a blast," he said. "And getting to see my writing up on stage and getting to perform a script I can say I helped contribute to, feels amazing."
Hardy, who is playing Tom Buchanan, has participated in every school pay since the sixth grade. The most memorable moment of this production, he said, was when Curtiss pulled him aside and entrusted him with the show's filming.
"Our director, Paul, took me aside and told me I would be taking over for the filming," Hardy said. "I had created a shot list for all the places to film, and only expected to hand that to him and let him use it as a reference if he needed it. This was an amazing opportunity for me."
Filming was a long and challenging process, but Hardy is proud of how it all came together. He and Fantini are now editing the film, and it will soon be ready to be shared with the Milton community.
High school choral students also helped make this show a reality. They add dimension and layers of emotion to the show.
"I truly want it to be known that the chorus members absolutely deserve most of the credit for making this show super fun," Fantini said. "They dealt with us at our best and our worst, and I want to give them many thanks for all that they have done for us."
Putting the show together during the pandemic was difficult, but Hardy and Fantini are proud of what they created together and are looking forward to sharing it with the public soon.
"The friendships I made along this process are super meaningful," Fantini said. "The other cast members busted their butts for us, and they are the true heroes of this production...I'm very proud of how it went.