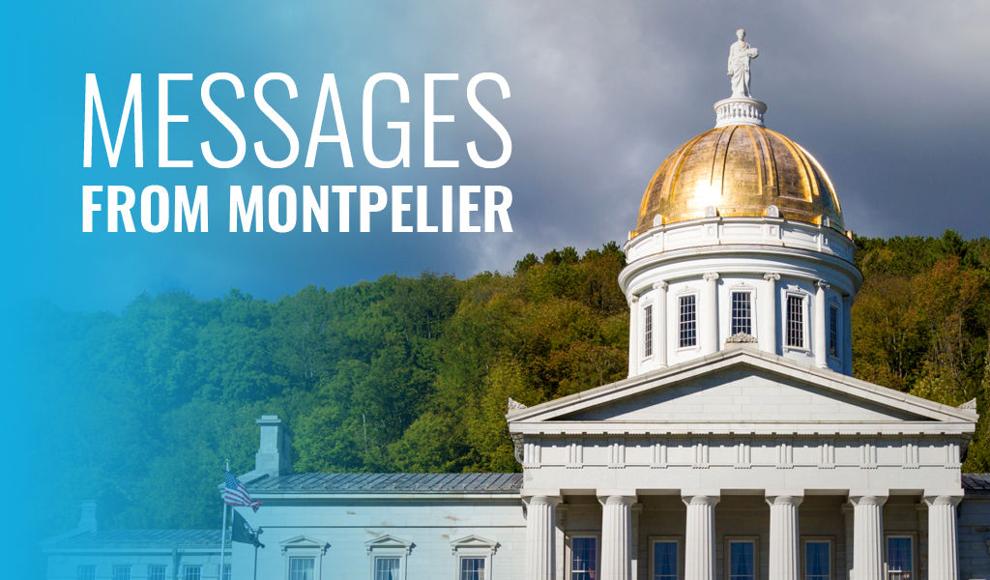 Legislative and Education Committee Update 5/8 to 5/12 
The gavel fell just before midnight on Friday to end our 2023 Legislative session. This last week was a true roller coaster ride trying to keep up with it all. Bills were ping-ponged back and forth between chambers with amendments and stalled/revived many times. It was a true whirlwind.
A few of the bigger bills and votes over the last week were:
S.5, the Affordable Heat Act, which was vetoed last week by the Governor, made its way back through both chambers for another vote to either sustain or override the veto. Both chambers were successful in overriding the veto (the House vote count was 107 yes to override 44 no to sustain).  I voiced my opposition to this bill in many of my previous updates, and my thoughts have not changed. I think it will be detrimental to Vermonters and voted to uphold the Governor's veto.
H.217, Workers Comp bill with S.56 (Child Care/PreK) added to it two days before adjournment. This was probably the hardest vote for me of this session and I languished over it. There is a real need to address our current child care system, especially when it comes to capacity, provider pay and financial assistance for families. The Governor had proposed a plan in his original budget that would have added a substantial amount of money ($56 million) to help in these areas without raising taxes or fees. His proposal included raising the upper threshold limit for subsidy to 400% of the federal poverty level ($120,000 yr. for a family of four). This would have put Vermont at #1 in the nation for state financial assistance for child care. Unfortunately, this plan and a compromise offered by the administration to possibly go higher to 450% FPL were not considered by the majority.  Instead, they moved forward with their "gold level" plan, which raises subsidy income thresholds for a family of four to $172,500 and creates a payroll tax to pay for the additional $135 million annually. In the end, for this, and other Prekindergarten education reasons, I voted no on this bill and offered this explanation on the floor:
"Madame Speaker, I tried to get myself to a yes on the childcare and PreK portion of this bill repeatedly. Unfortunately, the included language that looks towards the reduction of current PreK services for 3 year olds, a Child Care Financial Assistance Program (CCFAP) upper threshold limit increase that I find to be too much, and the extra burden this will put on Vermont taxpayers were hurdles I could not overcome."
S.39, An act relating to compensation and benefits for members of the Vermont General Assembly was also passed this week.  This bill, as passed, raises the weekly rate of pay for Legislators from the current $812 a week to $1100 weekly in 2025 and $1210 a week in 2027. It will also now compensate $250 a week in the off session and study options for providing health care and child care for Legislators. I voted no on this bill. In a session with what appeared to be untethered spending (that is going to be reflected in increased taxes and fees for Vermonters) I find it disgraceful that this bill was moved forward.
H.494, State Budget "The Big Bill", passed on the floor by a vote of 90 yes to 53 no. The Governor has signaled that he will be vetoing this bill due to the extra spending and additional fees added by both the House and Senate. The budget as presented is an overall 13.3% increase from last year's one time money and baseline needs and includes additional fees to pay for and offset the money needed for the large initiatives passed by the majority this session. In a memo presented to the Ways and Means Committee, the Commissioner of Taxes outlined his concerns for the path Vermont was on, specifically regarding its spending, taxing, and revenue levels. He outlined that Vermont is currently the 2nd least populated state in the nation, and we are poised to be the 3rd most taxed. To me, this is unacceptable, and we need to start living within our means. I voted no on the budget and will support the Governor if he chooses to veto it. 
(You can read the full text of any bill by going to the Vermont General Assembly website at legislature.vermont.gov and entering the bill number in the search bar.)
As we move into this week, we will start to learn which bills the Governor has vetoed and which ones he has signed or let be enacted without signature. I am expecting there to be some significant bills vetoed. (We currently have a session scheduled for June 20th-22nd to vote on any that he does.)  Between now and then, it will be a very important time to reach out to myself and other Legislators to voice your concerns and let us know your thoughts.
Lastly, I wanted to say how much of an honor it has been to be serving in Montpelier this session. I appreciate all of the feedback I have received from everyone, and I have tried to take it all into consideration while making some very difficult decisions. Please continue to reach out to me at any point with questions or concerns at 802.233.7579 or chris.taylor@leg.state.vt.us.
Representative Chris Taylor
Chittenden-Franklin District