What's new at Milton Recreation is a new weekly column written by Milton Recreation staff and published on Wednesdays — sharing events, activities, news and more. 
Milton Recreation would like to announce a new fall event: Spirited Homes of Milton.
Milton Recreation has seen a lot of changes this year due to COVID-19, and this fall has been no exception. Beloved Milton events such as Trunk or Treat and the Giant Pumpkin Growing Contest may not be happening this year, but we are still committed to offering fun, safe alternatives to the community. We think Spirited Homes of Milton is just the thing.
The Spirited Homes of Milton Halloween Decorating Contest is open to 12 residential homes and 12 local businesses. Homes and businesses will go all-out with their Halloween decorations — as fun, spooky and creative as they can get. Three judges will then go to each location and judge the home or business on its creativity, storytelling, safety and overall presentation.
Here is the fun part: every display will be added on to a Spirited Homes of Milton map so the entire Milton community can enjoy them. The maps will be released on Oct. 19 and will be available through Oct. 31.  We encourage Milton families to make a night of it. Pick up a map, bring some snacks and visit every location on the list to celebrate Halloween in a fun and safe way.
To get the Milton community even more involved, we added a special category called "People's Choice Award." Starting Oct. 19, when the map comes out, an online poll will go up and members of the Milton community can vote on their favorite residential and business displays. 
The winning homes and businesses will receive signs to display on their property, along with other fun prizes and the best prize of all — bragging rights.
The winning categories for homes and businesses include "Most Spirited" (best overall), "Most Spirited Runner-Up,"  "People's Choice" and in an effort to stay true to our eco-friendly nature, we have added the category "Best Use of Recycled Materials." We encourage homes and businesses to repurpose materials and items they already have lying around into creative Halloween decorations. 
Registration is open until Oct. 13, and only three residential spots are still open. Register now at miltonvt.gov/recregister before it fills up!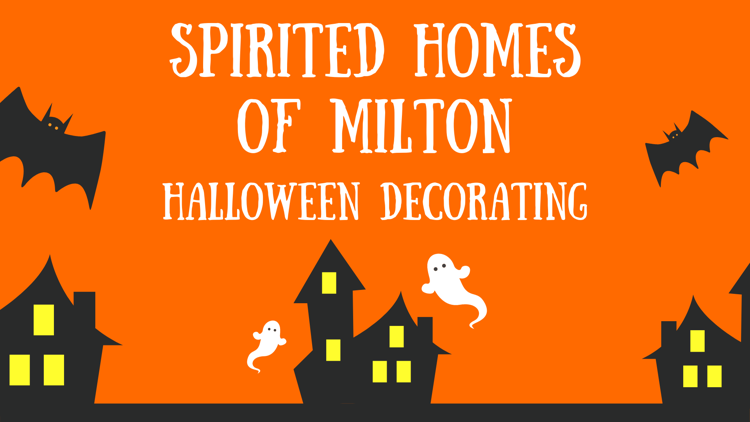 ---
Milton residents looking for other fun fall activities might be interested in checking out Milton Recreation's Birding Walk Oct. 11 and Fall Pebble Art Workshop on Oct. 13.