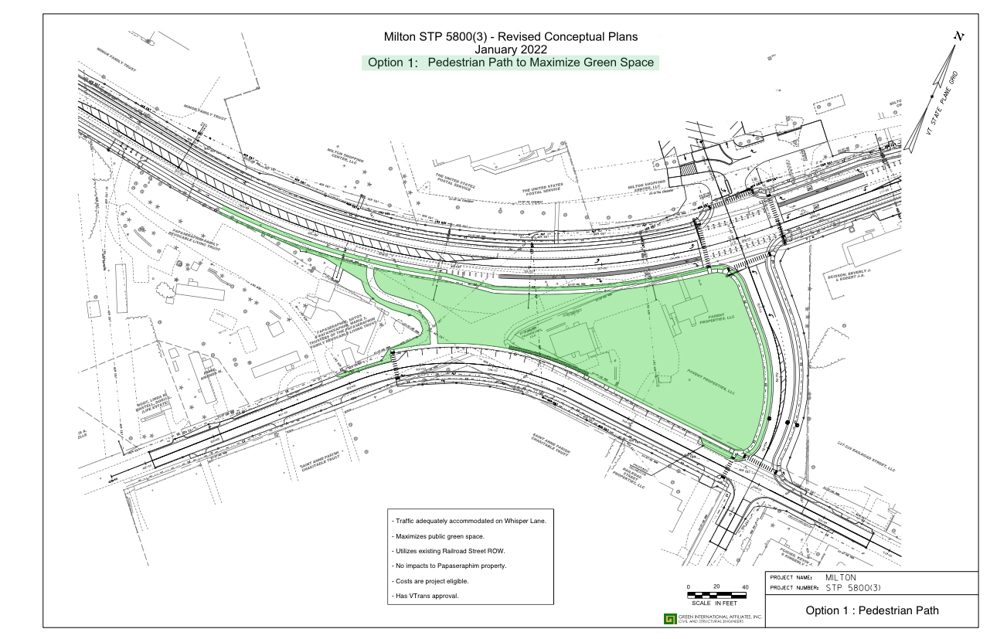 The town has revised their approach to the "hourglass project," the planned renovation of the Route 7, Middle Road and Railroad Street intersection which includes plans for a town green.
At the March 7 selectboard meeting, the selectboard unanimously approved the new plans with a hopeful construction start in 2024. In 2020, the project's hopeful construction date was in 2021, according to a June 2020 Milton Independent article.
The project however has been a priority of Milton's for a long time with residents excited about the prospect for increased development for a more realized downtown area. The area has also been identified as a high-crash location.
However the project has been postponed as an agreement between the town and the Papaseraphim family can not be reached to obtain the property for the southern half. This part was the town's responsibility, a new road connecting Route 7 to Middle Road.
This southern leg cuts through property owned by the Papaseraphim family, according to a 2012 Milton Independent article.
Although VTrans was doing the design work for the whole project, the secondary road was the town's project that the town had to pay for, said Milton Town Manager Don Turner.
The town had a Memorandum of Understanding with the property owner but could not come to a final agreement.
"We've been told by VTrans that we are now holding the project back," said Turner at the selectboard meeting. "We've got to move forward."
The selectboard ultimately decided to move forward with the VTrans side of the project while the town continues to try to work out the agreement.
The VTrans side of the project remains completely intact, the green space as well as the plan to connect Route 7 to an intersection between Railroad Street and Whisper Lane.
At the meeting, the selectboard was presented two options: one with a slip lane winding from Route 7 to Middle Road and the other with a pedestrian path connecting to a sidewalk on Railroad Street.
The selectboard opted to go with the pedestrian path.
VTrans project manager Ken Robie who presented the options to the selectboard said this version of the project is already blessed by VTrans.
"We can get going on the redesign tomorrow," said Robie at the meeting.
Turner said that the town is going to continue to have ongoing communication with the Papaseraphim family to get that part of the project squared away.
The town has until 2028 for the funding borrowed through the town's tax-increment financing plan. The project as it currently stands is being completely funded by VTrans.
Selectboard members at the meeting were hopeful for the project to begin construction in 2023. Robie however said that 2024 is a safer bet.