As Tom MacNichols stood in the space that will soon be his bakery, I could vividly imagine him there -- flouring his workspace, rolling out doughs, setting out pans of flaky croissants and crusty ciabatta to cool. 
He smiled as he pointed to his new oven, opening its door so I could peek inside. 
An avid, yet very novice baker myself, I was enraptured by his technical terminology and extensive knowledge of cooking temperatures and baking times. His enthusiasm and passion for his work brought comfort to the still unfinished space. 
MacNichols is the owner and head chef of Tom's American, an international eatery and bakery coming to River Street in Milton in just a few weeks. 
"For the most part, if I'm not making it from scratch, I don't sell it," he said. 
Even before COVID-19, MacNichols said he had planned on operating Tom's American as a majority "grab and go" business. He said he wants to create a place where people can stop on their lunch breaks or on their way home from work. 
"I enjoy people eating the food and telling me they love it," he said. 
As we moved to sit in chairs on the other side of the counter, amongst tools and paint cans and stacks of plywood, MacNichols told me that while the restaurant may look like it's brand new, it's actually been a long-time project for him.
"Tom's American started back in 2013," he said. "In Thailand actually."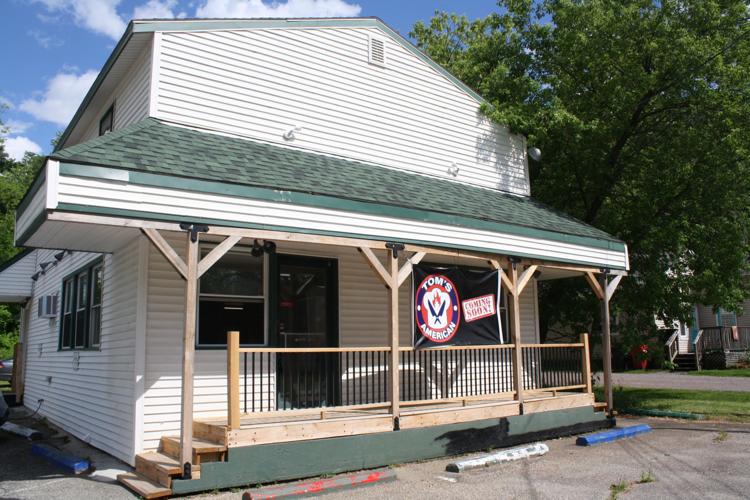 MacNichols opened Tom's American in a small village in northeastern Thailand nearly a decade ago. While chaperoning a group of students on a trip to the country a few years before, MacNichols fell in love with Thailand's food and culture. 
"I was living in a small village along the river, and I liked that people ate everything around them, cooked it over charcoal," he said. "They kept things simple, stripped it down to the basics."
As far as MacNichols knew, his restaurant was the only spot serving up American food for miles. Locals began to trust him for his pizzas, brownies and fresh breads.
Years later, MacNichols moved back to the U.S. and returned to Vermont's Northeast Kingdom, where he had grown up. 
"I've had a love of cooking since I was a kid," he said, laughing. 
MacNichols used to love making garlic bread in the toaster oven, the smells of garlic and butter filling his family's small mobile home in Glover, Vermont. 
MacNichols didn't go to culinary school. Instead, he's learned from mentors along the way, including his paternal grandmother, who had spent time in the restaurant business herself, he said.
"I love learning still," he said. "I like to experiment."
MacNichols' first job in the restaurant industry was at Jay Peak Ski Resort when he was 18 years-old. He started as a cafeteria cashier and later became a line cook for breakfast and lunch. 
Both before and after his time in Thailand, MacNichols worked at a variety of different restaurants. Most notably, he was the executive chef at Positive Pie in Montpelier, where he helped turn the pizza joint into a traditional Italian restaurant.
When Tom's American opens, the menu will be small, consisting of only a few items, but MacNichols plans to offer five to six international specials that will change daily.
The restaurant will also mostly be a one-man show. MacNichols plans to be in the kitchen everyday, starting at 3 a.m., to complete the day's necessary prep work. 
He'll grind his own meat for his burgers and hot dogs, make his own buns. He'll cut shoe-string french fries, fry them in oil until they are just crisp enough. He'll make pasta from scratch, serve it with creamy alfredo sauce and freshly-grated cheese.
Chilled desserts like tiramisu made with MacNichols' mascarpone cheese and sweet pies with crisp crusts will be available for customers to grab from the cooler and take home. 
From the building's front window, customers will be able to watch MacNichols churn out hearty ciabatta breads, flaky croissants and thick brownies. 
"When I'm in here baking, the doors will be open," he said. 
MacNichols is considering starting a bread club, which would function like a CSA, so that customers could stop by and pick up fresh bread once or twice every week. 
MacNichols likes to cook with as many local ingredients as possible. He will use King Arthur Flour for baking and Cabot Creamery in dishes that require cheese.
At the restaurant's location on River Street, MacNichols has been doing all of the building's renovations, except for the utilities, by himself. 
"When I design something, I am considering the big picture," he said. "I know how something should be from experience of being in the kitchen." 
During the winter, when MacNichols was outside building the porch, he said many people stopped to ask what he was doing and when he would be open. He said he is already feeling welcome in the Milton community. 
"The word it out," he said. "People have been stopping by, giving me calls, everyone is anxious to know when we're opening." 
Tom's American will open sometime in July and is tentatively scheduled from 10 a.m. to 7 p.m. Monday through Friday, but as MacNichols gets closer to opening, those times could change, he said. 
After a quick tour of the building, MacNichols showed me out. He stood on the porch to wave goodbye. 
"I look forward to cooking for you soon," he said.