COLCHESTER — A father and son from Colchester have big dreams of changing how the world sits.
Turner Osler, a doctor at UVM Medical Center, started QOR360, a start-up chair company, in 2016 soon after he had a career shift from trauma surgery to a more sedentary role as a research epidemiologist.
"I knew I wasn't the only one experiencing back pain caused by over-padded office chairs, so I set out to find a solution," he said.
Osler's son Lex, a Colchester High School and Cornell University graduate, joined him at QOR360 soon after.
"I had plans to attend medical school and follow in my family's footsteps," Lex said. "I took the MCATS and did really well, but when I got home from college, I found my dad in the basement working on these chairs, and I knew he couldn't do it all on his own."
Turner and Lex built and packaged the company's first 800 chairs by themselves at home. They even mailed them to customers via the Colchester Post Office.
Turner said he knew the company was gaining traction when a tourist visiting Vermont from England saw one of the chairs in the Frog Hollow art gallery in Burlington and asked for one to be shipped across the Atlantic.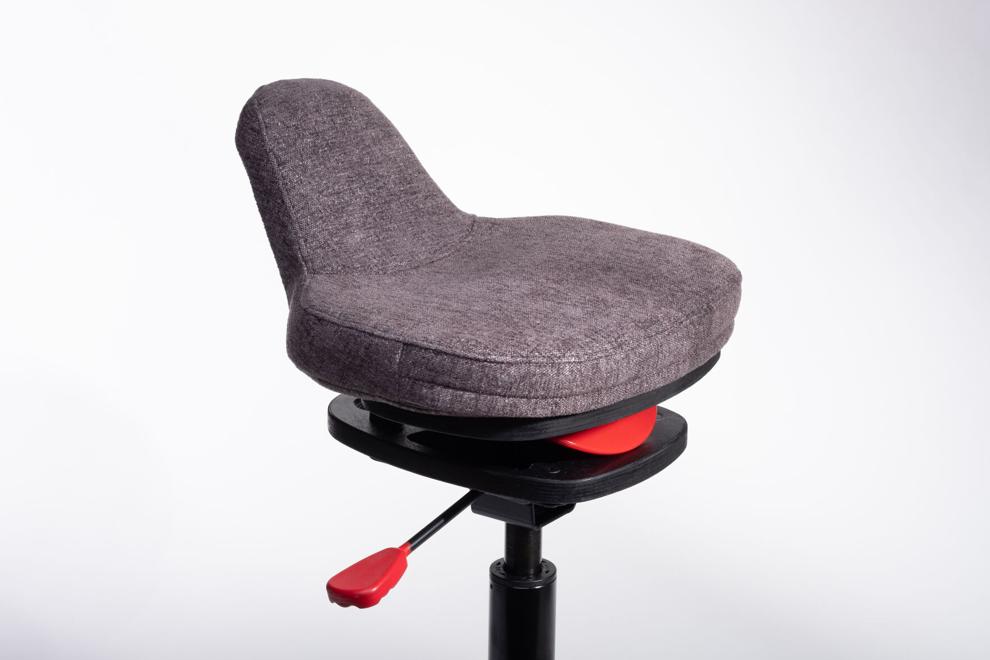 "At that point, we didn't even know how to do that," Turner said, laughing.
In the five years since then, QOR360 has grown significantly. There are now four styles of chair ranging from $150-500. The company did approximately $1 million in sales in 2020.
To meet demand, the Oslers' chairs are now assembled at Manufacturing Solutions, Inc. in Morrisville, and the majority of parts and materials are sourced from within the state.
QOR360 is distinguishing itself from competitors by receiving accolades, including an A' Design Award.
Most recently, on May 4, the Ariel chair was named a 2021 Honorable Mention in Fast Company's World Changing Ideas Awards, a competition with more than 4,000 entries from around the world
The Ariel, which uses the Oslers' patented RedRocker™ technology, aims to improve posture by promoting active sitting. It's essentially a stool with an unstable seat that forces the sitter to make constant small adjustments to maintain balance.
QOR360's chairs are also designed to look good, which Turner said is key to the company's success.
"It's no use inventing a chair that improves people's health but is so ugly no one wants to be seen sitting on it," he said. "Creating a beautiful chair had to be a part of the project."
Since joining his father at QOR360, Lex has run the day-to-day operations and become the COO. Though he tried early on to read books about entrepreneurship, he's found he learns best how to run a business by doing it.
Last week, QOR360 finalized a plan to sell its chairs in Taiwan, a project Lex led for over a year. He hopes to eventually sell in the entire Asian market.
Though the company now has about a dozen other team members, Turner and Lex enjoy leading together.
"No one knows my dad better than I do," Lex said. "We know each other's strengths and weaknesses. There are definitely more pros than cons to working with your family."