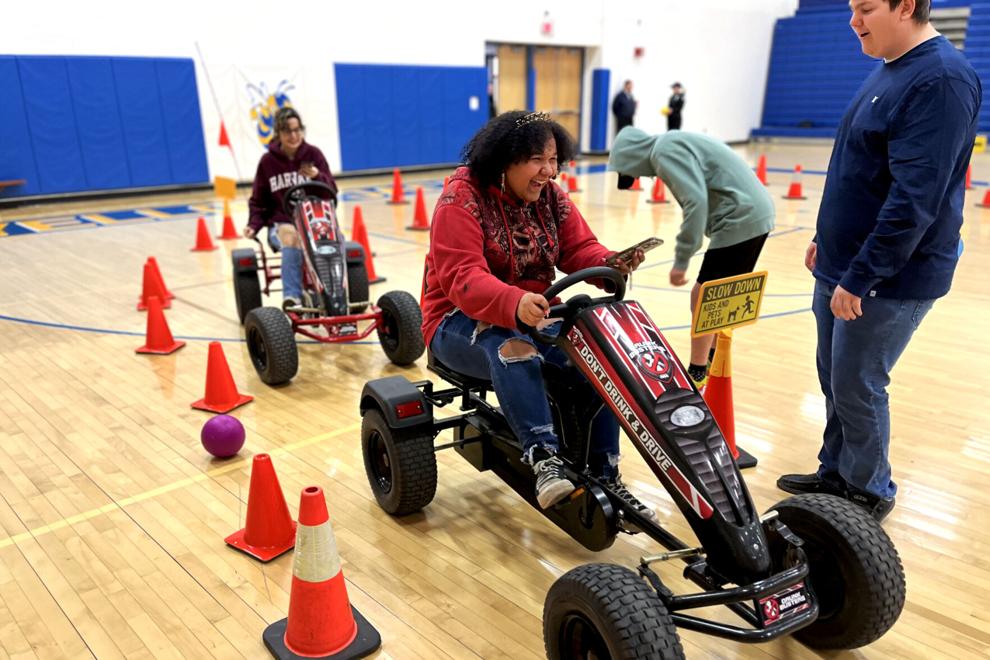 In Vermont, from 2017 to 2021, 1,168 motor vehicle crashes were caused by a distracted driver. From 2011 to 2020, 32,483 people died nationwide in motor vehicle crashes involving a distracted driver, according to the National Highway Traffic Safety Administration. 
In an effort to reduce these staggering statistics, on Wednesday, April 5 the State Highway Safety Office (SHSO), Chittenden County Sheriff's Department and the Milton Police Department (MPD) organized a distracted driving press conference and demonstration at Milton High School (MHS). 
The goal of the SHSO enforcement campaign is to make Vermont's roadways safer by increasing the awareness of the dangers a person may face while operating a motor vehicle, while distracted.
"Distracted driving is one of the biggest issues the police department is dealing with," MPD Corporal Jareco Coulombe said. "It is also one of the hardest ones to enforce."
It is against the law to text, or to use a hand-held electronic device while driving, including when stopped in traffic or at a red light or stop sign. The AAA Foundation reports that while 96% of drivers believe it is very or extremely dangerous to read a text or e-mail while driving, 4 out of 10 drivers admitted to doing so within the previous 30 days.
Too many drivers still have not changed their driving behavior to fully refrain from using electronic devices while driving. The Milton Police Department also stated that this is an issue with people of all driving ages; older people may talk on the phone while driving, while younger people might choose to text and drive.  
Conner Claypool, a sophomore at MHS, said that among his peers he has noticed that phones are definitely an issue while driving.
"Snapchat, Tiktok or just texting in general are some of the biggest distractions," he said. 
MPD Sergeant Paul Locke said cell phones aren't the only risky distraction while driving.
"There are other forms of distracted driving outside of cellphone use, "Locke said. "Things such as eating or reading a book while driving are other distractions that can put people at risk."
Getting a bluetooth device for your car, and putting your phone in the glovebox or backseat are some ways a person can reduce their distractions while driving.
On the Vermont waiver penalties chart there are 14 different violations for distracted driving. The use of a portable electronic device while driving faces a fine of $162. However, if the electronic device is used within a "work zone", a person can face a fine of $392.
After the press conference highlighting the dangers of distracted driving, Milton high school students were invited to operate pedal cars through a marked course twice. 
The first drive through the course was with zero distractions, to show how easy it was to maneuver the vehicle through the course. On the second attempt, students had to go through the course while attempting to text a message. The goal was to emphasize to students that when operating a vehicle, their focus should be on driving only.  
"I thought this demonstration was very useful to show people how easy it is to be distracted by your phone while driving, and just how dangerous it could get," MHS sophomore Allessandia Hoffman said.
Did you know that if you are driving 70mph, you're traveling 100 feet per second? While writing just a three second text message, you can travel the length of a football field without looking at the road. 
This was the first year the school put on the distracted driving demonstration. Drivers Education teacher Derek Demers said the school does put on another event every year to raise awareness about the dangers of drunk driving.
"Every year we have students put on the impaired vision goggles and have them try to drive the vehicles. We figured it would be good to utilize the vehicles again for this distracted driving demonstration. I think we will be doing this again in the future," said Demers. 
Students were very receptive to the demonstration, and while it was a fun event it was also an incredibly educational experience for them.
"This event was well received by the students. You can see that a lot of them did have fun, which is the goal, but we also want them to understand the message behind the demonstration." said Coulombe, "When they did hit a cone, or run over a ball in the course, that was a chance to show them how important it is to stay alert while driving."
Let's all do what we can to reduce distractions on the road during this distracted driving awareness month.