The Milton School Board met on Wednesday to host another community forum about possible renovations to Milton Elementary and Middle School on Herrick Avenue.
The building is considered to be out of date and in disrepair by district administration and staff. The oldest wing of the building was built in 1954, while the most recent was built in 1996.
But for educators, the project is not just about creating a modern building. It's about creating a space that can accommodate the needs of an educational system that has evolved over the last several decades.
"What we're looking to do is to provide a pre-K to grade 8 building that's a healthy, effective 21st century building," director of district operations Matt Grasso said. "The environment is good, it's energy efficient and it's durable."
MES principal Kurt Volker said the building's design, or lack thereof, with its four separate yet connected long, winding sections, makes it hard to foster small group collaboration and have dedicated space for academic and social intervention services.
"You don't [anymore] have a teacher in front of the classroom and just rows of 30 desks behind you," he said. "You have spaces that you want to set up to be truly collaborative environments where students have the opportunity to work with their hands like Makerspaces."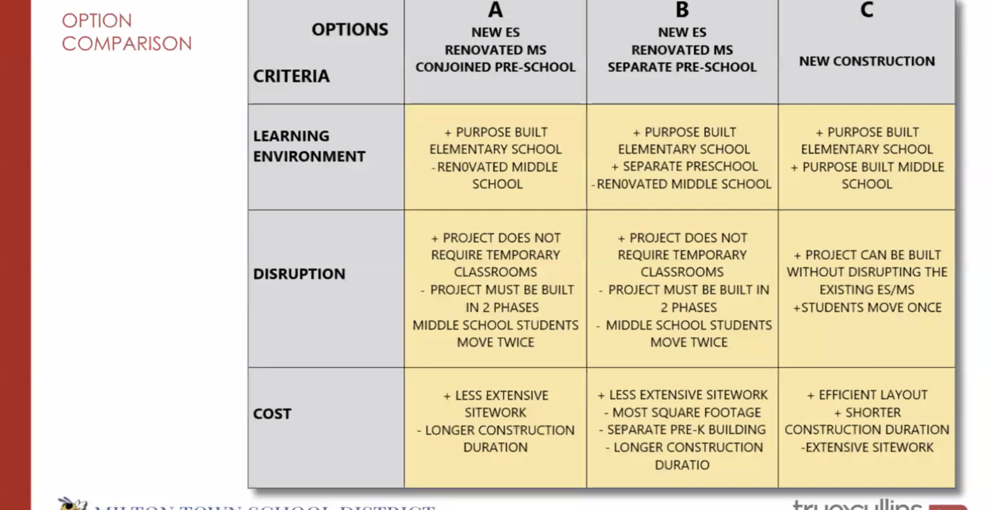 Considering solutions
Milton Town School District is working with Burlington-based architect TruexCullins on either renovating the existing school building or creating a new one entirely.
Earlier this school year, the district conducted a survey which included responses from 232 people, all of whom were community members in Milton except 15 school staff members who live outside of Milton.
219 or 74% of the respondents agreed that a new facility should be built while the others thought a renovation would be better.
During the community forum, the Herrick Avenue Project Committee presented three potential designs for a renovated or new school building. All three plans include new parking, spaces for parent and bus drop-off and a courtyard. 
Design Option A includes a new elementary school in the same space it is currently and four small additions to the middle school. 
Design Option B is the same, but it includes the construction of a new early childhood center building on Herrick Avenue. 
Design Option C is an entirely new two-story elementary and middle school built on the current athletic fields. Fields would then be moved the footprint of the old school 
Community feedback
In considering the options, facilities director Bruce Cheeseman said it is important to keep in mind the district is already spending a sizable sum to keep the facility safe and fixed.
"It is very hard to find good help and keep them at Herrick Avenue because it feels like we're reinventing the wheel every day," he said.
A member of the public asked how much the cost was and Cheeseman said he didn't know but that it is important to have a healthy environment for kids, teachers and staff.
In counter, a member of the public said that while he understands that, it is also important to be frugal to the taxpayers.
Dominique Moray, who is a property manager for hundreds of condominiums in the area, said it is important to stay on top of maintenance.
"While I can appreciate people wanting to be frugal because of the taxpayers, I am one and my taxes went up a ridiculous amount of money, but I'm willing to pay another ridiculous amount of money to get my kids into a nice school where teachers want to come," she said.
The district plans to continue seeking feedback from the public before picking a preferred option, figuring out a project budget and holding a future vote.