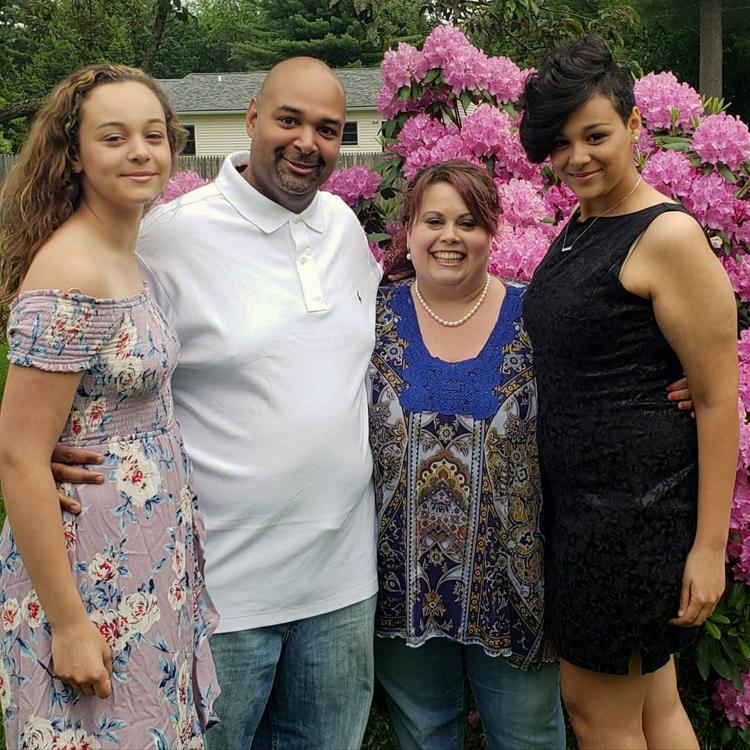 Just a few decades ago, Richard and Brandy Edwards might not have been allowed to marry. 
Loving vs. Virginia, the Supreme Court decision that ruled laws banning interracial marriage violate the Constitution, celebrated its 53rd anniversary this month. 
The couple has struggled to raise Richard's children, Jada and Nia, two mixed daughters from a previous marriage, in Milton for the last eight years. 
"I live for my children," Richard said. "But since I've been here, I haven't seen anyone that represents me or my daughters."
Richard said he doesn't fit the stereotype many white people think of when they see a Black man. He has a college degree and has held the same job for many years, he said. 
Richard works as a corporate trainer at Longhorn Steakhouse in Williston. His wife, Brandy, is the owner of Hairy Stylz salon in Milton. She opened the salon a year ago, but has been a hairdresser in Vermont for 20 years.
Richard and Brandy met in Vermont a decade ago and recently celebrated their sixth wedding anniversary. 
"I was out one night and I bumped into her," Richard said. "It's been cool ever since."
Though she is not Jada and Nia's biological mother, Brandy said she is a mom to them in every other way and feels that their fight against racism is her fight. 
"I can't feel the way that they feel and that really frustrates me, that I can never understand what it's really like to be in their skin," she said. "But if you're in an interracial relationship or have children that are a different color than you, this is our fight too." 
Richard said he tries to shield his daughters from the racism he experiences everyday -- in the workplace, on Church Street in Burlington, at the mall, in the courts. 
"How can you explain to your child a lifetime of pain in words?" he said. 
Though their father has done the best he can to protect them, the Edwards sisters have seen racism first hand. 
Fifteen-year-old Jada said she has been disappointed in the way she's been treated at school by her teachers and by her peers. 
She recounted a time in class when a teacher was leading a discussion about a book on race and called on Jada to find out how it made her feel. 
"You can't point out the Black kid in class; it's just something you shouldn't do," Brandy said.
Jada said her classmates often try to touch her hair, or say they aren't racist because they have Black friends. Jada is shy and prefers to act invisible in situations like these that make her uncomfortable, her father said. 
"Jada believes if she's quiet and keeps her head down, it won't happen to her," he said.  
But it has happened to her -- Jada said she's been followed closely in stores by employees who think she might steal something and has been shouted at in public. 
"I was in Walmart one time and there was this Nazi," she said. "He kept getting in my face and threatening me. He called me a fa***t and a n*****." 
Fourteen-year-old Nia is lighter-skinned than her sister, but she said that doesn't mean she doesn't care about the racism her family experiences. 
"Being Black in Vermont can be hard at times," she said. "Especially when I'm with my sister and someone is treating her differently because she is darker than me."
Richard said raising his family in a small Vermont town has been challenging because there are almost no Black people in leadership positions who can act as role models for his children. 
He wishes Vermont had more Black doctors, teachers, politicians and business owners.
"Getting Black money into the communities is really hard," he said. "I don't know any other Black people in this town who have a business."
Richard has started two of his own businesses in order to set an example, he said. 
"I try to teach this to my daughters, that I have to work twice as hard as everybody else," he said. "Where are we supposed to turn to for help? Where is the black leadership?"
During the pandemic, while Longhorn Steakhouse was closed, Richard started a Cake of Month Club which he ran out of his home. He and Brandy also own PupCakes Bakery, a gourmet dog treat company.
"We do a lot of things to try to get out in the community and promote ourselves," he said. 
The Edwards family attended the Black Lives Matter rally in Milton June 5 and the various protests in Montpelier. All four of them said they would have liked to have seen more people in attendance. 
"It makes me really upset when I show up at these rallies and I don't see my girlfriends there, or when I don't see the elected officials we voted for," Brandy said. 
Richard is frustrated by the amount of people in Vermont who don't understand the Black Lives Matter movement. While at rallies, he's been shouted at by people who are passing by in cars or on the opposite sidewalk. 
"There's a lot of misconceptions about what we're looking for as a people," he said. 
The recent deaths of George Floyd, Breonna Taylor and Ahmaud Arbery have taken a toll on Richard, causing him to not leave his room for days. He said he doesn't know what kind of emotional response is appropriate. 
"How am I, as a Black father, supposed to be strong for my family when we're just dying like flies?" he asked. 
But what hurts him the most, he said, is the toll recent events have taken on his children. He said it is hard for them to have a positive outlook and to believe that things will get better. 
"I know this world could do better, but it seems like no one wants to," Nia said. 
Jada said she is tired, that the comments at school and in town have worn her down. 
"She just wants to go away and hide," Richard said. "And why does my daughter have to hide? Why do I have to be angry for her? Why do I have to hurt for her?"