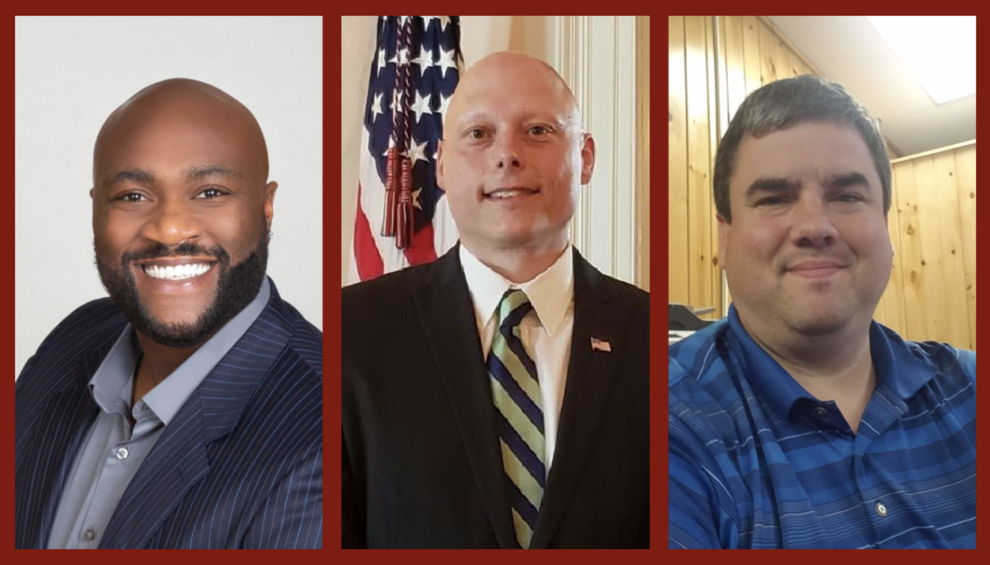 At this year's Town Meeting Day there are two selectboard races.
Selectboard member Chris Taylor is running uncontested for a three-year term. John Fitzgerald, Darren Adams and Kumulia Long are running for two seats with a 1 year term.
Ahead of March elections, the Independent asked the Milton selectboard candidates in contested races a series of four questions. Here are their answers:
Selectboard for 1-year term
Kumulia Long
Could you give a little background on who you are and your history in Milton?
I moved to Milton, about seven, eight years ago and I've been just fairly quiet within the community, for the most part, up until my run a few years ago for Senate. 
I became more involved in the community and just within Chittenden County as a whole. After that election, I still had that desire, that urge to continue to help where I can and I thought that the best place to do that was within my community, which is part of the reason that I ran for the school board.
I also ran for the selectboard, because I wanted to just be a part of that decision making process within the community.
When I spoke with someone last year, they had asked, what was I unhappy with, with the selectboard, so on and so forth. And again, it wasn't that I was unhappy with anything in particular, it's just that I really wanted to be hands-on involved in the direction that Milton is going. 
I think more so now, I haven't been on the school board for a year now, I feel as though sitting in both of these positions would provide some degree of continuity as we kind of continue to push the district forward. 
As you may know, I'm a combat veteran. I'm a business owner and my daughter attends Milton Middle School.
My next question was, what is your main motivation for running for selectboard this year? But you would just say that's being a hands-on influence in the community?
Well, not even necessarily influence as much as just being involved in that decision making process, bringing a different voice to the selectboard and even just a different perspective. 
And I'm relating some of that to my time on the school board, because really until you're there, you don't fully understand what's going on, no matter how many meetings you attend. 
There's a lot of nuances that take place. 
You really have to get your hands in there and get involved to really understand where we are, why we're here and what kinds of things we can do to propel us to that next level, and make sure that we're maintaining the trust between ourselves in the community.
Why are you qualified for this position?
I'm just a passionate member in the community, who is willing to stand up to do my part to help. You know, those that can should.
We all play a role, just like when we all deploy, we all play a role, some of us are boots on ground and some of us are back home supporting. 
Whatever role we assume, we're a part of the community and we can be a part of a solution as we drive toward a common goal. 
Everyone has a different role and everyone plays a different role. 
And if the community sees that this is a role for me and they feel that I can represent them in their interests, our interests as a whole. I'd love their vote.
What projects do you hope the board takes on this year? 
I would really like to see that common green project get some more traction. 
But, honestly, we had that Milton on the move forum some time ago and it was great. 
We had a lot of community involvement and they brought a lot of good ideas to the table. I would like to see, you know, us making progress toward that, because I feel like that will help to bring people to Milton. 
That's one of those things that we're lacking. 
We're not necessarily a destination spot, but we can be one of those places that people say, 'Oh, hey, I want to go to Milton' for whatever that thing is, whether it's recreation, whether it's dining.
John Fitzgerald
Could you give a little background on who you are and your history in Milton?
We've lived in Milton, I think 11 years now, maybe 12. 
But I volunteer as much as I can in Milton. 
I love our community.
I've done everything from coaching T ball, coaching soccer. I'm on the soccer board, have been for years. I've done things with Cub Scouts. I was an assistant STEM leader for a little while. 
And then selectboard was my next venture. 
So one of my goals in 10 or 15 years is to possibly be the next town manager of Milton.
What is your main motivation for running for selectboard this year?
Our community. One of the things that I am most invested in or that I'm more passionate about would be our recreation.
We have an awesome recreation department. Every time I drive by the basketball court, I love seeing the kids out playing basketball. 
I love that people are using our parks, we have an amazing park system. 
Our Town forest is second to none. 
My biggest motivation is, you know, I came from a mobile home park, birchwood in Milton and I'm definitely not a rich person by any means, we're pretty I think average income probably. 
And I think being on the selectboard is just another way that I can help people that are around our income level to be sustainable. 
It's expensive to live in Vermont. We have an awesome community. 
I don't think the taxes are too high, but I enjoy being part of the process to try to keep our community affordable to the people that do live here.
Why are you qualified for this position?
I think it's a lot of just the experience that I've had over the last 12 years, living in Milton. 
I'm currently the vice president of the Milton Soccer Club. I was serving as the president for a year and a half or so until we found a new president. 
I'm the Vice President of our association so I help make financial decisions about our association. 
I used to run the Milton, Vermont Community Friends page on Facebook so I've met a lot of community members that way and I feel like I have trust from a lot  of community members. 
I get people that reach out all the time, which is awesome. 
As far as background I mean, I don't have a lot of background in town government. I'm kind of learning as I go. I'm a fast learner and the other board members have been really good mentors.
John Palasik, last year was our chair, I learned a ton from him. Darren, this year being our chair, I've learned a lot from him. The guy is super smart. He's really good with finances. He asks a lot of good questions so I learned a lot from him. 
I don't know if I really have qualifications per se, but I'm on the selectboard now and I'm running for my third term.
What projects do you hope the board takes on this year? 
Well, the biggest project, I guess not so much the board but I look at it as our community. 
Because the selectboard doesn't really bring projects to the table. 
So Don Turner Town Manager and his directors and the town staff, they're really, in my opinion, the brains behind moving our community forward. The selectboard, we're just the Yes-men and yes-women. 
We're the ones that get to approve these awesome ideas. Like on the ballot in March, we need a new town garage. Our town garage is too small, it has been for a long time and they've already outgrown it.
There's no way they're going to be able to sustain working out of that facility so that's a project that I'm really hoping passes, because it's definitely a necessity for our community. 
But I'm hoping to see more projects that have to do with getting our community out of their bedrooms and getting the kids outside, in our parks. 
I'd love to see a community center of some sort come to fruition so I guess that would be a project that I'd love to see come to the selectboard. 
A couple years ago, the Girl Scouts came to the selectboard with a project for the town forest where they built a bunch of birdhouses. 
I'd love to see more of that coming before the selectboard and that wasn't even something that had to come before the support. It's not something that we had to even approve. The selectboard typically approves financial stuff but it was awesome to see. 
I wasn't on the selectboard at that time, I was an audience, watching and participating from the audience. 
It was awesome to see that collaboration with our youth coming to a meeting. It was heartwarming and that's the kind of stuff I'd love to see. 
One of the things that I'm passionate about is community involvement.
 I just want the community to know how appreciative I am of the unpaid time that they put into our community as well as those that choose to work in our community and not leave to other communities.
I'm hoping to see more of that community service projects and anything to really get our community moving forward together for everybody. 
I'm big on making sure that everything is inclusive for all of our community members and I'd love to be part of anything we can do to make sure that everybody feels welcome and comfortable.
Darren Adams
Could you give a little background on who you are and your history in Milton?
I've lived in Milton most of my life. I have an 11 year old daughter, Brooke and I have a partner and her son. We all live here in town.
I've been on the Select Board for 11 years now.
At one point, it was the rescue chief before being on the board and for the last 14 years I've been in the Vermont National Guard where I'm the airfield manager.
What is your main motivation for running for selectboard this year?
This year we got an opportunity to, despite still dealing with COVID, work on on some pretty big projects. 
One of the biggest things is we've kept the taxes level funded from last year so there's not going to be a tax increase.
But we've been able to turn a surplus and some other funding into a pretty big increase in paving because that's been something that's really important to people that we invest in our infrastructure and improve the quality of the roads in town. 
We are likely to finally start the hourglass, Route 7, Middle Road, Railroad Street intersection project next year and that's been something that brought me to the selectboard way back in 2010 was trying to get that going and it's been a long battle ever since then, and it looks like we might actually get a shovel in the ground next year. 
And again despite COVID, COVID has given us an influx of federal dollars, that what I would like to do and I think most of the board members would like to do is take that one time, money and instead of building programs that we can't sustain, invest in certain infrastructure that we wouldn't otherwise be able to afford to do and devise some sort of grant or incentive to build the projects and the services that are needed in Milton.
And that's a big thing. That could be a game changer because most people want a usable, accessible downtown area. That's been lacking in Milton. If we're able to use this money to prompt investment, that's going to be a game changer and we're going to have a long term positive impact on the grand list and reduce the burden of property taxes on the residents. 
So those are the big things. 
They always say that we have a blank canvas meaning that there's open spaces to build commercial and retail and restaurants that sort of thing. 
However, that's also a problem, there's lots of other towns around us that have ready, leasable spaces, whatever business wants to start. 
So you might have the wish to start a business in Milton and you might have a great idea, but you have the obstacle of starting up the business plus finding the location and the infrastructure to do it and that's a tall order, especially for small mom and pop operations.
Why are you qualified for this position?
Well, I just love Milton. 
My heart and soul is in trying to make Milton better and we've worked so hard over the last several years on multiple projects, I want to see them through. 
I certainly have the experience and the desire but I think most of all, it's just love for this town and I want to see it keep succeeding.
What projects do you hope the board takes on this year? Are there other things you are thinking about besides the intersection and the infrastructure?
Yeah, that would be tied for using the ARPA money to help spur investments, long term investments and we're still we've made a lot of progress on it, but we still are dealing with coverage issues for Milton rescue. 
Right now we're in the process of hiring a full time chief that we hoped to get on board soon and we already this fiscal year added an additional full-time EMT and that's critical, we can't have rescue just sometimes.
The whole country is going through a shortage in just about every industry, but EMS in particular has been hit hard.
It's hard for the volunteers whose heart and soul is responding to rescue calls to maintain the certifications because they're increasing the demand that it takes to maintain the certification plus the call volumes going up at the same time.
You can't have a full time job, a family and then spend all night going out on rescue calls. So that only means that we either have to partner up with other towns or services or continue to hire full time people right here.