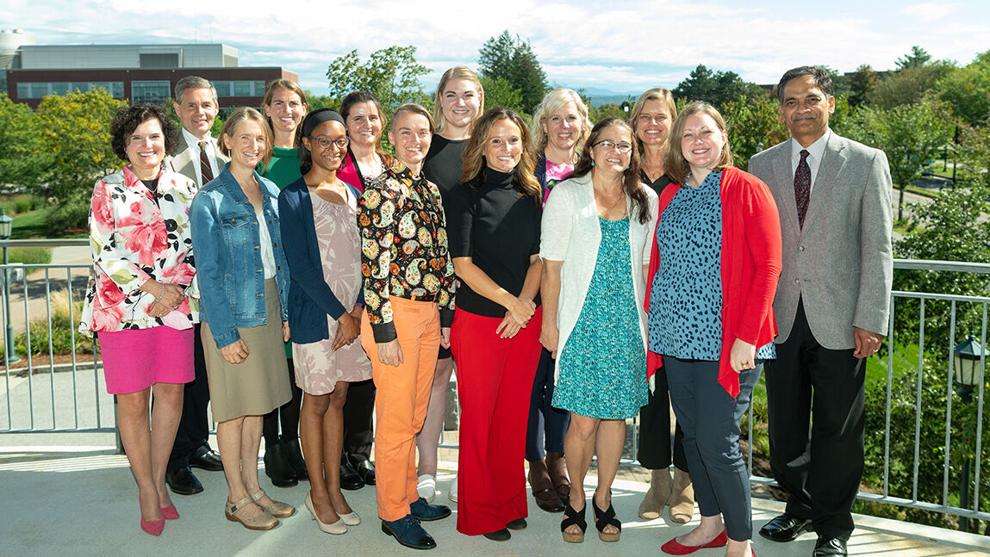 Milton resident Lina Balcom joined 12 other members of the University of Vermont community in being awarded one of the school's most prestigious awards.
Without any kind of warning, Balcom received an email from UVM President Suresh Garimella, letting her know she had won a 2021 Our Common Ground, which since 2014 has been awarded to people who exemplify the values set out in the University's Our Common Ground statement.
These values include respect, integrity, innovation, openness, justice and responsibility.
At the ceremony, Balcom's nominators spoke of her legacy at UVM and how she is committed to building relationships with people that are authentic and meaningful as well as being an effective and enthusiastic communicator when approaching difficult topics.
"Lina is a highly skilled communicator who excels in approaching difficult topics and conversations in a respectful way that lifts all of us to a greater level of awareness, creating dialogue, not defensiveness," one nominator wrote.
In an interview with the Milton Independent, Balcom spoke about her journey to her new position at the University and her reaction to this award.
You're the Interim Director of Student Life, when did you come into that position?
I started that position in mid-July, two and a half months ago.
I've been at UVM for 10 years. The role that I held for the majority of that time was Assistant Director of University Event Services for Davis Center Operations and Events which is a wicked long title.
Essentially, my job was to be responsible for the day-to-day operations of the Davis Center.
How have you been liking your new position as opposed to your old? What is it like? What's different about it?
My old position was primarily an operations, logistics type of role. So I supervised a group of professional staff members, but also I directly supervised a group of students. A very significant number of events happen in the Davis Center every year so a lot of my position was focused on event logistics and executing events smoothly and making sure those things happen.
In my new role, I'm responsible for a group of program areas that are the ones creating the content and creating engagement opportunities for students.
So it is quite different.
In student life there's campus programs, outdoor programs, civic engagement, fraternity and sorority life, the student government association and club sports.
The role is more about making sure that these programming experiences and engagement opportunities for students are successful.
I don't directly do that work but I lead the team and help them make sure that they have the resources and skills that they need in order to be successful.
There's a lot of things I do directly, of course, like being the adviser for the student government association.
What have you been enjoying about your new job since coming into it?
Before I worked with the Davis Center operations team, at previous universities and colleges I worked in student affairs.
I worked in the same kind of areas of responsibility as I'm doing now.
So part of what I'm really enjoying is getting back to the work that I really, really love.
Not that I didn't love the Davis Center work, but I didn't realize that I missed this as much as I did until I had the chance to do it again.
Really getting to do the work of impacting the experience of college students on a daily basis, I really enjoy that.
The opportunity to build relationships with students more widely than just those that work on my team has been really wonderful.
There have been many people across the entire university that have risen to meet me and help me in this transition, because it was quick and there was a lot happening. It just reminded me of the really strong community we have at UVM.
What was what was going through your mind when you received the email that you had won the award?
As you might be able to tell, being speechless is not a common experience for me. But I was legitimately speechless.
I was shocked and really what went through my mind is, 'Oh my gosh, I don't belong in that category of people.'
There are some really amazing people that have been recognized with this award over the years. I still feel a little overwhelmed by it.
I haven't entirely absorbed the magnitude of it.