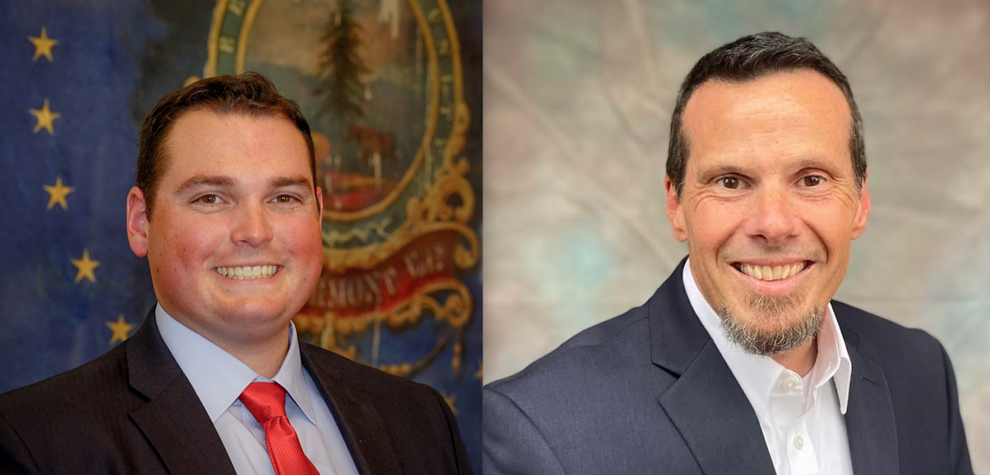 In the uncontested race for the Chittenden-Franklin representative district, there are just two candidates: incumbent Republican Rep. Chris Mattos and Republican candidate Chris Taylor.
The Independent reached out to Mattos and Taylor with five questions ahead of Election Day.
Here are their answers.
Please provide an introduction of yourself and your credentials. 
Chris Mattos - I am a lifelong Milton resident and currently reside here with my wife, Kari, and our dog, Riggins. I graduated from Milton High School in 2006 then went on to graduate from the University of Vermont School of Business with a concentration in accounting. Today, I work as a licensed real estate agent here in town and own and operate my own property management company. In my free time, I enjoy golfing and getting out on Lake Champlain.
In 2017, I was appointed to the House to fill the seat vacated by former Rep. Ron Hubert. I had always wanted to serve my community in some capacity and since being appointed I have been fortunate to do just that. In addition to serving in the legislature, I am also an elected Justice of the Peace and member of the Board of Civil Authority. 
Chris Taylor - I have served on the Milton Selectboard since 2017 and have two years remaining on my current 3 year term.  I take this role very seriously and understand the importance of each decision. While making these decisions I strive to be informed by researching all sides of a topic and using information over emotion to reach the best conclusion for the betterment of Milton. I am not afraid to ask questions, challenge the status quo and have difficult conversations when needed and believe that these are attributes that will transfer over well to the state level.
Currently, I am employed by the Milton Town School district as the Elementary School Behavior Service Coordinator.  I have been employed within the district for the last seven years with six of them being as a Behavior Interventionist.  In previous employment, I gained over 25 years experience in business management honing my skills in all aspects of business including creating and adhering to large operational budgets.  My work history, spanning the private business sector and public educational sector, gives me unique perspective and experience and drives my interest in overall fiscal responsibility and education funding. 
What is your motivation for running? 
Chris Mattos - My biggest motivation for running is to serve the communities of Milton and Georgia. Many of my high school classmates have moved out of state to seek other opportunities. Whether it be higher paying jobs, more affordable housing, or the overall cost of living, I hope to continue to support policies that help those who grow up here, stay here. 
Chris Taylor - Education: Education funding needs an overhaul and should be simplified. With the education tax comprising approximately 70% of Milton's total property tax bill the process should be far more transparent and straightforward. The taxpayers deserve to better understand the process and how those numbers are formulated.  Along with an overhaul to the funding process there needs to be better analysis regarding how the funds are utilized. Metrics should be put in place to make sure that certain spending percentages are adhered to with the highest spending percentage correlating to direct student services and the employees that provide them.
Fiscal: Vermont's budget for this fiscal year topped $8 billion dollars and is a $900 million dollar increase over the previous year. This is NOT sustainable. With the current infusion of ARPA money the next budget will need to be heavily scrutinized to make sure that "one time" money truly remains one time and doesn't turn into perpetual spending. Cuts or offsets will need to be found or we, the taxpayers, will see a significant future increase.
I believe my work history and experience gives me a unique perspective on these matters and will aid in the formulation of future solutions.
What is your position on Prop 5?
Chris Mattos - With the overturning of Roe vs. Wade by the United States Supreme Court, the decision of women's reproductive rights reverts to the individual states. The main job of a State Representative is to listen to and represent the will of the people. I received a tremendous amount of support to vote no on Prop 5 from community members, which I did. I feel it is imperative to hear from all sides to each issue to ensure when it is time to vote, everyone's voice has been heard and considered. 
Now it is time for all registered voters to individually cast their vote on Prop. 5 in November. I recommend everyone take the time to review the language of the constitutional amendment prior to voting. Personally, it should be the individual's right to choose what to do with their body, not the government.
Chris Taylor - In general, I have some concerns about how vaguely Proposition 5 is written and the unintended consequences that might come as a result. The outcome of being vague could lead to the amendment being applied in areas where it was not intended or it being tested continuously in the judicial system and allowing the courts to infer and interpret meaning as they see fit. A more specifically worded proposition could help lessen this possibility, aid in expediting decisions and offer predictability in outcome.    
Overall, I am glad that this is going to a ballot vote and that the people will be able to decide whether or not this proposition is adopted and the Constitution is amended.  Decisions of this magnitude deserve to be directly decided by those that it affects the most and not on the floor of the State House.
Regardless of the outcome of this vote, it is important to remember that the rights of women and the decisions they make between themselves and their doctors will continue to be protected under Title 18 (Health) Chapter 223 (Reproductive Rights) of Vermont State Statutes. 
Do you believe affordable housing is an issue in Vermont? If so, how can it be alleviated?
Chris Mattos - Affordable housing is a real issue in Vermont. In my work as a Realtor, I see firsthand the difficulty of securing quality and affordable housing. Over the past two years, I have worked with clients, including first-time homebuyers, who have been outbid on homes time and time again. With a limited supply and high demand, housing prices rose very quickly which made it unattainable for many buyers. Today, interest rates have risen sharply leading to less buying power while prices remain stable at those higher levels making it even more challenging. 
Creating more housing units will help alleviate the problem. To be able to do that, we must take steps to streamline Act 250 to help ensure developers and housing agencies can get to work constructing new units. The costs involved with developing a housing project even before the first shovel is put into the ground can be astronomical. With a more predictable process, developers could be more likely to pursue increased housing opportunities. An increase in supply would eventually help curtail the high cost of housing. With the unprecedented influx of federal monies, we cannot miss this opportunity to provide more affordable housing options. 
Chris Taylor - Yes, the lack of affordable housing is absolutely an issue in Vermont.  In the FY23 State budget $145 million dollars of one time federal ARPA money has been dedicated to housing with a focus in three areas: affordable/mixed income housing, the Vermont Housing Improvement Program (VHIP) and the missing middle home ownership.  All of these should help in some aspects of the housing crisis but because this is a multifaceted problem there needs to be work done in other areas.  Zoning regulations need to be better aligned with the needs of the area they serve and density limits should not overly restrict development.  Act 250 changes need to continue with a focus on streamlining the process for priority housing and raising the cap on exemptions for these projects while at the same time still maintaining the original intentions of the Act's environmental protections.  In addition, implementing tax subsidies for certain housing development and revitalization projects should be explored and support of the Low Income Housing Tax Credits should continue.
What other issues are at the top of your list to address if elected?
Chris Mattos - If I am re-elected, my focus will be affordability. With inflation at its highest levels in over 40 years and interest rates rising, everyone's paycheck isn't going as far as it used to. With any proposed legislation, the first thing we should think about is how does this affect our pockets. We cannot see higher taxes and fees at a time where groceries, gas and daily essentials all cost much more than they did pre-pandemic. 
Being a member of the Ways and Means Committee, it has given me the opportunity to work on all issues that affect the revenues of the State. I have consistently voted against bills that would increase the cost of living in Vermont. Increases to home heating fuel fees, the property transfer tax, rental housing, contractors, Act 250, cloud-based software are just a few examples of increased costs to Vermonters that I cannot support. We must continue to work on promoting growth in our area to invite businesses and individuals who want to move here. Like Governor Scott says, "we need more taxpayers, not more taxes"   
Chris Taylor - As stated in an earlier answer, two issues I would put at the top of my list are the overall fiscal responsibility and spending of the State and the mechanism for formulating and distributing education funding. If elected, I will work on these important issues but I will not enter the State House with any preset agenda. I plan on taking each day and topic as they come and utilizing the information provided from all sides, my own research and the input of the people of the district to come to the best possible conclusions for the district and Vermont.