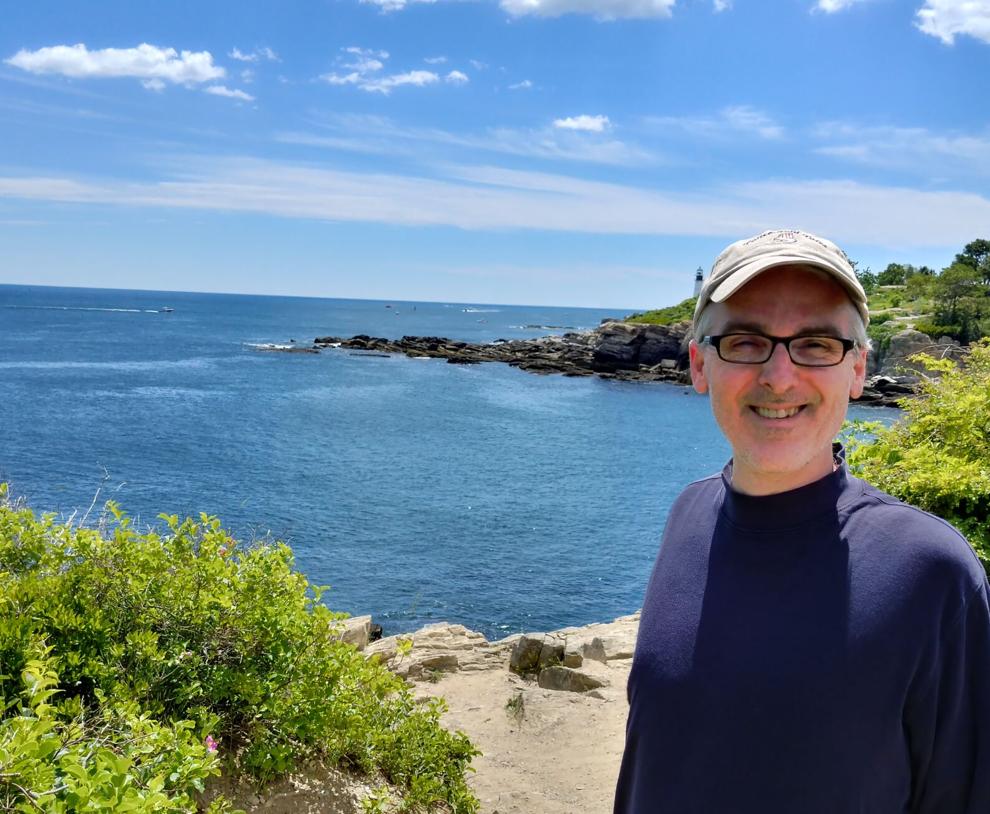 Matthew Daivs, Milton Public Library's new director, has been incredibly busy since starting the job.
Thrown directly in the middle of budget season, Davis has been tirelessly working to finalize in a few months what would normally take the entire year to complete.
Spending his days analyzing and getting to know the library's needs, Davis has had to acclimate to his new space and position quickly.
He says though coming from his last job as the Adult Services Librarian and Deputy Director of the Walker Memorial Library in Westbrook, Maine, he's been enjoying Vermont and the town of Milton immensely.
In a Q and A with the Milton Independent, Davis spoke about how his background in education and film editing led him to being a librarian and his love of libraries in general.
I know that in order to get a job in a library that there's a library sciences degree, do you have one of those?
Yes, I graduated with my master's degree in library science at Indiana University in Bloomington, Indiana.
What first sparked your interest in a degree like that?
My background is that I come to librarianship having worked in both the filmmaking industry as well as within the field of education. Both of those fields, while you may look at them and see them as being very different, there's a lot of similarities that tie into librarianship.
So in education it's about accessing information, the development of resources, connecting people with where to go and where to find additional information on a particular topic.
Within filmmaking there's a lot of cataloguing, a lot of organization of materials. Within filmmaking itself your focus is on telling stories.
What I've always really been interested in is being able to synthesize those two very different fields into a field where I'm able to sort of play in a lot of different sandboxes. That's ultimately what attracted me to library science.
Wow and you ultimately get a little bit of the storytelling aspect too in librarianship. What did you do in filmmaking?
I worked as a film editor. A lot of what film editing is is crafting the actual story. So you're taking lots of information from lots of different perspectives and tying things together into a cohesive whole, telling that story.
I feel like that's such a not really talked about aspect of film is how much organization the editor has to go through.
If you're not organized, if you don't know where the information is, it's very difficult to access it and figure out all the different approaches to which the story can be told, all the different pieces of data.
If you don't have that organized, it's as good as if you don't even have the data at all.
When you're organizing all your footage, you want it done in such a way that it's easy to find because without it you're fumbling in the dark.
And so in libraries it's all about how the material is organized whether it's databases, whether it's digital resources, whether it's physical material in the library.
If everything's just sort of piled in here and you don't have it easily accessible to a person that comes in from outside, whether it's someone that's clicking on the website from home or someone that's literally coming into the library, if it's not findable, if it's not searchable, it's as good as not having that information at all.
So, what did you do in education then?
When I lived overseas in Seoul, South Korea, I worked in education publishing.
I lived over there for two years, myself.
I believe that everyone should, if they have the opportunity, if they have the chance, to live overseas and to experience other cultures and to engage in other customs and traditions.
It was a wonderful opportunity.
That's one of the things that I want to bring to the library here in Milton, to foster and develop that community gathering place where you have people from diverse backgrounds and diverse experiences.
To be able to have a place where they can come and share their experiences, share their knowledge base. To have the library be a true community gathering spot within the town of Milton.
What would you say your biggest goals in your new position are?
To make that community hub.
I like to describe the library as the community living room. It's the place where everyone can just come in and just be.
Whether you're coming in here to find a book, whether you're coming into here to attend a presentation, whether you're coming in here to find your favorite film or you're just coming into the library just to find a place where you can sit and be.
My goal for the Milton Public Library is to foster a space that's safe and easily accessible, where patrons can just be themselves.
What do you think about the changing landscape for libraries, in terms of the increase in people buying books as well as an increase in more virtual spaces?
So libraries as a physical space is the essence of what my vision is.
Libraries need to be a warm, welcoming place.
It needs to be inviting. It needs to give people that room where they can just wander amongst space and if they want to interact with others, they can but it also gives them the freedom and opportunity to be left alone.
That's why they are essential. That's why it's so important that they always remain open.
There's also materials and resources and all that stuff, but the most important element is that it's a comfortable space where people can come. If we lose those spaces and communities then my question would be, where do those people go?
This is all reminding me of a book that I know written by Susan Orleans called The Library Book. Have you read that book?
Yes! Yes, about the Los Angeles Public Library.
Yeah! I thought it was pretty fantastic. In it she talks about the importance of the library as a physical space but also the history of libraries as record keepers and their importance in a community…
Public libraries are like the hub of a bicycle wheel, you have all those spokes that all come from different directions around the wheel but in that they all intersect at the hub of the wheel.
That's what libraries are.
Libraries are sort of like this given thing, everyone's so busy with their everyday lives and sometimes people don't necessarily stop and think, 'Oh, I need to go to the library.'
But when the library is not there everyone feels it. Everyone recognizes it.
It's sort of like, people just assume, of course there's a library. Of course the community has a library. But when the library is gone, if you lose that space it's devastating to people.
And we saw that when libraries were closed because of COVID-19. When the library closes down people are often like, 'Where do I go to connect with other people? Where do I go to just be? Where can I go to have that human contact?' Those are the things that transcend books. That space, the physical space. That's so important.