MILTON — Milton's Department of Public Works has dozen of projects on its docket in various stages of development. 
Here are three that will be started or completed this spring. 
1.  Cherry Street Sidewalk
The Town has hired Dirt Tech, a local construction company, to build a sidewalk and crosswalk on Cherry Street between Turner Avenue and Railroad Street.
The crosswalk will make it safer for pedestrians to cross the railroad tracks.
How it's funded: Milton received a grant from the Vermont Agency of Transportation (VTrans) to cover a portion of this project's cost, Public Works Director David Allerton said. The rest of the money will come from various Town funds.
"For a lot of these projects, you piece the funds together," Allerton said. "You might use some local money, and then you might add that to some grant opportunities somewhere else."
What's already been completed: During the March 15 Selectboard meeting, Chair Darren Adams said he voted to move forward with this project nearly 30 years ago as a member of the Milton Village Board of Trustees.
Working with New England Central Railroad (NECR), which manages the tracks that pass through Milton, has been a long and challenging process, Allerton said. NECR finally completed its part of the project in fall 2020.
What's next: Dirt Tech will begin construction of the sidewalk and crosswalk around May 1. Allerton estimated both will be finished by June 30.
2.  River Street Pressure Sustaining Valve Project
In 2019, Milton voters approved two water projects: the already completed water line replacement on Lake Road and the River Street Pressure Sustaining Valve.
Due to age and issues with flooding, Public Works will be replacing an underground pressure sustaining valve in River Street Park with a new, above-ground valve.
The pressure sustaining valve ensures water pressure remains consistent, by balancing the high pressure from the town's water storage tanks on Westford Road with the low pressure from Champlain Water District, from which Milton sources its drinking water.
How it's funded: The total cost of this project is estimated to be $211,732, but the Town qualified for a 75% subsidy from the Drinking Water State Revolving Fund.
"That is huge for the Town and great for our residents," Allerton said.
The bond voters approved on the 2019 Town Meeting Day ballot voters will cover the Town's portion of the cost, now only $53,000.
What's next: A kick-off meeting for the River Street project is scheduled for early April, Allerton said, and then construction work should begin in mid-May.
"Everyone will be able to see it happening because it's right there off of Route 7 by River Street Park," he said.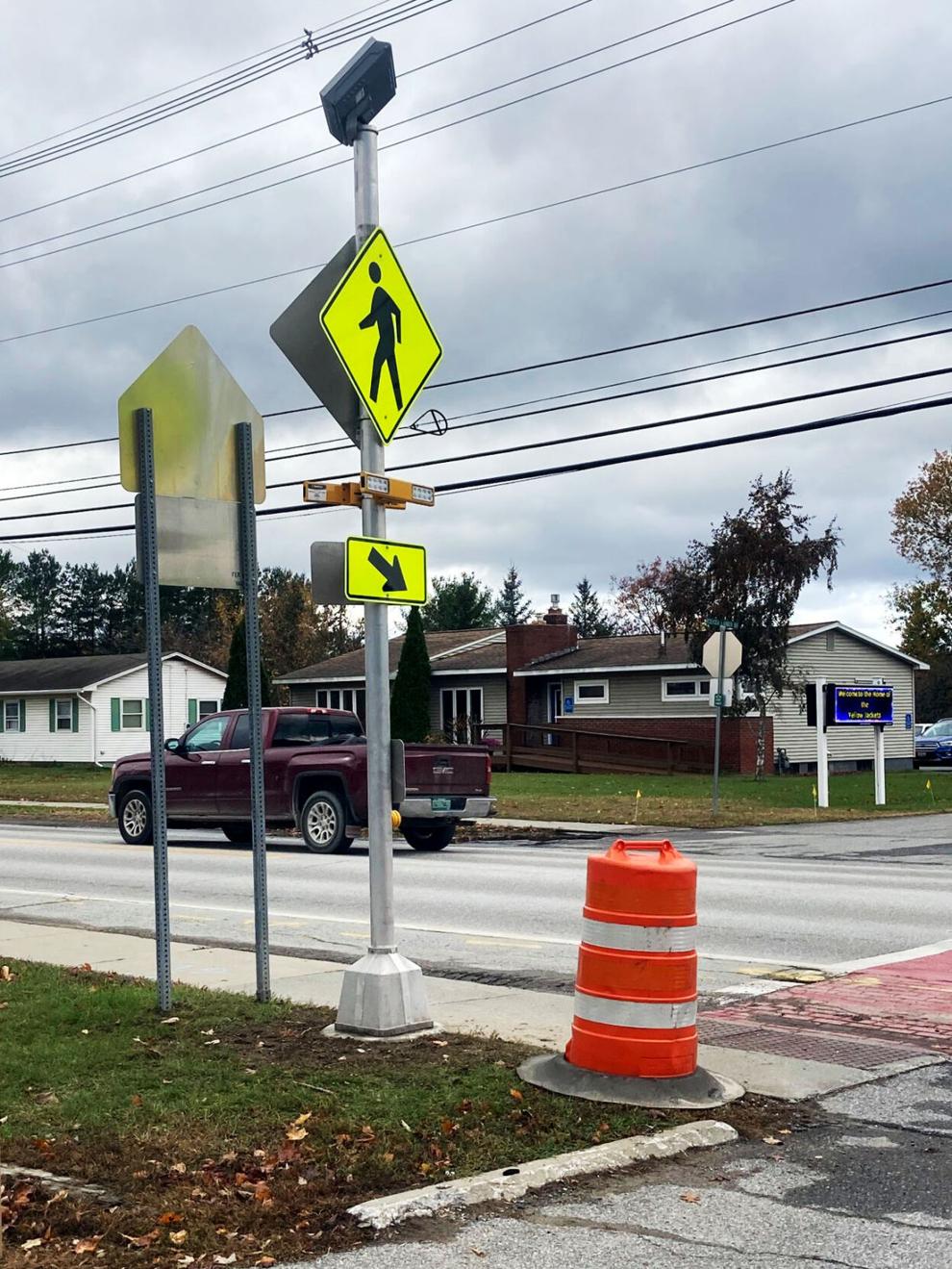 3.  Pedestrian improvements for Herrick Avenue, Centre Drive and Middle Road
This summer, VTrans will be installing Rectangular Rapid Flashing Beacons (RRFBs) on Herrick Avenue and Centre Drive.
"Those beacons will help the students and teachers get across Herrick Avenue from the parking lot to the school," Allerton said.
The Town is also working to make the crosswalks at those locations compliant with the Americans with Disabilities Act (ADA). Detectable warning strips will be installed to help those who are blind or visually-impaired.
Pedestrians can also expect about 800 feet of sidewalk to be constructed this summer, connecting the Milton municipal complex on Bombardier Road with Middle Road. The sidewalk will start near Milton Rescue.
How it's funded: The RRFBs and crosswalk improvements will be 100% paid for by VTrans as part of its High Risk Rural Road Project.
The new sidewalk between Middle Road and the municipal complex will also be funded by a grant recently received by the Town. 
What's already been completed: RRFB's were installed in fall 2020 at the intersections of U.S. Route 7 and Lamoille Terrace and U.S. Route 7 and Rebecca Lander Drive. 
What's next: The improvements at Herrick Avenue, Centre Drive and Middle Road projects are expected to be completed this summer.