After being closed for over three months, the Milton Town School District announced that all schools are set to reopen Aug. 26, though it still has other important details to work out over the course of the summer.
In a letter released June 24, as well as a recorded presentation, Superintendent Amy Rex laid out the district's path for designing a reopening plan for the 2020-21 school year. 
"The uncertainty of reopening school is weighing heavily on everyone's mind," the letter states. "As a parent, it may be frustrating or scary not knowing your child's schedule or the layout of their learning environment."
The district's reopening plan will be created by following measures from the Vermont Department of Health, as well as the Agency of Education. 
The state's measures, outlined in a 25-page report, touch on everything from daily wellness checks to requirements that students be seated six feet apart when possible and maintain assigned seats aboard buses and in cafeterias in order to limit possible exposures to COVID-19.
"Educating students, ensuring they make progress and safeguarding their health, welfare and nutrition has been made vastly more difficult by the presence of the virus," Secretary of Education Dan French wrote in the report.
Rex said the district's plan for reopening will also be influenced by the schools' FY21 budget, MTSD employee agreements and special education regulations.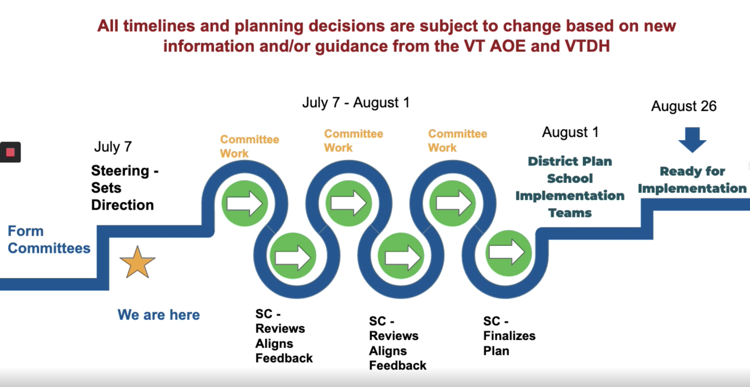 "The highest priority is the health, safety and social and emotional wellbeing of all students and staff," she said. 
The district has yet to announce plans for the restarting of extracurricular activities and athletics, the organizing of class schedules and possibility of continued remote-learning. 
These details will be determined by the MTSD steering committee and its three subcommittees: Operations, Instructional Core and Social Emotional Learning, and Communications. 
These subcommittees are made up of district employees who have expertise in a specific field. Parents will not be included on subcommittees, but Rex said families will be able to provide input in other ways. 
"Please know we will be seeking input from staff and families, so we may be sending out surveys or questionnaires," she said. 
As required by the AOE, MTSD's reopening plan must accommodate three possible scenarios: 
Schools are closed and all students are engaged in remote learning.

Schools are open, but either all or some students are engaged in a combination of remote and in-person learning.

Schools are open with less restrictive modifications and all students are learning in the school building. 
Rex said it is important that schools in the district are prepared to move between these situations independently of one another and as often as is necessary. 
Rex said MTSD is prepared at this time to operate at Scenario 2, with a combination of in-person and remote-learning to begin Aug. 26. 
Starting July 7, the steering committee and three subcommittees began reporting back and forth to one another on progress made so far. On or before Aug. 1, district readers will be ready to share the reopening plan with the public. 
"It is our intention to provide regular updates to our families and staff throughout the summer," Rex said.