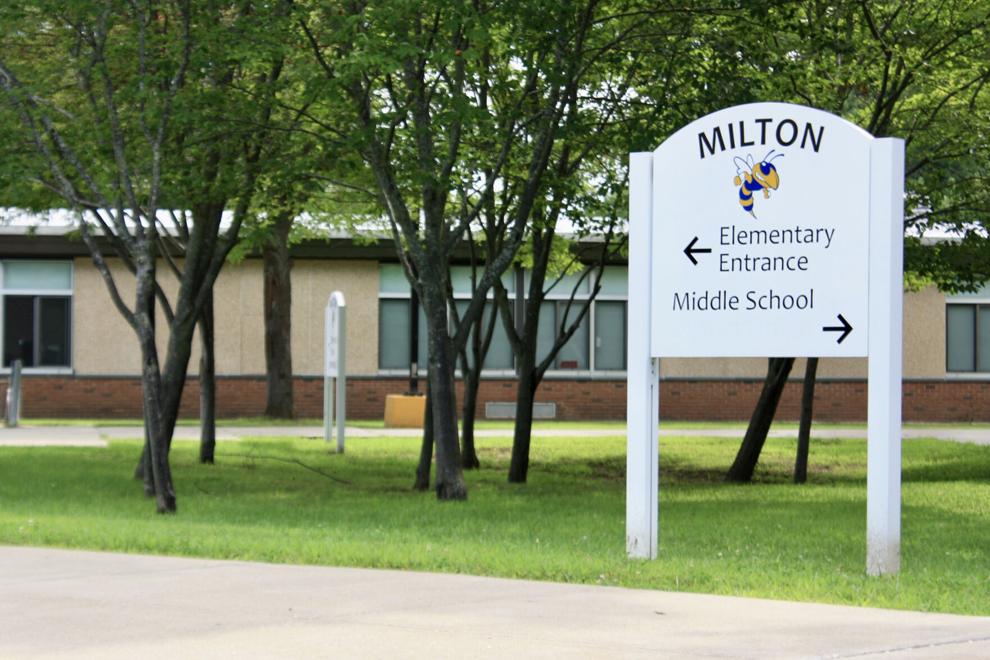 Earlier this school year, Milton schools were reporting a high volume of student behavior issues. But after months working to correct the issue, the district is now reporting numbers that are closer to normal.
During a presentation at the Milton Town School District school board's April 28 meeting, administrators walked through the district's progress on its 2022 Strategic Plan, which addresses academic achievement and success, health and well-being and engaged citizenship.
For many students, the return to school during the COVID-19 pandemic has been a struggle, said director of student services Timothy Dunn.
"Some of our students have social emotional competencies that are multiple grade levels below their chronological age," Dunn said during the presentation.
August 2021 marked students' return to a somewhat normal year. For students in Kindergarten and grades 1 and 2, it marked their first "normal" year ever.
The data, as presented by Dunn, shows spikes at the beginning of the year in average referrals per day. A referral is the process for documenting and referring a student for consultation, review or further action due to extreme behaviors.
Major referrals happen when these issues reach the level of physical altercations, insubordination, using obscenities etc, Dunn said.
These behaviors require the work of multiple staff members as well as have an adverse effect on other students within the classroom environment.
In October, the situation was immense for Milton Elementary School and Milton Middle School, as each reported major spikes in the average referrals. MES was averaging around 10 referrals per day while MMS was averaging over 16.
MES Principal Kurt Vogelpohl said the bulk of referrals at MES were coming specifically from the Kindergarten classes, the students who had never experienced normal schooling before.
At Milton High School, the highest month was November which averaged seven referrals per day.
In October, when the issue was first brought to the school board's attention, there was robust discussion.
Superintendent Amy Rex's report to the board on Oct. 28 showed the challenges the district was going through at that time.
"Foremost, I continue to remain optimistic and centered on the extraordinary leadership, teaching and learning that is happening across the district. There are many reasons to be proud, hopeful, and action oriented," the report reads. "At the same time, I would be remiss if I did not report on the challenges we are experiencing and the impact that they are having on all members of our school community."
In an email to the Independent this month, Rex emphasized that the issues occurring at MTSD were also happening nationwide.
"These spikes were not unique to Milton," Rex wrote. "They were happening in every school across Vermont and the nation as was reported on the news, in education journals and school correspondence to families, boards and communities."
MTSD then took steps to mitigate the issues including changing the Kindergarten program to address the needs of the students.
In a letter sent to families in early November, MES administration laid out the changes to its pre-COVID Kindergarten program to address post-COVID needs.
These changes included increased family engagement and collaboration as well as increased awareness of social emotional learning, the classroom environment and individualized approaches to learning.
All of this work since those first three to four months seems to be working, as all schools have shown success in greatly reducing referral numbers.
DESSA scores and new Educational Support Team process
At the April 28 meeting, Dunn also ran through scores from the Devereux Student Strengths Assessment (DESSA). This assessment measures a student's social and emotional learning on a number of different pillars including self awareness, relationship skills and goal-directed behavior.
The way the assessment is given is broken into two parts: the mini DESSA and the full DESSA.
The mini DESSA is completed three times a year for every student and is an assessment completed by teachers who offer their subjective perspective over eight questions on their students' social and emotional competencies.
If a student falls into the "need'' category as a result of this assessment, a full DESSA is completed by the teacher which is 72 questions.
Between the fall full DESSA to the winter full DESSA, there was a 9% decrease in the number of students in the "needs" category, Dunn said. The district also saw a 16% increase in the "strengths" category.
Wilmer Chavarria, director of equity and educational support systems, has been working to align the district's Educational Support Team (EST) process with anticipated state law.
Chavarria said at least one team from each school is now trained in the new EST process and some have already begun to train other colleagues.
"It's not that we've been doing it wrong, but we didn't have the law at the time when we created a lot of procedures in which we address additional student support beyond the universal instruction," he said at the meeting.