MILTON — For over 20 years, the Milton Police Department has carried the torch in support of Vermont Special Olympics. 
Five Milton officers ran 4.5 miles Sept 25 as part of the annual Law Enforcement Torch Run. This year, the department also raised $1,225 for the cause. 
The Law Enforcement Torch Run for Special Olympics is the organization's largest grassroots fundraising and public awareness campaign. During the event, officers run the Flame of Hope to the Opening Ceremonies of local Special Olympics competitions and State, National and World Games.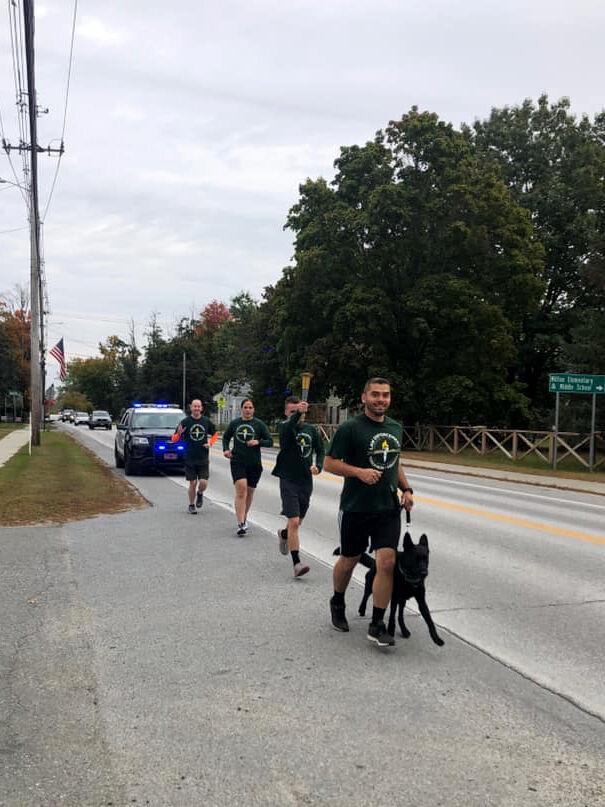 Every year, more than 91,000 law enforcement officers participate in the torch run across all 50 U.S. states and in 46 countries worldwide.
Officer Kendra Raymond has been coordinating MPD's participation in the Torch Run for the last few several years.
"I look forward to this event every year," she said. "It's a positive way for us to get out and connect with the community." 
Raymond, Corporal Chris Greiner, Detective Nick Hendry, Officer Noi Jones and Officer Samuel Noel carried this year's torch on the behalf of the department. 
The department's newest addition, K-9 Biscotti, also participated, running beside her handler, Jones. 
As the school resource officer for the Milton Town School District, Raymond was able to enlist the schools' help to spread the word and sell t-shirts.  
"We weren't sure how much we'd raise due to the way people's finances have been impacted by COVID-19," Raymond said. "But the support we received from the community was as good as we could have hoped for."