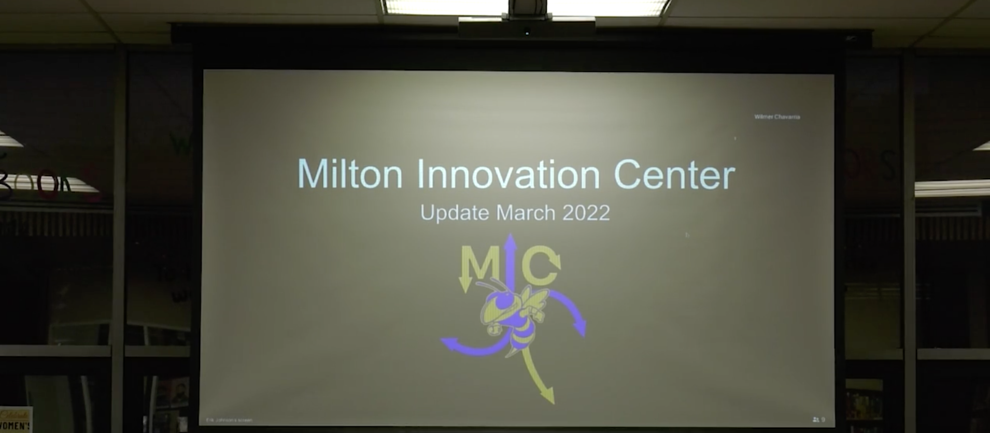 The Milton Innovation Center (MIC), a longtime project of the Milton Town School District (MTSD), is making headway towards full implementation.
Although there is still work to be done, at the start of Quarter 4 on April 4, the space will be partially open to students. 
Christina Reider, work based learning coordinator at Milton High School, who has been spearheading the project as its adviser/chair, updated the Milton school board on the project's progress at its March 24 meeting.
Reider said it has been a long road to get this idea going. Over the summer, a mission and vision statement for the concept of the maker space was created. This school year, the work was done to build it. 
"This year has been really working on the logistics of how we are going to make this happen and come to life," she said at the meeting.
In practice, the MIC is a "hands-on space for students to explore, create and innovate their passions into a career path with the collaboration and mentorship of educators and community professionals," according to its mission statement.
The plan is to turn the current MHS woodshop into the makerspace, still retaining elements of the shop but also adding other options.
It will act as a space for students to exercise their creativity with a wide range of options, from 3D printers to classic woodshop to laser cutters while also putting the school's work-based learning curriculum in one place, expanding internships and job-shadowing opportunities and preparing students to enter the local workforce.
This year, the team has gotten started working on the actual schematics of the space, gathering inspiration and information from professionals and the Middlebury Union High School (MUHS) makerspace.
Reider said that although the MUHS space is a little larger than Milton's, the layout of the space, which allows for a divide between clean working spaces and dirty working spaces, will be similar. 
Because the woodshop equipment creates dust and dirt, in the design of the room a separate space is needed in order to bring in things like laser cutters and 3D printers that have computers that can't handle the dust.
In addition, over February break, staff moved some of MHS' woodshop equipment into storage to make room for new equipment, some of which has already been ordered. Whiteboard tables that students can draw on have been ordered as well as chairs.
Reider laid out the priority for buying the actual equipment which include two Prusa 3D Printers and a Epilog Laser Cutter at the top of the list.
Other equipment the team is looking into include:
Other supporting software and computers
In terms of funding, Reider announced some exciting fundraising news including a $2,500 grant from the Vermont Principals Association to be put towards the 3D printers. 
Milton has also been listed as one of the schools to be supported by a Leahy Grant through The Generator, a makerspace in Burlington.
"They are actually going to be teaching teachers and students and providing the training on how to use all of this equipment, as well as consulting us on how to set up the space and what kinds of projects we can do with this equipment," Reider said.
The team has also drafted contractual agreements and a policy to get artists in residence to mentor students on campus. Three artists will be joining the Clay and Pottery class and the Metalworking and Jewelry class beginning April 4.
For Quarter 4, the space will be able to be used in some capacity while the team continues to order equipment and set it up.
In addition to the artists in residence, a small group of engineering students will be using the space to create a wind tunnel and there will be opportunities for small groups of students to explore individual projects at various times of the day.
Collaborators weigh in
Sophomore Milton High School student Colbie Miller has been working on creating the website for the project, displaying the timeline and other useful pieces of information.
She said this exercise has helped her hone her communication skills.
Milton Middle School eighth-grader Charlie Griffen, who has also been working on the project, said although she won't be able to use it this year, as a rising first-year, she can't wait.
Lisa Reese, Milton community member and president of the Milton Artists Guild, said the Guild is extremely excited to be partnering with the MIC.
"One of the things about the Guild is that we are mostly a volunteer-run nonprofit. We have 145 artists at your disposal," Reese said. "So when we heard about the MIC that was going to be up and running, we wanted to get involved. I can't tell you how impressed I am with the students and also with the school's commitment to bringing this up in a relatively little amount of time, making this happen."
Reese said she feels that this is a game-changer for the students and community, an opportunity for students to be inspired.
MTSD Superintendent Amy Rex said the MIC will continue to be an agenda item at the Milton Economic Development Commission meetings and a plan is being worked on for a "business roundtable" in May to talk about the MIC vision and hopefully get more people involved.
"I think that the partnership opportunities for both our students and the businesses of Milton to communicate what kind of skills are they looking for in their workers, maybe providing some job shadowing or internship opportunities or coming in and mentoring with students is a game changer," Rex said. "So I'm really, really excited about where we're going with this."
New Milton Innovation Center teacher
The board also spoke about a draft job description for a  Milton Innovation Center Teacher who would facilitate the educational component of the MIC as well as the community component.
Rex said the description was written with both of those spheres in mind.
"What does it look like to have a design and technology/shop teacher and also someone that is building partnerships with the community and providing students oversight and facilitation around their individual learning projects?" Rex said. "So it combines classroom teaching with personalization and community engagement, which I think is just the best of both worlds."
If approved, the school would be searching for candidates and doing the hiring in the spring for the job to start in the fall of next year, Rex said.
Rex also said there is already interest in the position.