ST. MORITZ — At 7 p.m. his time on Thursday, Geoff Gadbois called from his hotel room in the heart of the Swiss Alps. 
It was 12 degrees, the end of a long day preparing for the Bobsleigh World Championships, which he's competing in this weekend and next — as a driver for Team USA. 
"This sport takes me to the most beautiful winter places in the world," Gadbois said. "I mean, even the view from our balcony here is incredible."  
Born and raised in Milton, Gadbois got his start in sports as a Yellow Jacket, playing soccer, lacrosse and football before a career-ending injury forced him to try something new. 
Now, he's an accomplished 12-year bobsledder making his second appearance at the World Championships. His first appearance, in 2019, earned him a bronze medal. 
"I'm here with the best in the world, so it's going to be tough competition," he said. 
A veteran on a team of rookies, Gadbois is the driver of sled USA-2 and competes in the two-man and four-man events. He's joined this season by pushers Hakeem Abdul Saboor, Adrian Adams, Martin Christofferson, Freddie Harris, Manteo Mitchell, Carsten Vissering, Quintin Wiley and Josh Williamson.  
Team USA's journey to the World Championships started this past fall when they convened in Park City, Utah for training. 
Earlier this winter, Gadbois competed with his teammates at the International Bobsleigh and Skeleton World Cup events in Park City and Lake Placid, NY, finishing in the top ten. 
In this high speed sport, rankings are determined in the blink of an eye, as most races take under a minute to complete. Sometimes one-hundredth of a second stands between first and second place finishers. 
As the pilot of the sled, Gadbois is dependent on his "pushers," sprinters who push the 400-pound sled for the first 50 yards before jumping on board. After that, it's up to him to navigate the track's twists and turns. 
That's all while going more than 90 miles per hour. 
"It's the adrenaline rush that gives me the most thrill," Gadbois said.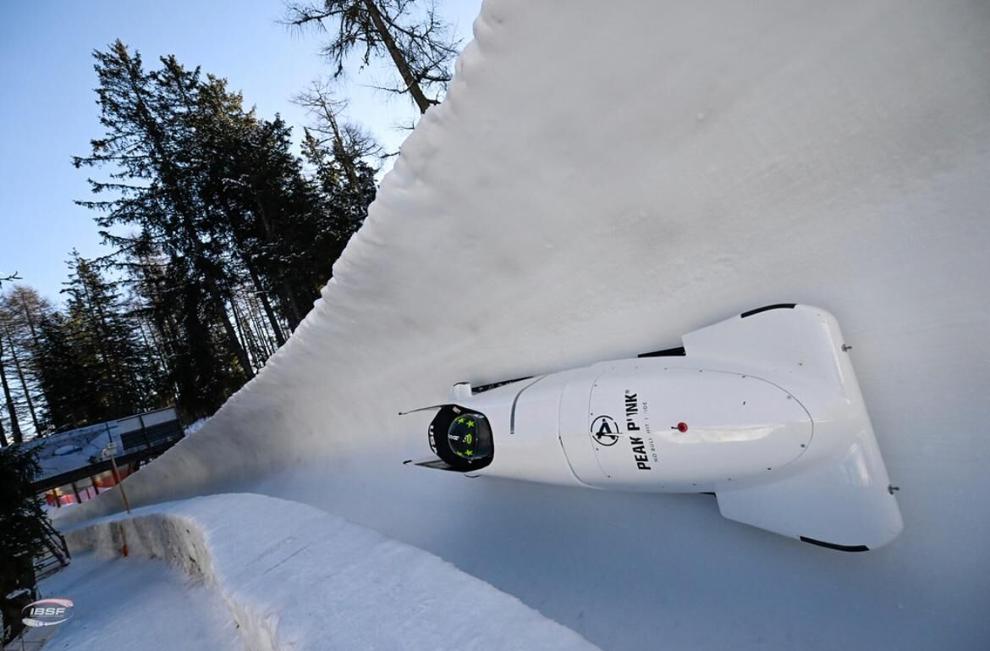 Since joining the national team in 2016, Gadbois has placed on the podium at several high-level competitions. He is optimistic about Team USA's chances this weekend, even though the track is one of the toughest in the world. 
The Olympic Bob Run from St. Moritz to Celerina is 1,722 meters (more than a mile long) and the only natural ice bobsled track in the world. Unlike most tracks that are made of concrete, this one is made of snow and built by hand, causing it to be slightly different each year. 
"You kind of have to throw out everything you ever knew about this track and relearn it in just six practices," Gadbois said.  
It's also a challenge to know how the track will perform on race day. All of Team USA's practice runs so far have been in the morning, when the track is still cold and sticky. On race day, the team is set to take its runs in the afternoon, when the sun will have had a chance to make it slick.
After the World Championships, the team will head to Innsbruck, Austria for their last World Cup competition of the season. In February, they'll come back to the states for the U.S. National Championships in Lake Placid. 
To watch Gadbois this weekend in St. Moritz, tune into the IBSF YouTube channel at 7 a.m. Saturday and 8 a.m. Sunday on for a livestream of the events.