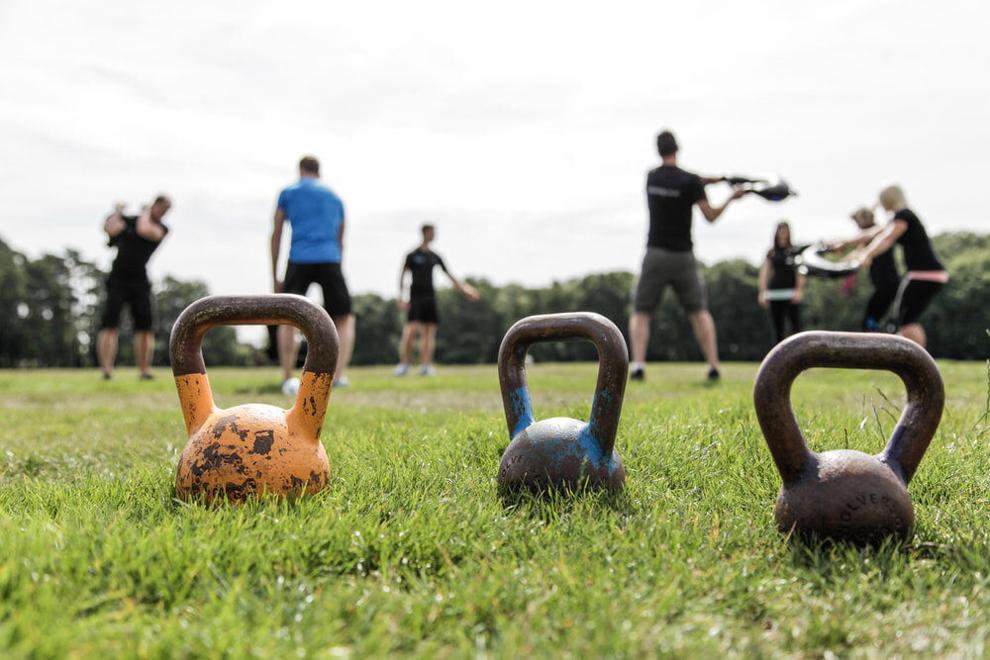 On the decidedly not busy River Street on Tuesday night, loud European techno music bounced out of the Milton Grange.
"10 more seconds guys!" the instructor in the center of the room said. Around him, eight women and me, carefully moving and swinging kettlebells, getting in a good night's workout.
Irfan Sehic, the instructor for the kettlebell classes offered through Milton Recreation, on Saturdays from 9 a.m. to 10 a.m. and Tuesdays from 7:30-8:30 p.m., is a man of many talents.
Seeing results
Sehic, originally from Bosnia, teaches and coaches kettlebell classes here and there, coaches soccer at Milton High School and Nordic Soccer Club and even runs his own small insurance agency.
The kettlebell looks like a bell. It has a large ball-shaped weight with a single handle that comes up over the top of it.
Sehic said he didn't even know that kettlebells existed until around six years ago. He was doing CrossFit at the time at a local gym, but something about the kettlebells stuck with him.
So he stopped doing CrossFit, stopped working with the barbell and for one month only worked with a kettlebell.
He said he remembers a specific run he took at the end of that month.
"So I go for a run, and I'm like, man, this is what running is supposed to feel like for the first time ever," he said.
Sehic, who had been a soccer player for his entire life, said the kettlebell changed everything about the way he moves.
A kettlebell obsession and a class with Milton Rec
From that moment on, you could call it an obsession. Sehic did tons and tons of research, reaching out to experts, reading and self experimenting.
Sehic went from student to advocate and teacher. Because he saw the results himself, he wanted to make everyone aware of what the kettlebell can do.
"I did this program for like a month and in my basement where I used to jump and hope to hit my head to the ceiling, a month of this program, I'm going through the ceiling," he said.
When Sehic reached out to Milton Rec about having a class, he was surprised that they had even heard of the kettlebell and how interested they were in organizing a class.
"It was pretty cool because out of nowhere, I just called them and they answered and that guy that Ben [Nappi]. I think I was just lucky because he heard of kettlebells and then later I was like, 'How did you hear about them?' and he was like, 'I think on Joe Rogan,'" Sehic said.
The kettlebell as a method of exercise, is unique in that it's design works to strengthen and stabilize the body in all directions, Sehic said.
As a free weight, the kettlebell activates muscles and gaps in your movement that directly translate to everyday life.
Dumbbells or barbells are very good at performing specific movements and activating specific muscles, but when it comes to every direction and position your body goes through throughout the day, the kettlebell makes each of those positions stronger to keep you prepared to move every way you want.
The garage in Sehic's gym that used to be occupied by an Assault Bike and a Row Machine, now houses at least 40 kettlebells.
This past summer, Sehic offered kettlebell classes at his house, five days a week, completely free.
On any given day of the week, anywhere from six to 12 people would be doing kettlebell swings, snatches and rows in the driveway of his Milton home.
The participants at the class on Tuesday were the subjects of a good workout, executed by an energetic and genuinely interested and knowledgeable trainer.
It's obvious the amount of passion that goes into a class with Sehic.