COLCHESTER — When the alarm awakens Army Reserves Sgt. Major Russell Sabens each morning for his civilian job as Fleet Administrator at Saint Michael's College, the experience is considerably less jarring than a too-memorable wake-up call during Sabens' most recent deployment in Afghanistan with the Army Field Support Battalion at Bagram Airfield.
"On December 11, 2019, there was an attack on Bagram … by a vehicle-born IED suicide bomber…with 15,000 pounds of explosives in a dump truck that hit the perimeter wall at 6:05 a.m. that morning — It was one heck of an alarm clock!" said Sabens, who, with his troops just after that blast, secured the perimeter of their compound just a mile away – "about the distance between North and South Campus."
Sabens' days promise to be more peaceful soon as he retires from his distinguished service with the Vermont National Guard and Army Reserves after 41 years of duty – he signed on at age 17 — though the 58-year old still plans to continue working for the College, which also employs his wife, Laurie Sabens, in the Office of Edmundite Campus Ministry.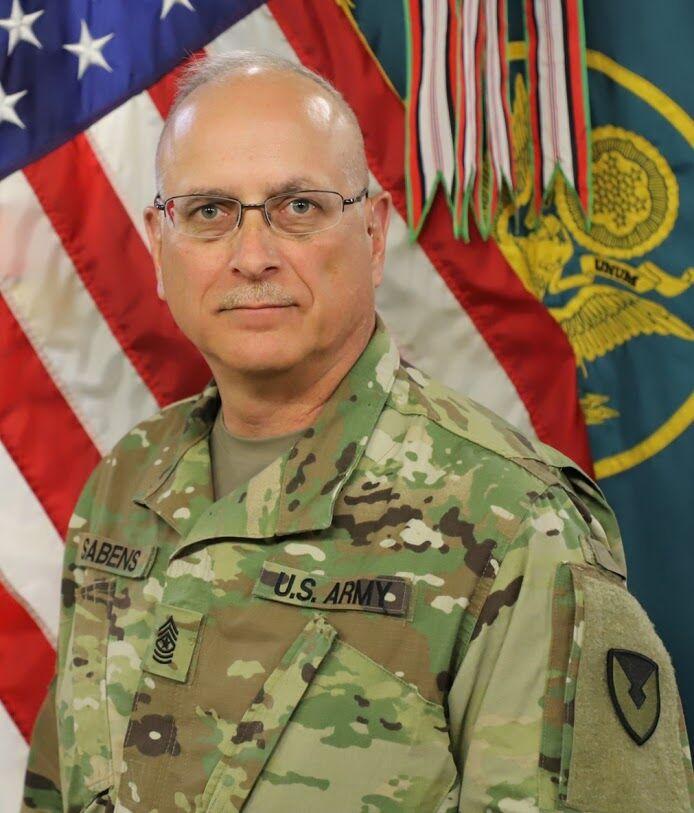 That fact and the proximity of Camp Johnson and the Vermont Air Guard facility to campus have been convenient bonuses for a man whose norm is to be busier than most people at either of his two "workplaces," much less over decades of balancing them together; yet the orderly, disciplined and methodical Sabens has made it work remarkably well, each role complementing the other, as he sees it.
"Military experience can be very valuable to civilian careers," Sabens said. "You spend your whole career learning to be a leader, develop organization skills, teamwork, self-sufficiency, effective communication, the ability to adapt quickly, and you become skilled at problem-solving." On the job at St. Mike's, such qualities have been valuable for Sabens as a one-person department in his fleet administrator responsibilities: coordinating all aspects of the College motor vehicle pool of about 50 vehicles, from routine to complex maintenance and repairs, budgeting, safety and compliance with key regulations.
Sabens boils it down with direct military simplicity: "Throughout my career, people in the military would ask what I do in civilian life and I would tell them I'm an auto mechanic," Sabens said – with a typical response being that person wondering why he didn't do similar work for the military. "I would tell them, 'you just answered your own question. I do that all week long, I don't want to do it on weekends too.'"
As far as Sabens knows, he has been the College's only active Guard or Reserves member on staff in recent years. Before Saint Michael's, the Burlington native had jobs that prepared him well for his present duties: "I worked for the Vermont State Police Fleet Services shop located across from the Saint Michael's maintenance and grounds shop on Hegeman Avenue in Fort Ethan Allen for five years, three as a state employee and two on active-duty orders with the Vermont Guard Counter Drug program," he said. Prior to that he worked as an auto technician at several Chittenden County car dealerships.
Sabens spent his first 25 years in the military with the Vermont Army National Guard Field Artillery. "Eventually I was looking for a military career change and was introduced to a Military Intelligence Unit at the U.S. Army Reserve Center in Forth Ethan Allen by one of my former artillery soldiers," he said. Sabens finds the new field "very exciting and interesting," and has not regretted the change.
Sabens explained that both Guard and Army Reserve soldiers train one weekend per month and two weeks every summer — and both can be called into full-time service to support Army combat missions — but unlike the Reserve, the Guard can be called to respond to domestic emergencies such as natural disasters.
Sabens said he had not imagined he would stay in the military as long as he has, but "as my career progressed, I enjoyed being a soldier because of the camaraderie, training soldiers, passing on knowledge and experience I had gained to younger and new soldiers."
Not surprisingly, deployments in war zones have been life-changing for Sabens. "The most memorable experiences from my deployments are the people I had the pleasure of serving with," he said. "They will always be in my hearts and thoughts. You make friends for life in this environment."
Besides the previously mentioned morning truck-bomb explosion, he will not soon forget "all the rocket attacks while on my last deployment in 2019 – I marked it on a calendar and we had 101 rocket attacks." He also enjoyed the enriching perspective of working with soldiers from other U.S. military branches, and from other nations, including, in his case, Britain, Australia, Japan, France, Italy, Denmark, Germany, Afghanistan, Korea, New Zealand, North Macedonia, Norway, Sweden and Ireland. "It is a wonderful experience to be able to live, work and dine with such a diverse group – including diversity among people from different parts of the U.S.," he said.
Sabens appreciates the support from the College for his military service through the years. "On rare occasions I had to deal with time-sensitive military business during work hours. Fortunately, my position here allowed for some flexibility – I just stayed late to make up time, and spent numerous hours after work writing reports, working on schedules, doing evaluations, preparing training materials, to mention a few things."
He has had a wide range of specialties in the military, from field artillery to mechanic, military intelligence analyst and biometrics.
While he's winding up his military career, Sabens said he hopes to stay on at Saint Michael's until retirement age a number of years yet down the road — a prospect he views with both the humor and self-assured independence that contributed to his success as a soldier. "As a one-person department, every month I award myself Department Employee of the Month!" he said.