CHITTENDEN COUNTY — Vermont children ages 5 to 11 are now eligible for the COVID-19 vaccine, and most adults are eligible for a booster. 
Parents and caregivers can register their children for the Pfizer-BioNTech vaccine, while adults who received their shot of Johnson & Johnson two months ago or second dose of Pfizer or Moderna six months ago can schedule a booster. 
"Vaccinating Vermont's youth will have a significant impact on our efforts to move past this pandemic, and we need parents to take advantage of this safe, free and effective way to protect their children," Gov. Phil Scott said Tuesday.  
Is the vaccine safe for kids?
Children ages 5 to 11 will receive a specially-formulated dose of the Pfizer vaccine. The dose is one-third the size of the dose for people age 12 and older. 
Just like adolescents and adults, children will receive two doses given three weeks apart. This provides enough protection with the least potential for side effects, according to the Vermont Department of Health.
The vaccine was found to be 90.7% effective in preventing COVID-19 in children ages 5 to 11. The approximately 3,100 children aged 5 to 11 who received the vaccine in an ongoing study had no serious side effects.
Where can Chittenden County kids get vaccinated?
The specific Pfizer vaccine for children ages 5-11 is available at various locations around Chittenden County. Appointments are required and locations could be added. Here's when you can get it in November. 
Who is eligible for a booster? 
Vermonters age 18 or older can get extra protection from a booster shot if their: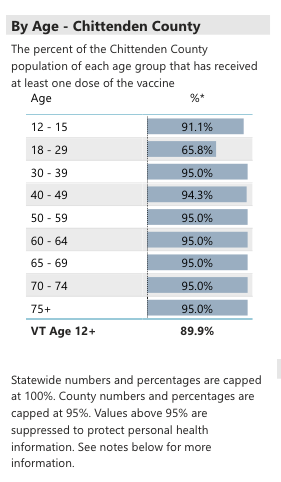 second dose of Pfizer or Moderna vaccine was at least six months ago

Johnson & Johnson vaccine was at least two months ago
Boosters are especially encouraged for anyone age 65 or older, according to the Centers for Disease Control. Those under age 65 should get a booster if they:
have certain medical conditions, including mental health conditions

work in a job that increases your risk of COVID-19 because you are indoors, exposed to the public and to other workers

live in a long term care facility, group home, college dormitory or other congregate setting

are Black, Indigenous or a person of color (BIPOC) or live with someone who is BIPOC
Where are booster shots available in Chittenden County? 
To get a booster shot, find a location that offers whichever booster shot you would like to get. The CDC has said it's okay to get a different booster than your first shot. 
Check the DOH's vaccine map for locations by vaccine type. 
Vermonters can also check with their health care provider or one of these pharmacies: Costco, CVS, Hannaford, Kinney Drugs, Price Chopper/Market 32, Rite Aid, Shaws, Walgreens, and Walmart.