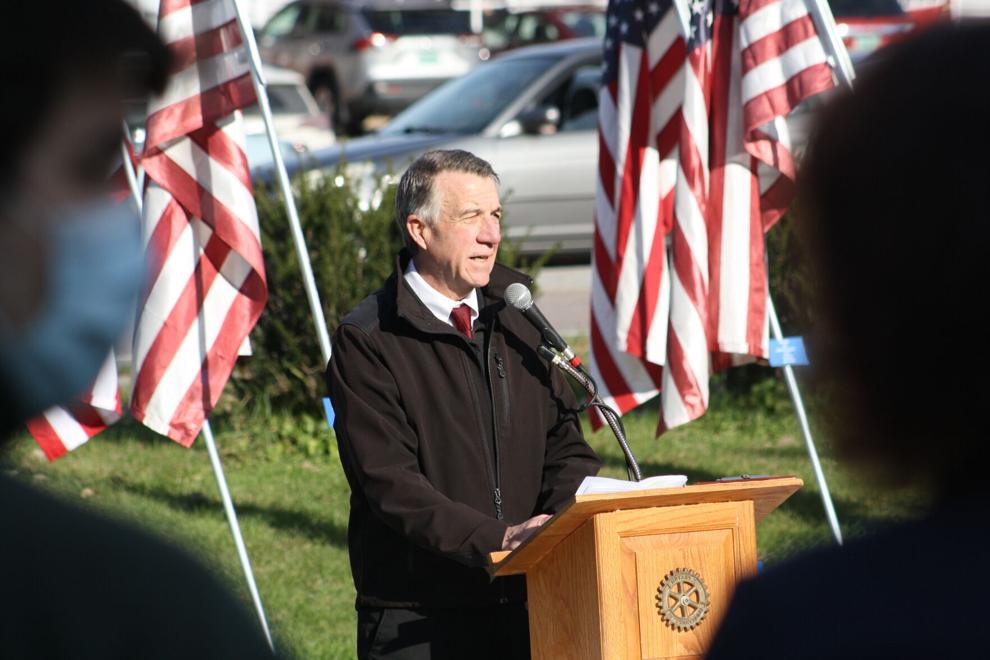 Veterans and public servants alike gathered at two separate events, one in Colchester and one in Milton, organized by the Colchester-Milton Rotary Club to honor veterans as part of Operation Flags for Heroes.
Speakers at both events Nov. 11 spoke in admiration of those who have served their country by enlisting in the U.S. Armed Forces.
Started during the COVID-19 pandemic, Operation Flags for Heroes is a donation program hosted by the rotary. Businesses and individuals can sponsor a flag displayed at highly visible locations in either Colchester or Milton. All proceeds will go to various community needs.
Lined along Route 7 at Charlebois Trucking in Milton and in front of Dick Mazza's General Store in Colchester stood American flags, each with a plaque honoring a specific person or group.
There are currently over 100 flags across three locations through the program.
John Abry, CM Rotary president, said the program is special because there are flags not only honoring members of the military, but law enforcement, firefighters, EMTs, health care workers, emergency personnel, teachers, mothers and essential workers.
Governor Phil Scott speaks at event in Colchester
Gov. Phil Scott, who attended the event in Colchester, said as the commander in chief of the Vermont National Guard, anyone who has served has his deepest gratitude and respect.
"The sense of duty and sacrifice is why it's so important for us to take the time to not only thank our veterans, but to listen to their stories, as well," he said.
Scott said this year, as the country watched the removal of troops from Afghanistan, he wanted to be sure to recognize the troops serving overseas in the Middle East.
Vermonters were reminded of the enormous sacrifices of these men just this week, he said, with the passing of 30 year-old Staff Sergeant Wesley Black of Hartford, Vt.
Veteran's Day in Colchester
Black developed colon cancer after being exposed to open burn pits while serving with the Vermont National Guard in Afghanistan and Iraq and engaged in a legal battle with the U.S. government after Veterans Affairs doctors neglected to diagnose him.
Scott also said the vision and experience of freedom for the people of Afghanistan will not be forgotten by them.
"Imagine that young Afghan girl who got to go to school for the very first time and saw with their own eyes America's female warriors fighting alongside the men for her future and the future of her children, family and way of life," Scott said. "Imagine the impact of that and how will we pass it on to so many more for generations to come? Those images of courage and sacrifice are incredibly powerful, because they represent the very best of our values, and give Afghans hope for a path forward."
Scott said that the experience of freedom with troops in Afghanistan could inspire future generations of Afghan people.
"These young (Afghan) men and women will be the freedom fighters of the future," Scott said.