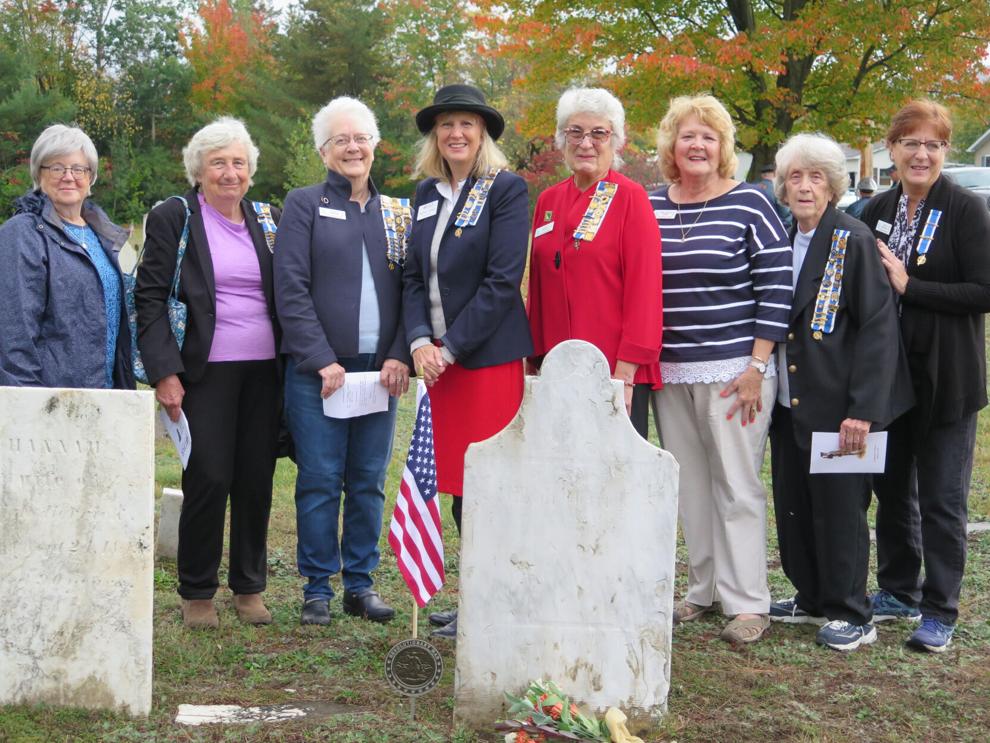 On Saturday, October 16 the Green Mountain Chapter, Daughters of the American Revolution (DAR) had the honor of dedicating a patriot marker to Elijah Herrick at the Plains Cemetery on Railroad Street in Milton. 
Barbara Trokan and her husband came from New Jersey for the ceremony. Barbara is an active DAR member, and now an Associate member of the Green Mountain Chapter. She is a direct descendent of Elijah Herrick and via this lineage joined the DAR.
The DAR were joined by a color guard and bugler from American Legion Post 91 in Colchester and Milton Town Historian, Jim Ballard who gave comments on the significance of the American Revolution on the World. The ceremony was conducted by Chapter Regent, Betty Ann Andrews and Chapter Chaplin, Sandy Gamsby.
Elijah Herrick was born in Killingly, CT in 1758 to Phineas Herrick and Sarah Leonard. He married Hannah Russell from Tyringham, MA in her father, John Russell's home on April 28, 1787. Elijah and Hannah had seven sons. The Herrick Genealogy Book published in 1846 mentions that Elijah was one of the first members of the Congregational Church in Milton. According to Elijah Herrick, Jr. in his pension application, his father served under General Gates in the "taking of Burgoyne". Elijah Herrick, Sr. died on October 17th, 1808, and was buried in the Plains Cemetery. Almost to the day 203 years later attendees came together to honor his memory and thank him for his service.
The Daughters of the American Revolution is a women's service organization dedicated to education, patriotism, and historic preservation. DAR is also a lineage organization whose members must prove descent from a Patriot who performed service to the country during the Revolutionary War.
DAR Elijah Herrick Celebration