WINOOSKI — This weekend, pick up a can of Bernie's Smitten Mittens, a stout made by Four Quarters Brewing in Winooski, for cozy, Valentine's Day drinking. 
Bernie's Smitten Mittens is a warming, maple s'mores stout with maple syrup, milk sugar, cocoa powder, chocolate chips, graham cracker and marshmallow. It was inspired by the viral meme featuring Sen. Bernie Sanders and the mittens he wore to the presidential inauguration last month.
Jen Ellis, a teacher in the Essex Westford School District, knit the mittens for Sanders. 
"His mittens, they have the s'mores colors," Four Quarters Taproom Manager Will Havens said. "But then, because we're in Vermont, it has to be a maple s'mores stout." 
A portion of proceeds from the beer, which will be available starting Friday, Feb. 12 at Beverage Warehouse and Four Quarters Brewing, will be donated to an emergency food provider, Havens said, just like the proceeds of other mittens-inspired merchandise. 
Friends of Bernie Sanders, a campaign of Senator Bernie Sanders, said in a Feb. 9 press release that it would be donating $100,000 from mitten merchandise sales to Feeding Chittenden, which will help spearhead the organization's new food access center. 
To follow the trend while simultaneously supporting the community, Four Quarters has chosen to donate some proceeds from its beer to the Winooski Food Shelf.
"We figured if we're gonna do a beer in [Sanders'] likeness, we'd have to follow suit," Havens said. 
The idea for the beer was first put forward by Beverage Warehouse in Winooski, Vermont's largest craft beer, wine and liquor store, when it posted pretend beer can graphics for a mittens-inspired brew on social media a few weeks ago.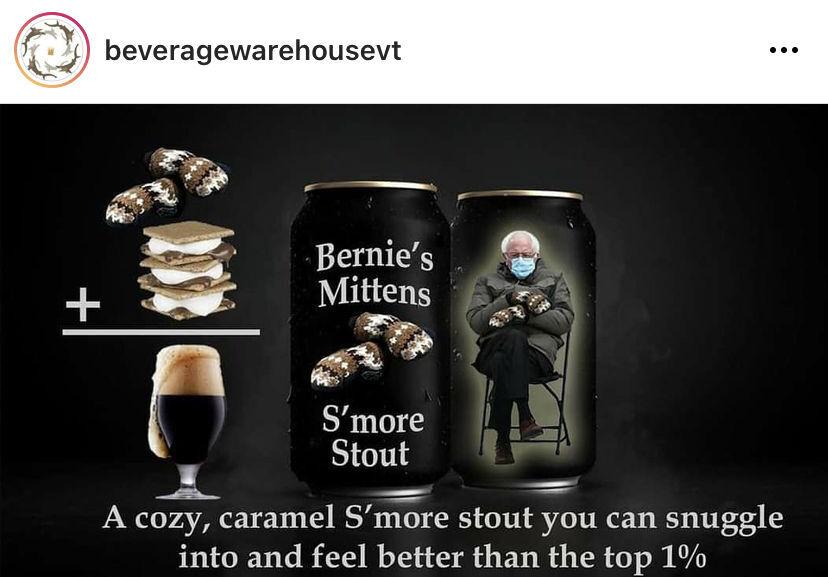 "Can someone for the love of god please make this beer!" the Instagram caption stated. 
"Beverage Warehouse was just so excited about it, so we said, 'Let's do it,'" Havens said. "We thought if there was ever a time to make a beer for a meme, it would probably be this one, just given how close to home it all was."
Four Quarters' label designer Jacob Martin quickly got to work creating the pink, Valentine's-themed design, while the brew team worked on the flavors. Bernie's Smitten Mitten's has a similar base as Four Quarters' flagship stout, Havens said, but then it's got those layers of maple and s'mores. 
The beer has a 6% ABV in order to make it enjoyable and accessible for the most amount of people, just like the meme, Havens said. 
Cans of Bernie's Smitten Mittens will be available in Winooski only beginning at 10 a.m. Feb. 12 at Beverage Warehouse on East Street. Starting at 3 p.m. the same day, it can be found at Four Quarters Brewing on West Canal Street.