BURLINGTON — When Dr. Jill Biden touched down on the Burlington tarmac Wednesday afternoon, she became the first First Lady to visit Vermont in over a decade.
Her visit to Beta Technologies, an electric aerospace company in the state's Queen City, was the third stop on her four-state "Investing in America" tour, which aims to highlight how the Biden-Harris Administration's economic policies are benefiting Americans across the country.
The First Lady was joined by U.S. Secretary of Education Miguel Cardona, Gov. Phil Scott and Vermont's congressional delegation. They visited the air hangar at Beta and heard about efforts to increase career pathways for high school students and technical education.
During the tour, the First Lady met with high school and college students, and founder and CEO of Beta, Kyle Clark.
"The students who are with us today are learning what it takes to design airplanes and maintain electric vehicles," Dr. Biden said during her remarks. "They're exploring jobs that didn't even exist when many of us were in high school. …What you are doing in this community is the future of our workforce."
Clark, a graduate of Essex High School and Center for Technology Essex, said starting an internship program and working with local schools was a need, not a want for Beta. 
"It really had nothing to do with trying to do that strategically," he told the press. "It was a need that was fulfilled. They [young people] are creative, know the latest tools and are energetic." 
Beta will need a strong pipeline of local workers when it launches two new Vermont facilities later this year. The company is constructing a manufacturing and assembly facility for its aircraft in South Burlington and is renovating a battery validation plant in St. Albans.
Both sites will need hundreds of employees in order for Beta to continue to be an example of how innovative engineering and manufacturing can create clean energy solutions. 
Dr. Biden and Secretary Cordona landed at the soon-to-be-renamed Patrick Leahy Burlington International Airport around 1:20 p.m. Wednesday, April 5, waving from the plane's side door before walking across the runway and into the hangar.
Stepping up the mic in front of Vermont legislators, cabinet officials and educators, they commended the state for its investment in education, clean energy businesses and electric vehicles.
As a 30-year classroom teacher and community college professor, the First Lady said she knows some see technical education and trade jobs as lesser-than. But programs like Beta's internships and high school job shadowing can help de-stigmatize those skills.
Biden met with Colton Poulin, who went to Burlington Technical Center in high school and is now studying mechanical engineering at Vermont Technical College. As an intern at Beta, he builds, tests and deploys flight inceptors.
"Technical education can make what we see here today," Poulin said, pointing to one of the electric aircraft. "It can make the future."
Phoebe Peckham, who is finishing her high school credits through a program at Vermont Tech, also got to meet the First Lady. Involved in Beta's "Study Hall" learning demos, she shows other students the workings of electric motors, battery packs, flight controls and more.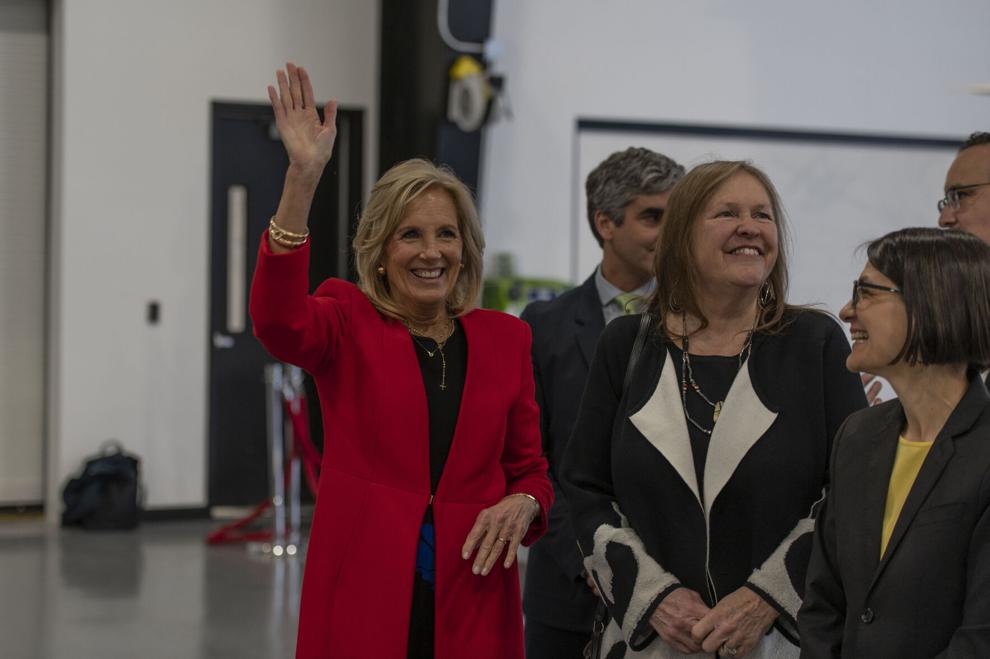 The First Lady's mission to de-stigmatize technical education and careers aligns with Gov. Scott's, and the tune of bipartisanship soon became the note that got the most applause.
"In a more perfect world, the fact that our goals are aligned in this area wouldn't be all that newsworthy," Scott said in his remarks. "Today is a reminder that we can and we should prioritize progress over politics."
Vermont, and the United States as a whole, Scott said, need to continue to grow the workforce, especially in the trades.
"Without folks in the trades, we can't keep the lights on, the water running, maintain the roads and the vehicles on them, build the homes we need, renovate our hospitals or schools or meet our environmental goals," he said.
As a high school student, Scott himself took both traditional college prep classes and technical education courses. He said he felt stuck "between those two worlds" and joked that was perhaps the start of him being a "centrist."
"We need to make a real effort to end the stigma around CTE and the trades, because these are great careers that present endless possibilities for talented and hard working kids," he said.
Three students and an instructor from North Country Career Center in Newport were present to show off their transportation science program, which teaches students how to service electric cars.
Senator Peter Welch and Rep. Becca Balint (D-Vt.) emphasized that trade workers are going to be essential to transitioning the country to a more green economy, one that seeks to fight climate change with innovative solutions.
"There's nothing to fear about climate change," Welch said during his remarks. "There's everything to embrace about a zero-emission economy that creates good jobs and a clean planet."
"We are at the forefront of addressing the climate crisis and investing in renewables right here in Vermont," Balint said. "Students graduating here in Vermont should feel empowered to get an education and plug into a project like this that enables them to live their dreams."