In the back corner of the Milton Artist's Guild, Doreen Slusser pointed to the colorful glass wind chimes she had made while she was at home during the pandemic. The glass caught the light of her lamps, causing rays of soft gold to unfurl across the table. 
Slusser is the owner and designer at Glass By Dee, a glass-making business she runs herself out of her home studio in Milton. 
"For a long time people didn't see glass and jewelry making as art," she said. "People only thought of painting or drawing, but I'm happy to see that changing." 
Slusser has been working with glass for almost eight years. She creates lamp shades, necklaces, wind chimes and more.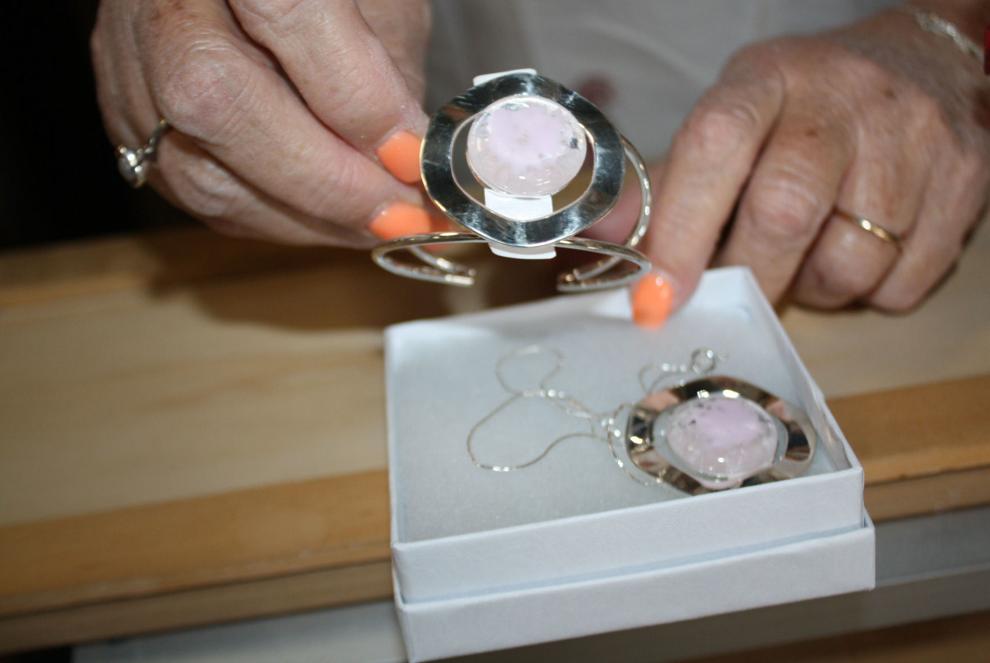 At first a potter and ceramic-maker, Slusser said she fell in love with glass-making and made the transition to the medium nearly ten years ago after taking a friend's class at the Shelburne Craft School. 
"I love how unpredictable glass is," she said. "You expect it to turn out one way, and it ends up the completely different." 
Slusser said she doesn't strive for perfection like some artists do. 
"Even in the way my home is decorated, you can see I favor imperfection," she said. 
Her favorite pieces are her necklace pendants, which range in size and shape. They come in bold crimson and aquas, as well as light pinks and pale greens. She's often experimenting with how best to attach the pendants to their chains. 
Slusser has lived in Milton with her husband and son for 37 years. 
After growing up in Pennsylvania, Slusser moved to Indiana, where she studied at Purdue University. Her husband, George, who has a PhD in chemistry, also studied there. 
Just a few days ago, Slusser retired from her job at the University of Vermont Medical Center, where she was an emergency communication specialist. 
"Retirement will take some getting used to, especially since my husband is recently retired as well," she said while laughing. "We'll have to get used to spending more time around the house together." 
When she was still working at the hospital, Slusser used to designate Thursdays, one of her days off, as her art-making day. She would go down to her basement studio early in the morning and not come up for seven or eight hours.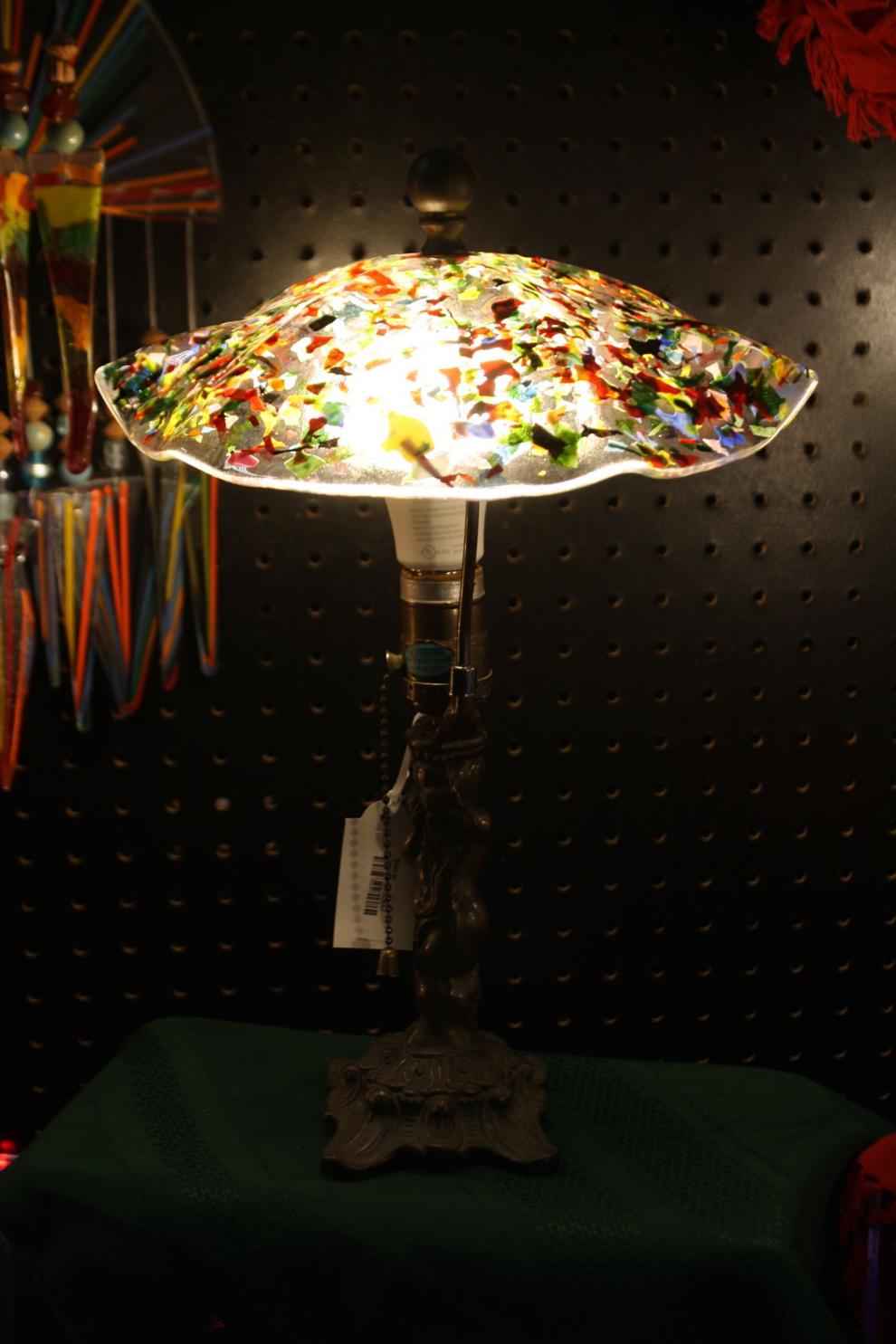 When she's down there, her son sometimes wanders in to see what she's working on. 
Slusser uses a large kiln to fire the many layers of glass she uses to make her pieces. The kiln heats up to 1,400 degrees to melt the colors of glass together, creating different patterns and shapes.
Slusser said she recently got a screen melt, a machine that allows her to reuse glass that didn't come out the way she wanted it to the first time. 
"You place all the old pieces on the top, and then it gets very hot, and the old glass melts down into a new piece, a quarter-inch in depth," she said. 
During the state's recent stay-at-home order, Slusser said she didn't spend much more time on her art than usual, because she didn't want to have an overabundance of work that she couldn't sell or store. 
"I did make a few sets of wind chimes, which I haven't done before," she said. 
Slusser said she uses Pinterest to find inspiration and to learn new techniques. 
When Slusser isn't in her studio, she can be found volunteering at the Milton Artists' Guild, a non-profit gallery space that seeks to display and support the work of local artists.
Slusser manages and organizes the donations brought to MAG as well as creates the annual scrapbook, which documents MAG's most memorable moments of the year. 
While Slusser used to sell her glass work at craft shows, she now only sells at MAG. 
"For a small business like mine, those craft shows are just too expensive and not worth the travel time," she said. 
Tourists often looked down on her work, she said, because it was less expensive than some of the other art.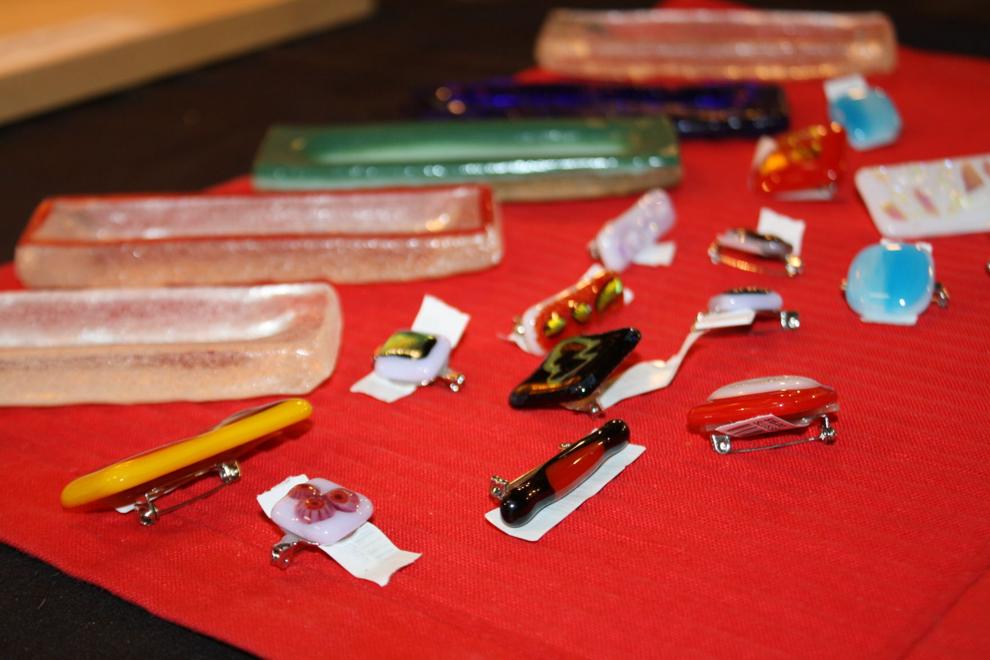 "They thought, 'oh well it's less expensive, so it must not be as good,'" she said. "But I try to keep my prices reasonable so that my art is accessible." 
Slusser sells her glass pins at MAG for $15. The lamps, her most expensive item, are $100. 
"My husband once said that I didn't make anything for men, so I decided to start making cufflinks, wine bottle stoppers and money clips." 
Slusser recalled a memorable moment from one of the last craft shows she sold at. 
"This typical looking Vermont farmer came up to me, still wearing his boots, and bought a set of cufflinks," she said. "I asked where he was going to wear them to, and he said they would look good with the shirt he had on. That made me laugh."
Create Space is a new series featuring creators and innovators in the areas of Milton, Essex and Colchester. Know someone who should be featured? Send an email to bhigdon@orourkemediagroup.com.