Vermonters feel very safe living in their state.
That's according to a newly released survey from safewise.com that dives into America's top safety concerns. Over the past three years, they have surveyed more than 15,000 Americans — at least 300 from every state — to find out about their perceptions and attitudes about safety and crime.
They used FBI crime statistics to create the report and rankings. You can read about their methodology here.
The Safest Cities report shows that Vermonters rank No. 1 in the nation when it comes to its residents feeling safe.
The company said they use data in their interviews to spot how people perceive safety and danger, as well as respondents' experiences with different types of crimes.
In the chart above, you can see that Vermont ranks No. 1 with Wyoming coming in second, North Dakota third, Montana fourth and Idaho fifth. When it comes to states where residents don't feel say, the rankings are: (1) New York, (2) Maryland and Illinois, (3) Texas, (4) Nevada.
How the rankings look regionally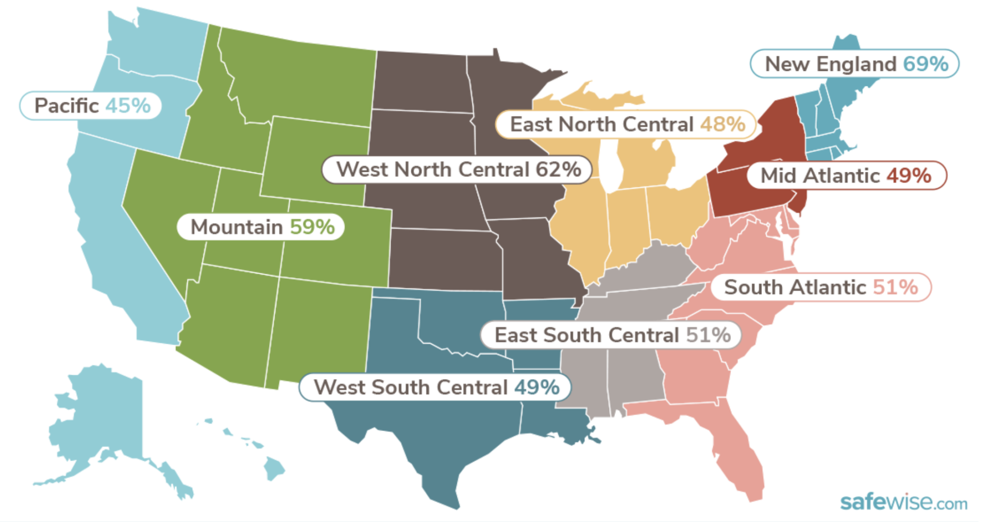 More interesting findings about Vermont:
• Just 18% of residents in Vermont said they were concerned about their safety and/or security on a daily basis, down from 41% the previous year. 
• The Green Mountain State expressed 62% less daily worry about overall safety than the rest of the country. 
• 56% said they thought crime was increasing, a drop from 61% in SafeWise's 2020 State of Safety survey. 
• 41% of respondents in Vermont said they worry about gun violence on a daily basis. 
States worried most about violent crime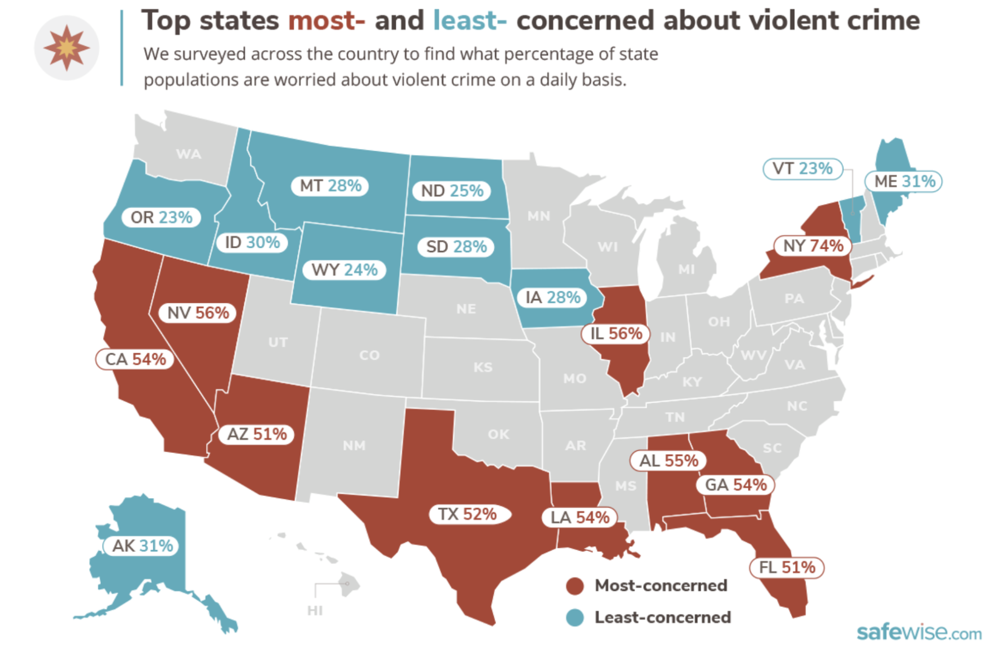 Across the country, there has been an 8% drop in the overall level of daily concern about safety over the past three years —even though nearly 7 in 10 Americans think crime is increasing.
Here are a few numbers to know:
• Fewer than 1 in 10 Americans think crime is decreasing although it's been on a downward trend for the past 2 decades.
• Package theft is the most worrisome crime issue for Americans, with nearly 5 in 10 respondents worried that it will happen to them.
• Property crime is the second-most worrisome crime issue, with 4 in 10 Americans worried that it will happen to them.
• Even though more than half of all Americans are concerned about gun violence daily, only 38% are worried that it will happen to them.
• Women, younger Americans, and those with kids at home express higher levels of crime concern than other demographic groups.
• Americans aged 55 or older have strikingly fewer personal experiences with all types of crime compared to every other demographic factor.
States worried most about gun violence