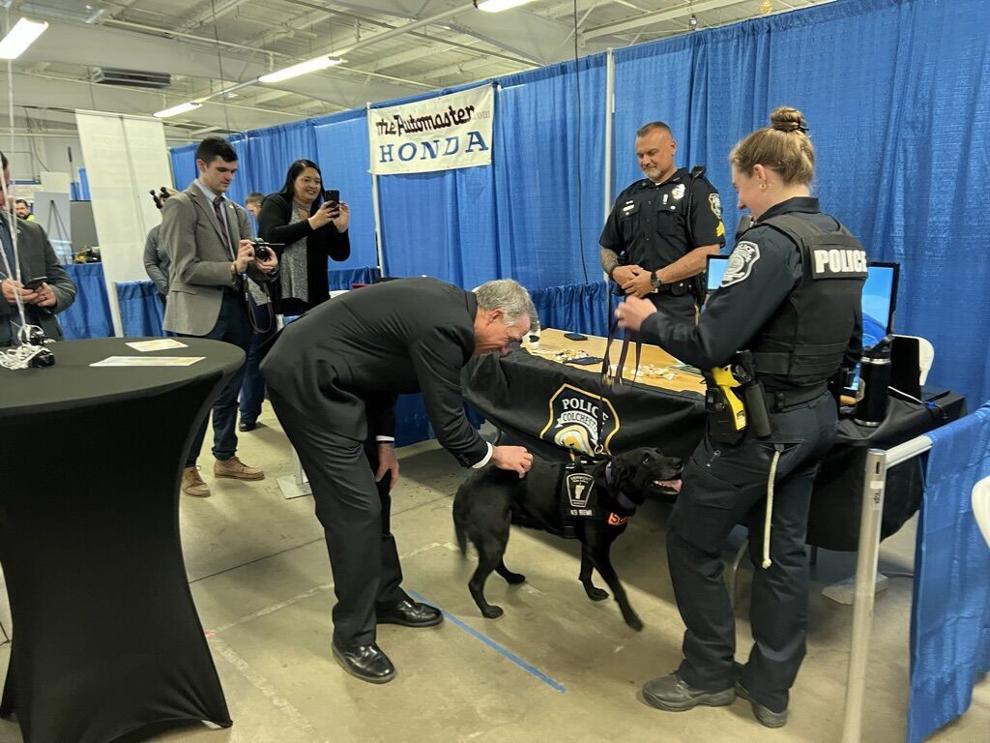 ESSEX JUNCTION — A job fair focused on skilled trades and other types of technical jobs was held on Thursday, April 20 at the Champlain Valley Exposition. 
The event space was packed with high schoolers, adults looking for work and plenty of employers hoping to find their next hire in the crowd of job-seekers.
Anthony Willey, a recruiter from Northeast Kingdom Human Services, had traveled far to attend the event but found it to be worth it because of the number of people who showed interest.
"I just spoke to someone from our region who is probably going to ask for a job," he said. "That's good feedback to our organization and speaks to the worthiness of the event."
The fair touted itself as "Vermont's largest career fair" and was hosted by the Associated General Contractors of Vermont, in partnership with Vermont's Department of Labor, Vermont Agency of Education, UVM and Vermont Independent Electrical Contractors Association.
Denise Cochran of Key Collision also found the event helpful because there had been a good flow of people throughout the day, she said. The company is looking for mechanics to help the business fix cars that have been in accidents. So far, the company is seeing labor shortages improve as more people look for work.
John Casella of Casella Waste Management, which works on infrastructure as well as waste management solutions, found the career fair a good place to get people interested in his business.
"This is one of the best career fairs we attend," he said. "It's a great one because it's a mix of young kids and working folks."
There were a variety of employers present including social service organizations like Howard Center and Northwestern Counseling and Support Services and construction companies like J.P. Sicard Inc. and Engelberth Construction, Inc. 
Casella was also pleased to know that Gov. Phil Scott would be attending the event. 
"We're grateful for Gov. Scott's focus on the value of the trades, and I think he's done a good job promoting the opportunities out there," he said, "At the end of the day, the faucet doesn't turn on without folks who are there to put it all together and make it work."
Scott held his weekly press conference at the fair, speaking of the challenges Vermont's economy would face in the future without investment in skilled trades and other place-based jobs.
"If we don't grow our workforce, we won't have the resources we need to make critical investments in the future, or even support the programs we already have, and definitely not be able to pay for all the new programs the legislature has in mind," he said.
Scott shook hands with many of the employers at the booths and even petted a Colchester Police dog while walking around the career fair.
Those looking to learn more about career fairs being held in Vermont and training programs can click here.