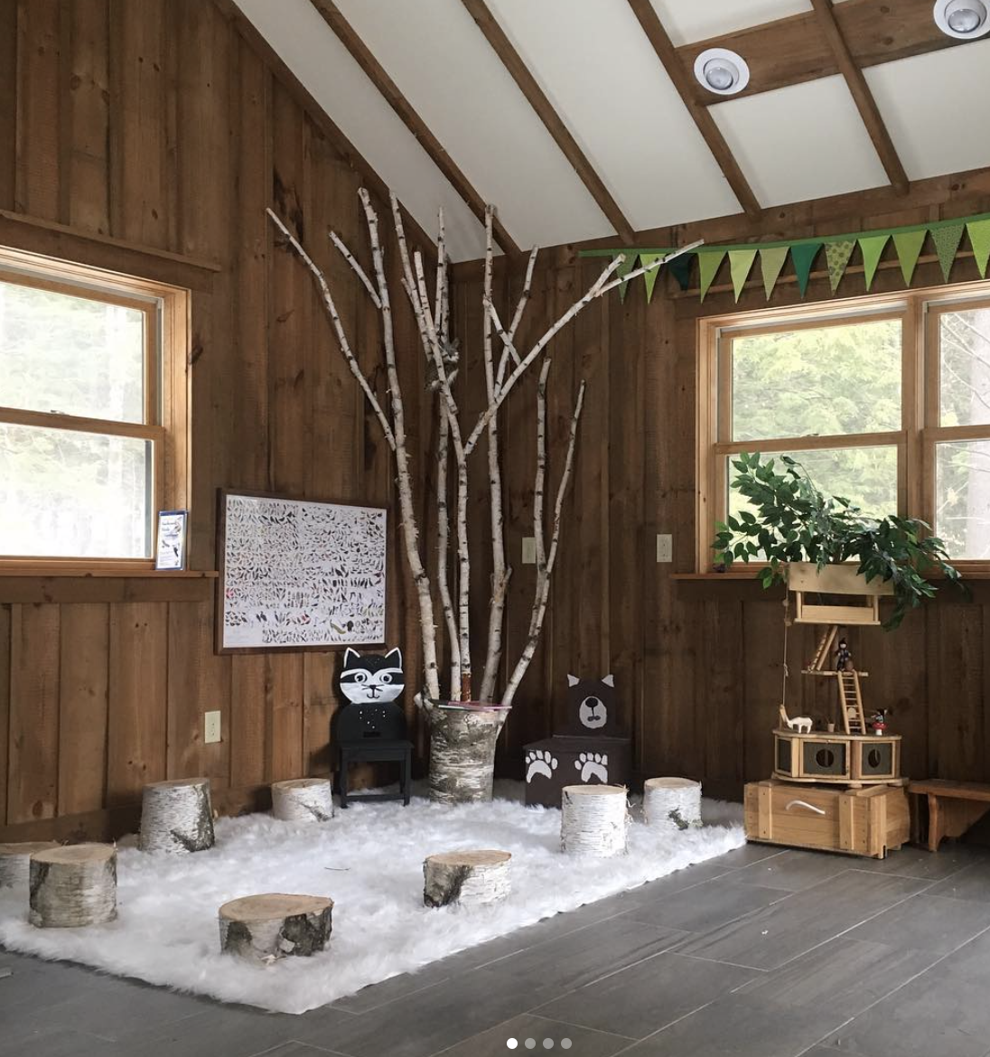 For children at Arrowhead Forest Farm's Forest Preschool, a typical day consists of outdoor play and learning about how to be better to the environment.
Arrowhead Forest Farm in Milton hosts a "forest preschool," an outdoor-centric educational experience that originated in northern Europe and Scandinavia. The preschool is one of about four in Vermont.
The program is run by Mary Corcoran, who has a bachelor's degree from Ithaca College in Environmental Science with a concentration in Education. She got her teaching license and is now pursuing a master's degree in Educational Leadership at the University of Vermont. 
Corcoran found her inspiration for the preschool from her work in education in Ithaca as well as her own studies. Her own work in a Ithaca forest preschool inspired her to create one in Milton, she said. 
Forest preschools are based around time spent outdoors — tracking birds, building shelters, observing nature, making art and more. Corcoran keeps track of the hours her students spend outside.
"The program is founded upon using natural materials with kids and encouraging them to spend as much time outside as they can," she said. "I've been tallying the hours and so far we've spent 600 hours outside."
At the preschool's campus, tucked away off of U.S. Route 7 N, there is a small permaculture farm with animals the children help care for. 
"It's about having the kids create a compassionate and comfortable relationship with nature and building a sustainable future," Cochran said.
The children do a variety of activities, some of which are based on weekly themes. Most recently, during Water Week, they built boats and found a turtle and a frog.
"We try to base the curriculum on the kid's interests, and we try to focus on having happy kids and creating a strong community," she said.
The preschool still follows early-education standards, like learning basic math and reading. Cochran is assisted by three other educators, which creates a one to five teacher-student ratio. 
"We count sticks while building a fire or write letters in the leaves," she said.
The seasons in Vermont provide many opportunities to learn in different environments, and daily activities can range from playing in the leaves to sledding. 
When the weather is not safe for outdoor play, the children go into a schoolhouse on the property to do indoor activities. The preschool also teaches the basics of environmentalism to kids with books and other activities. 
"It's important for kids to be able to enjoy the outdoors so they have a sense of home and also want to protect it," Cochran said.
The preschool at one point attended a "mud puppy" protest, which focused on how the chemical Lampricide was killing off "mud puppy" salamanders despite being intended to kill off a parasite killing trophy fish such as trout and salmon.
Arrowhead's Forest Preschool is open from 9 a.m. to 1 p.m. with a late pickup option until 3 p.m. The cost is $45 per day or $60 per day with the late pickup option. It is an Act 166 prequalified prekindergarten program and financial aid is available.