Publishing the voices of our readers and community members is a long-time tradition at the Milton Independent. This is done by soliciting, receiving and publishing letters to the editor, op-eds and columns.
All three of these types of stories are opinion content and are published at miltonindependent.com/opinion.
In a reflection of our commitment to transparency and to trust, opinion is published separately and differently from our news reporting, just like at other news organizations.
One way we differentiate between opinion content and news reporting is through labeling.

As in the above example, it will always be clear who wrote an Opinion piece. Above the headline, it will be tagged "Opinion" along with the type of Opinion it is — a Column, Op-Ed or Letter to the Editor.
COLUMNS are written by credible individuals who have been invited by the Independent to repeatedly share their writing.
For example, Milton Recreation Department writes a recurring column called "What's New at Milton Recreation." Once a month, Milton's Town Manager writes a "Manager's Message."
The town's state representatives share what their committees are working on in a column called "Message from Montpelier."
If you'd like to write a column for the Independent, send a pitch to news@miltonindpendent.com.
OP-EDS are one-time guest editorials written by Vermonters who possess expertise or knowledge in a particular subject area. For example, an opinion piece on the environment written by the Vermont Secretary of Natural Resources would be classified as an op-ed.
Here are three examples:
Op-Ed: The (Green) Mountain (Conservation Camps) are Calling, and She Must Go
Op-Ed: Why you might consider joining the Civil Air Patrol
Op-Ed: Three key takeaways from the Vermont election results
All three headlines are prefaced by "Op-Ed" so there is never any confusion. Each op-ed also includes an italicized note that states who wrote it and what makes the author qualified to write about the topic.
LETTERS TO THE EDITOR are letters submitted by community members who aren't necessarily experts, but who have an opinion they feel inclined to share.
People write to us for all sorts of reasons — to show their support of a political candidate or legislative bill, to share a message with the community or to ask a question. Letters come from near and far: from right here in Milton, but also from across the country.
We aim to present a wide variety of viewpoints and to introduce readers to opinions that might challenge their own.
Here are three examples:
Letter to the Editor: 20 religious leaders stand with Vermont's women
Letter to the Editor: Why I'm not seeking re-election to the Milton selectboard
Letter to the Editor: A response to racism in Milton
These too are prefaced by a label, "Letter to the Editor," so you know exactly what you are reading when you click on the headline.
On social media, we will make it clear to you that we are sharing a letter by including "Opinion" in the body of the post.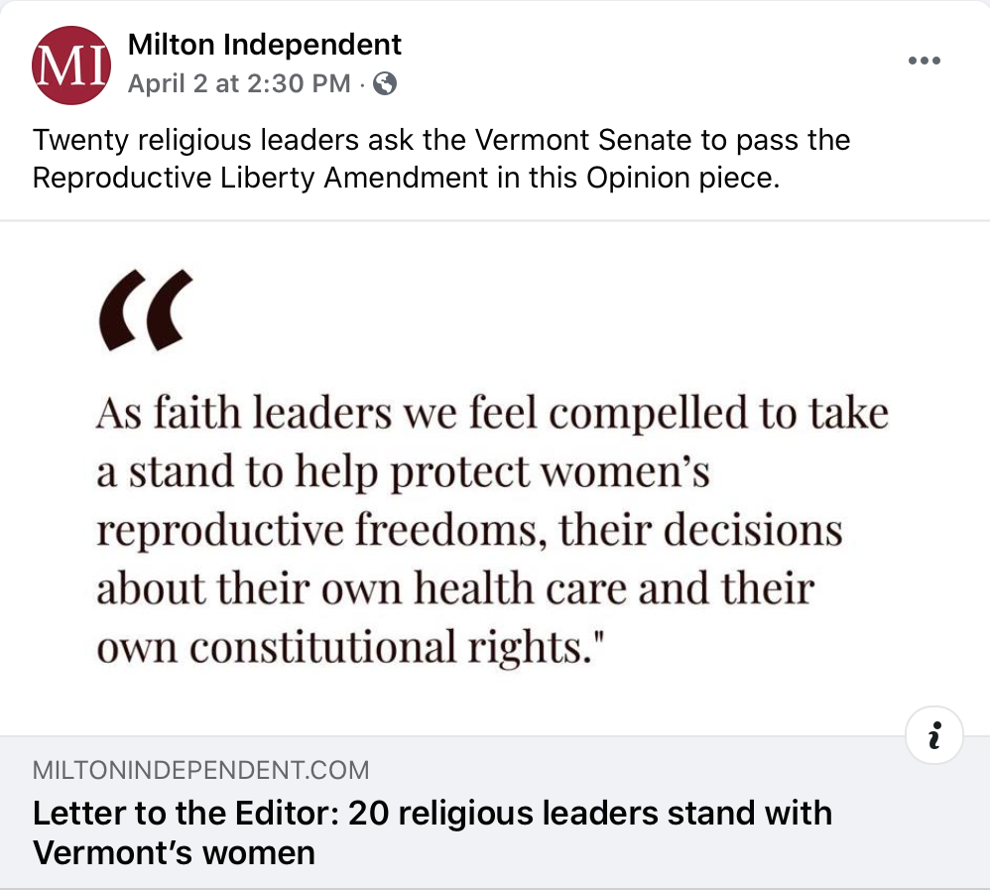 There is no guarantee of a letter's publication. We have standards that help us determine whether a letter is fit for print.
Here are the rules we abide by:
We prioritize letters from our Milton readers, but we will publish letters from readers elsewhere in Vermont or the U.S. if the topic is relevant or the writer has local connections.
Writers should provide a home address and daytime phone number.
We automatically reject letters that are abusive or attack another person's character.
Letters should be well-written. We reserve the right to edit for grammar, brevity, accuracy and clarity.
Writing a Letter to the Editor is a great way to make your voice heard. Opinion is essential to our mission of sharing the wide variety of stories and perspectives that help our community to grow and to thrive.
Submit an Op-Ed or Letter to the Editor by filling out this form.