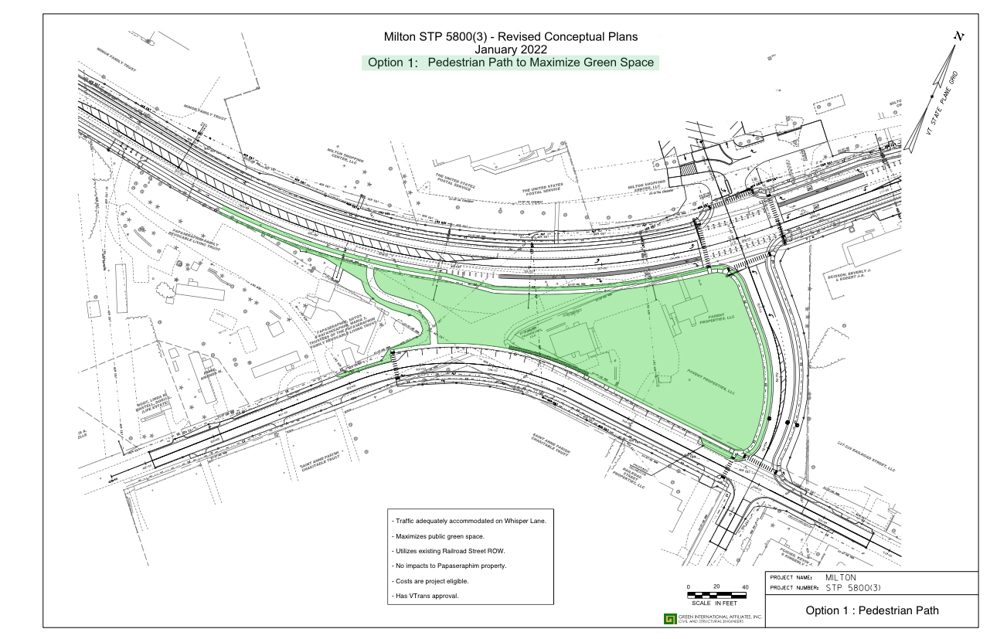 A Vermont Agency of Transportation (VTrans) official said complete construction of Milton's hourglass project by the end of 2023 is "almost impossible."
At the Milton selectboard's Oct. 3 meeting, VTrans project engineer Ken Robie echoed previous murmurings at selectboard meetings: construction on the hourglass project will most likely have to wait until 2024.
The hourglass project is the planned renovation of the U.S. Route 7, Middle Road and Railroad Street intersection which includes a town green.
The most recent delay on the project occurred this past March when the project had to be revised because of a dispute between the town and the Papaseraphim family, who owns the property that the previous plan's southern leg cut through. The town approved those revisions at a meeting in March.
Between that meeting and this most recent meeting, VTrans worked with a design firm on those revisions. Unfortunately, within that span, VTrans had to get a revised contract with its design firm before they could move on with the right-of-way process.
The right-of-way is the legal right to pass through a property owned by someone else.
Previous plans included a new road connecting the U.S. Route 7 to Middle Road that went through the Papaseraphims' property. But because of the dispute, that road has been eliminated, and therefore the project's price tag for the town has decreased by around a half a million dollars, Robie said.
However, the price of the state's portion has increased because the price of materials has increased.
Back in 2018, when the last cost estimate was done, the project cost $4.6 million with $1.6 million being the town's share. The new estimate brings the project to $5.3 million total with $1.1 million being the town's share.
Robie said the town's share is very likely to change, as $1.1 million is a ballpark estimate.
"So our next steps are to review the plans, make sure they're ready to move into that right-of-way process, update the right-of-way plans and title information that we need for doing all the offers and deed and property acquisitions around the project. And then move into that acquisition process throughout this winter," Robie said.
Robie said back in March he was optimistic they might be able to advertise it this winter, but that hasn't come into being.
Robie said the right of way process should be controllable and hope it goes smoothly, noting that everybody that's involved in the process is a willing participant in the project.