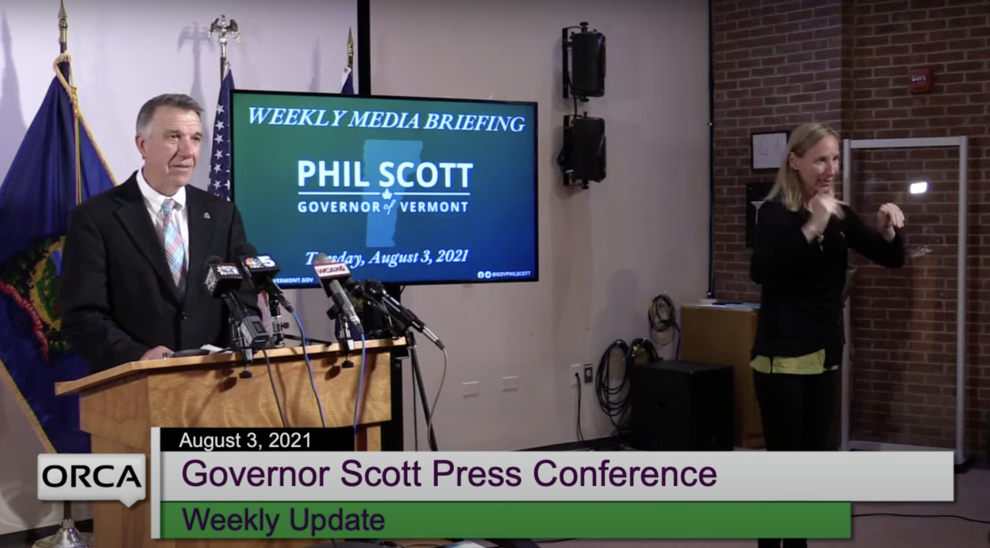 MONTPELIER — Vermont will not be seeing the reinstatement of any broad COVID-19 mitigation measures any time soon.
Despite a rise in newly-diagnosed COVID-19 cases throughout Vermont and new nationwide federal Centers for Disease Control and Prevention guidance, Gov. Phil Scott said during an Aug. 3 news briefing that Vermont's high vaccination rate means Vermonters will be able to continue their lives relatively restriction-free.
However, the new COVID-19 advisory for the upcoming school year which will be released later this week, will recommend schools begin the year with a masking mandate.
Masks in schools
State officials announced they are recommending all K-12 students, teachers and staff return to school masked for the first few weeks.
New guidance to be released later in the week will recommend the mask mandate in schools be dropped once a school's vaccine-eligible population has reached 80% vaccinated.
State secretary of Education Dan French said students who are unvaccinated will have to continue to wear a mask once a school has reached the 80% threshold.
The most recent data shows that 65% of 12-15 year olds are at least partially vaccinated, according to the Department of Financial Regulation. That number jumps to 72.5% with 16-17 year-olds.
Because the Vermont state of emergency is no longer in effect, officials said they can not impose restrictions like a mask mandate on schools, and the guidance is technically non-binding.
There will not be any social distancing requirements, French said.
Scott says return of COVID measures in unlikely
On Tuesday, July 27, the CDC announced it was recommending that both vaccinated and unvaccinated individuals wear masks in indoor public settings where transmission was being reported as "substantial" or "high."
Beginning on Monday, Aug. 2, both Chittenden and Essex County fell into that category, reporting case transmission at "substantial" levels.
Scott said despite CDC guidance, the state has to look at things within a smaller context. With Vermont's high vaccination rate, he doesn't see the need to reimplement COVID measures.
"Nationally, more than 99.99% of fully-vaccinated Americans have not had a case that required hospitalization or loss of life," Scott said. "With Vermont's high vaccination rate, we've shielded ourselves from the situation other states, those with low vaccination rates are in."
Scott said when the CDC puts out guidance, it is doing so for the entire country, taking into account areas that fall into the extremes of high transmission, as well as areas with little spread, and making a one-size-fits-all recommendation.
Scott said Vermonters need to be aware of the stark difference in the state's vaccination rate, in comparison to other states whose populations have been inoculated at lower rates. Scott cited Alabama as an example, which has the lowest vaccination rate in the country with just 34% of the population fully vaccinated.
"What works for them and across the country is different from what we're doing," Scott said.
Nationally, it is anticipated that cases will continue to rise for another four to five weeks before improving, according to Michael Pieciak, commissioner of the Vermont Department of Financial Regulation.
Piecak said he expects hospitalizations and fatalities due to the virus to remain low as the population encounters more cases.
In the last week, an additional 2,467 Vermonters got vaccinated, moving the population of people who have not yet been vaccinated to below 90,000 individuals, Piecak said.