When Adam and I made reservations for our vacation to Wyoming, I was worried about two things: flight delays and bears. We had no delays, and I've seen more bears in dumpsters on early morning drives to hikes in New England than I did in Wyoming.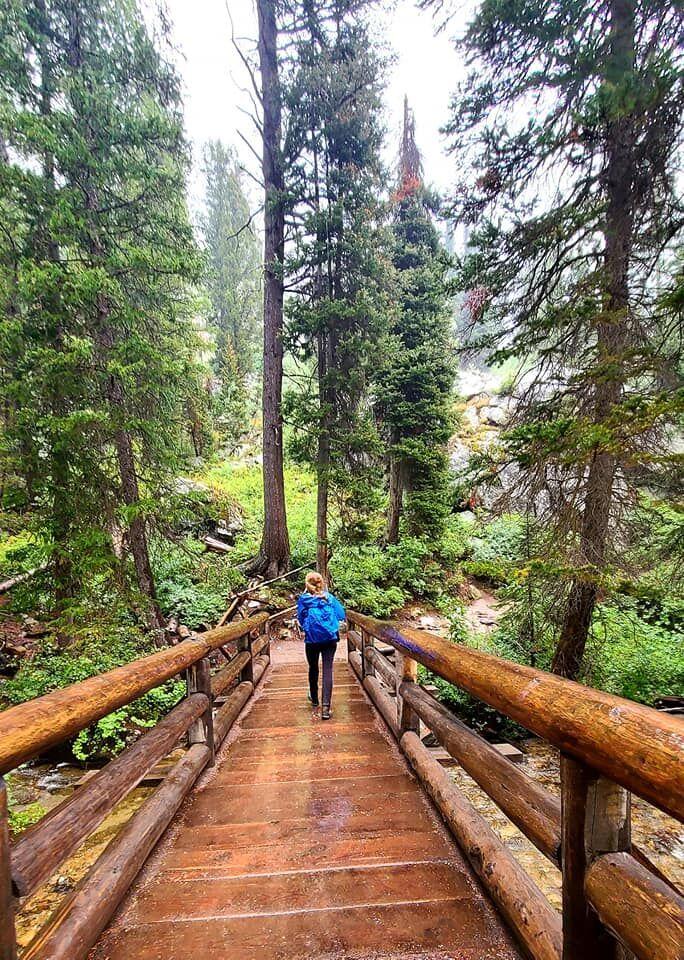 What did we need to worry about in Wyoming? Moose and weather! After seeing a moose up close near Taggart Lake, I was hoping we'd exhausted our moose sightings (at least trail-side) for the week; I was wrong! 
Rainy weather moved into the area, but it didn't dampen our enthusiasm. After consulting with a ranger, we opted to explore Cascade Canyon.
The Jenny Lake Trail usually provides exceptional views of the Teton Range. That wasn't our experience, but we made the best of it, stopping for a look over Jenny Lake from Inspiration Point (it's a lot less crowded in the rain) and continuing our climb up the Cascade Canyon Trail.
How much rain is too much? We have a pretty good 'wet' tolerance, so we figured we'd last for a while; besides, even in the rain and mist, the Tetons are still jaw-droppingly beautiful. 
We wandered through thick vegetation (yes, my hand was on my bear spray) and through dense stands of lodge pole pine (still ready at the trigger) until we walked into the first clearing. 
Even in the rain, the hike was impressive. The mountains soared over our heads into the mist on the left, a swollen brook rushed beside us, and a wall of boulders hemmed us in on the right. The fog was low, but the summits played peek-a-boo with the clouds as we gazed in wonder.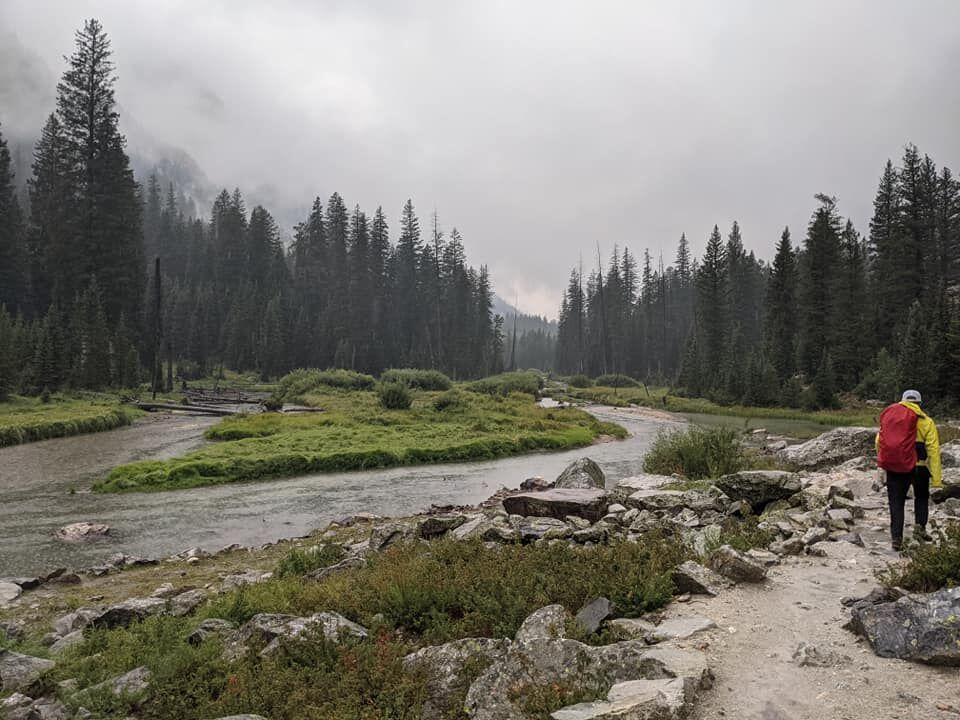 All that awesomeness was laced with anxiety; a couple descending the trail informed us they'd been told to watch for a moose that had been wandering the area earlier in the day.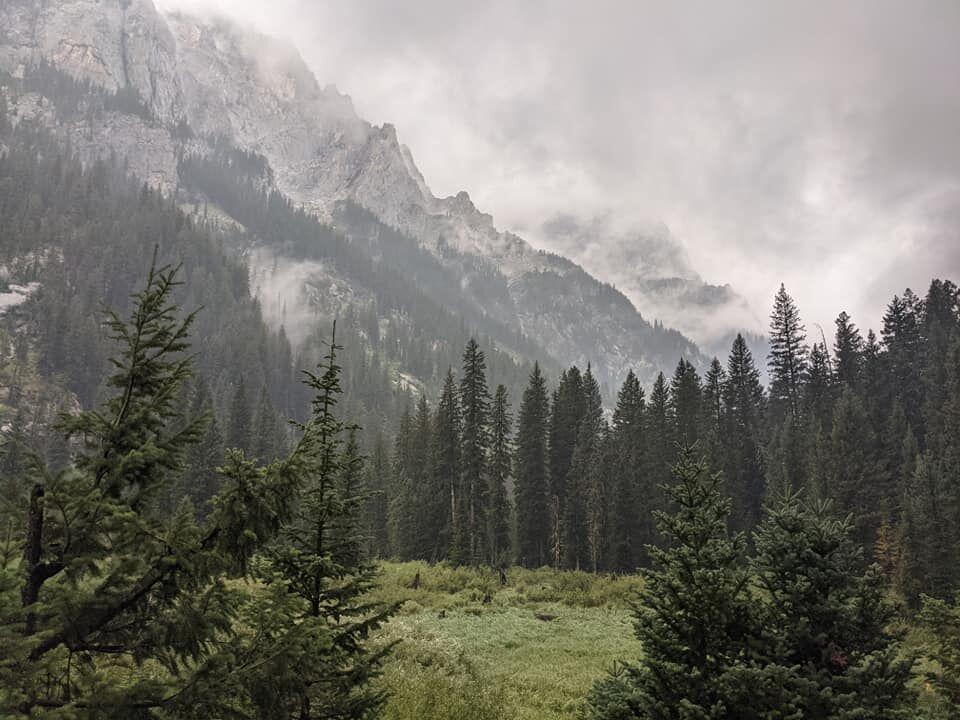 It was with some trepidation that I entered the next stand of trees...and the next. Finally, after walking through several miles of beautiful scenery, the rain began to fall in earnest, and we decided it was time to say 'uncle' and head back to the truck.
Just when you think you're safe! We chatted as we hiked(I was still talking very loudly to ensure the animals knew we were coming, much to Adam's chagrin, I'm sure.) Then suddenly, Adam stopped abruptly; I almost ran into him. Fifteen feet away, in all its wet-moose majesty, was the bull we'd been told to watch for.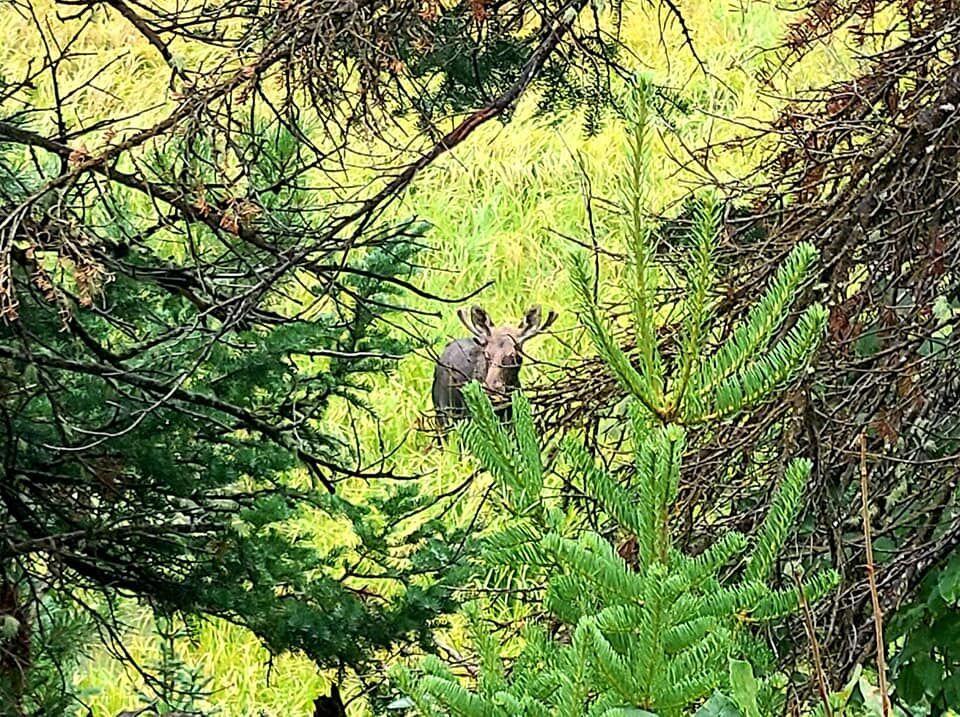 Now, what do you do? We waited for several minutes to see if the moose would move on; it didn't. So, once again, we were faced with a dilemma. This time it wasn't views we wanted; it was dry clothes and dinner. 
The two of us walked by the moose calmly (outwardly); I'm glad to report it didn't care a bit about us. We were indeed more scared of the moose than it was of us!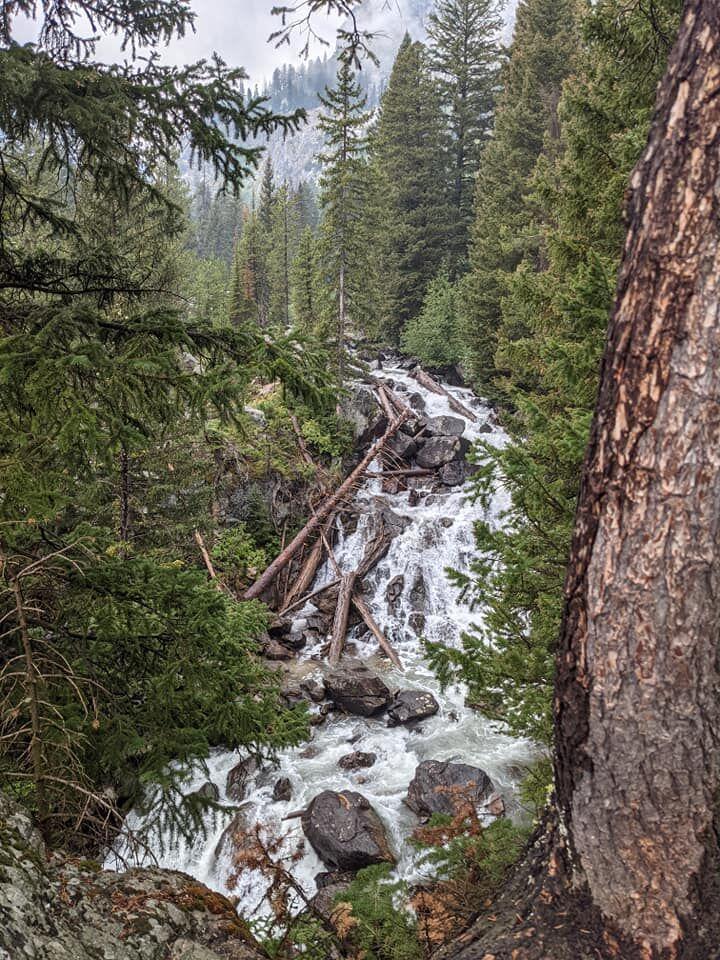 Another one? After enjoying Hidden Falls (great name, but not hidden), we completed our loop and saw a third moose (thankfully, this one was much farther off the trail). So, if you visit Grand Teton National Park, remember to brush up on your moose-manners and bring a just-in-case raincoat! 
Ruthie and Adam traveled to Wyoming and Utah from August 17-26. Ruthie was thinking of her Franklin County readers the entire time she and Adam hiked and backpacked out west!